MEET
MEET THE ARTIST: WANGECHI MUTU AT MOTORCO / Saturday, June 15, 7 PM
/ Artist talk and dance party at
Motorco Music Hall
, 723 Rigsbee Ave Durham. 919-901-0875. Free. Artist Wangechi Mutu will host a book release and signing party at Motorco for the richly illustrated catalogue published on the occasion of her solo exhibition at the Nasher Museum, 
Wangechi Mutu: A Fantastic Journey
. Join the artist at Motorco for a lively discussion with Grammy Award-winning producer 9th Wonder, critic and musician Greg Tate and Duke professor Mark Anthony Neal.  The conversation will focus on Wangechi's work in relationship to like-minded musicians, including her recent video collaboration with recording artist Santigold. The talk will be followed by a book signing at 9 PM and a dance party with 9th Wonder, Harrison Haynes (of Les Savy Fav), and DJ Strider. The 176-page catalogue includes many images that highlight the most important and iconic works Mutu has created since the mid-1990s, as well as portraying the installation at the Nasher Museum, including new collages, a monumental wall drawing, videos and selections from the artist's sketchbooks. The catalogue includes scholarly essays by the exhibition's curator, Trevor Schoonmaker, art historian Kristine Stiles and Greg Tate, paired with an illustrated chronology of Mutu's work. Signed catalogues will be available for purchase at Motorco.  Receive a free Nasher Museum tote bag with the purchase of a catalogue and a museum membership. Attendees will receive a free ticket voucher to see the exhibition, on view at the Nasher Museum through July 21. Left: Photo by J Caldwell. Right: Photo by
Dan Hacker
.

TASTE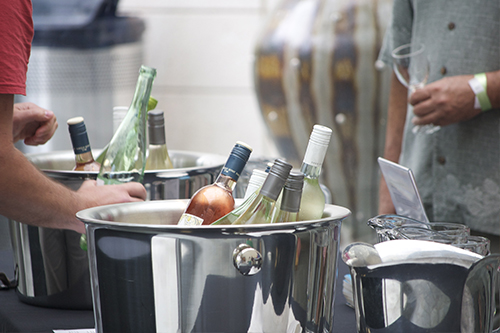 SUMMER DAYS NASHER NIGHTS: WINE TASTING / Thursday June 13, 6 PM
/ Join us for this month's wine tasting with
Haw River Wine Man
, featuring four Italian wines. Tasting pass ($5) available for purchase in advance at the café (cash or credit) or at the event (cash only). Must be 21 or older with ID. Photo by J Caldwell

SKETCH
SKETCHING IN THE GALLERIES / Saturday, June 15, 10 AM / After a quick warm-up activity, visitors can practice sketching works of art around the museum. We'll supply the paper and drawing utensils. Pens and wet media are not permitted in the Nasher Museum galleries. Free and open to the public. Video still by J Caldwell

CREATE
SUMMER MAKE AND TAKE / Tuesdays at 10 AM, Thursdays at 5 PM / Explore exhibitions through hands on activities. No reservation necessary.  Free and open to all ages. Tuesdays and Thursdays from June 18 through August 22. Photo by J Caldwell

READ

BLOG SHOP
FROM OUR BLOG / In the spirit of always challenging our visitors to try something new, the Nasher Museum organized a unique event last Thursday called Nasher Night Out.  Although some came early for the gallery talk with Stacy Lynn Waddell, the progressive party really got started after a discounted first course in the Nasher Museum Café, where attendees were given a party plan, map and special ID bracelet. Read more and get ready for the next Nasher Night Out on Thursday, August 2!
IN THE STORE / Save online and when you visit the Nasher Museum Store. Nasher Museum Members enjoy a 10% discount in the store and cafe, and receive free, unlimited admission and special invitations and subscriptions to our full-color calendar and post card mailings. Become a member! Join online, call 919-684-3411 or visit the museum information desk.

Top banner image and lower image for QUIZ: Mark Bradford, Untitled (detail), 2012. Etching, photogravure and chine-collé on paper; 20 x 16 inches (50.8 x 40.6 cm). Collection of the Nasher Museum of Art at Duke University, Durham, NC, USA. Museum purchase in honor of Kimerly Rorschach P'11, P'13, Mary D.B.T. and James H. Semans Director, with funds provided by Marilyn M. Arthur, Trent Carmichael, Margaret and Jack Neely, Virginia Rorschach, Paula Cooper, Paula and James Crown, Thomas S. Kenan III, Patricia and Thruston Morton, Christen and Derek Wilson, Deborah DeMott, Jason Rubell and Michelle Simkins-Rubell, C.T. Woods-Powell and Richard Powell, Peg Palmer, Trevor Schoonmaker and Teka Selman, Victor and Lenore Behar, Cynthia and Mark Kuhn, Katharine and Bryan Reid, Mindy and Guy Solie, Pepper and Donald Fluke, Ruth and Sidney Cox, Ann and Rhodes Craver, Trena and Richard Hawkins, Ginger and John Jernigan, Patricia and Bill Joklik, Peggy and John Murray, Mary and James Siedow, Eunice and Herman Grossman, Anna Ho and Bob Whalen, Sarah Schroth, Kristine Stiles, Barbara and Joel Smith, Jo and Peter Baer, Diana Evia-Lanevi and Ingemar Lanevi, Sandra Harris, Laura and James Ladd, Sue and Ralph McCaughan, N. Alison Haltom and David McClay, Carol O'Brien, Caroline and Arthur Rogers, Ruth Glesby Wagner, Maureen Berry, Arienne Cheek, Juline Chevalier, Pierce and Kathryn Freelon, Kristen L. Greenaway and Lori S. Ramsey, Angela and Aaron Greenwald, Reneé Cagnina Haynes and Morgan Haynes, Angela O. Terry and A. Daphne Terry, Marianne Wardle, Anne Williams and John Burness, Katharine A. Adkins, J Caldwell, Jamie Dupré, Heather B. Griswold, Brad Johnson, Wendy Hower Livingston, Catherine Morris, Kathleen Wright, Molly and Enrico Boarati, Kenneth Dodson, David Eck, Charles J. Carroll, Rachel Goodwin and Benjamin Riseling, Jimmy Jones, Lee Nisbet, Nikki Reeb, and Amy Weaver; 2012.18.1. and 2012.18.6. ©Mark Bradford. Photo by Peter Paul Geoffrion.
Upper image for QUIZ: Photo by J Caldwell
Image for READ: Wangechi Mutu, My Strength Lies (detail), 2006. Ink, acrylic, photo collage, contact paper, on Mylar, 228.6 x 137.2 cm. Image courtesy of the Saatchi Gallery, London. © Wangechi Mutu, 2006.
Image for BLOG: Photo by Kathy Wright
© 2000-2013 Nasher Museum of Art at Duke University. Unauthorized use is prohibited.
ON

QUIZ
Did you know that
babies love art
? We will soon host tours for babies and the grownups who carry them. Please help us come up with a better name than 
Baby and Me!
(
click to respond
).
Last week's quiz: Six new untitled works on paper by Mark Bradford are now on view as part of
Recent Acquisitions
. He has received numerous art awards, but has not (yet) received the
Marcel Duchamp Prize
.

SUPPORT
JOIN
Join, renew, upgrade or give the gift of membership
online
or by calling 919-684-3411.
GIVE
Become a supporter. Individuals, corporations and foundations can call 919-668-3527 for further information.

VISIT
Location
Hours
Tue, Wed, Fri, Sat - 10 AM to 5 PM
Thu - 10 AM to 9 PM
Sun - Noon to 5 PM
Mon - closed
Admission
General admission to the Nasher Museum is $5 ($4 for Seniors). Admission is FREE for Nasher Museum members, children 15 and under, Duke students, faculty and staff with Duke I.D. and Duke Alumni Association Members with Alumni Membership Card. Thursday, 5-9 PM admission is free for all.

Admission is also FREE to all active duty military personnel and up to five family members, with military ID: Geneva Convention common access card (CAC), a DD Form 1173 ID card, or a DD Form 1173-1 ID card.