VIEW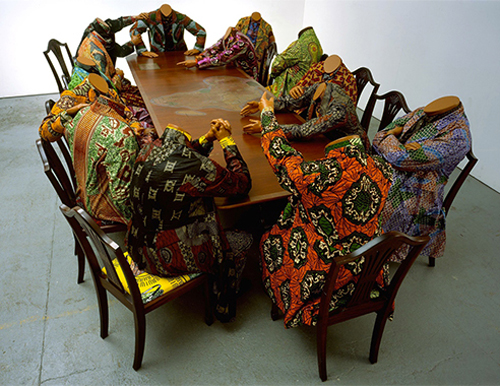 NEW INSTALLATION: PEDRO LASCH, SUSAN HARBAGE PAGE AND YINKA SHONIBARE / On view now / This installation complements the upcoming exhibition Lines of Control: Partition as a Productive Space (September 19, 2013-February 2, 2014) and deals with the human consequences of the creation and regulation of borders. Learn more.

TALK
FIRST THURSDAY GALLERY TALK: ARTIST SUSAN HARBAGE PAGE / Thursday, August 1, 5:30 PM / Susan Harbage Page will talk about the installation Pedro Lasch, Susan Harbage Page and Yinka Shonibare. Cash bar opens at 5:30 PM. Gallery talk begins at 6 PM. Free and open to the public.

PROGRESS
SUMMER DAYS NASHER NIGHTS: NASHER NIGHT OUT / Thursday, August 1, 6 PM / Celebrate the Nasher Museum's partnerships with some of Durham's trendiest eateries and bars during Nasher Night Out (interactive Google map).  Our August 1 progressive party kicks off with scrumptious appetizers and discounts in the Nasher Museum Café, where you will receive an ID bracelet for exclusive specials and discounts around town.  Then join us for a private wine and cheese tasting at Cave Taureau, and custom crafted cocktails and accompaniments at Alley Twenty-Six.  Finish the evening with discount double dips at The Parlour and late night snacks at Pizzeria Toro. Make café reservations online or by phone, 919-684-6032. Museum admission is free on Thurdays 5-9 PM.

Summer Days Nasher Nights is presented by Parker and Otis.

ENJOY
SUMMER DAYS NASHER NIGHTS: WINE TASTING / Thursday, August 8, 6 PM / Cool off with a $5 pass for tastings of four wines (must be legal drinking age with proper ID). Purchase pass in advance at the Nasher Museum Café (cash or credit) or at the event (cash only).

Summer Days Nasher Nights is presented by Parker and Otis.

LISTEN
SUMMER DAYS NASHER NIGHTS: LIVE AND LOCAL / Sunday, August 11, Noon / Enjoy live Americana and folk with Jordan and Rob Nance in the café and a brunch menu featuring local ingredients. Free for café patrons. Reservations online or call 919-684-6032. View the complete Summer Days Nasher Nights schedule.

BLOG SHOP
FROM OUR BLOG / American and Swiss artist Christian Marclay emphasizes "the process." He deconstructs seemingly simple actions further into finite elements and creates collages from the scraps. Before Video Quartet and his monumental 24-hour effort The Clock was Telephones (1995), a piecemeal video collage, part of our permanent collection, that plunders 130 Hollywood films. Read more.
IN THE STORE / Save online and when you visit the Nasher Museum Store. Nasher Museum Members enjoy a 10% discount in the store and cafe, and receive free, unlimited admission and special invitations and subscriptions to our mailings. Become a member! Join online, call 919-684-3411 or visit the museum information desk.

Banner image: Michael Jenkins, Happy Birthday (detail), 1990-91 Acrylic paint on cardboard with wire. Promised gift of Blake Byrne, T'57. L.4.2007.16. Photo by J Caldwell.
Image for VIEW: Yinka Shonibare, MBE, Scramble for Africa, 2003. Fourteen life-size fiberglass mannequins, fourteen chairs, table, and Dutch wax printed cotton; overall: 52 x 192 1/8 x 110 1/4 inches (132.1 x 488 x 280 cm). The Pinnell Collection, Dallas, Texas. © Yinka Shonibare MBE. All Rights Reserved, DACS 2013. Commissioned by the Museum for African Art, New York.
Image for TALK: Susan Harbage Page, Trail with Black Plastic Bags, Santa Ana Wildlife Refuge, Texas from the US – Mexico Border Project, 2007. Archival pigment print, 44 x 44 inches (106.68 x 106.68 cm). Courtesy of the artist. © Susan Harbage Page.
Image for BLOG: Christian Marclay, Telephones (still), 1995. Video (color, sound); 7:30 minute loop. Collection of the Nasher Museum of Art at Duke University, Durham, NC. Gift of Christian Marclay and Paula Cooper, 2009.7.1. Image courtesy Paula Cooper Gallery, New York. © Christian Marclay.
CREATE, TOUR,ENJOY, LISTEN and SHOP photos by J Caldwell.
Nasher Museum exhibitions and programs are generously supported by the Mary Duke Biddle Foundation, the late Mary D.B.T. Semans and James H. Semans, the late Frank E. Hanscom III, The Duke Endowment, the Nancy Hanks Endowment, the Courtney Shives Art Museum Fund, the James Hustead Semans Memorial Fund, the Janine and J. Tomilson Hill Family Fund, the Trent A. Carmichael Fund for Community Education, the Neely Family Fund, the E. T. Rollins, Jr. and Frances P. Rollins Fund for the Nasher Museum of Art at Duke University, the Marilyn M. Arthur Fund, the Sarah Schroth Fund, the George W. and Viola Mitchell Fearnside Endowment Fund, the Gibby and Michael B. Waitzkin Fund, the K. Brantley and Maxine E. Watson Endowment Fund, the Victor and Lenore Behar Endowment Fund, the Margaret Elizabeth Collett Fund, the Nasher Museum of Art General Endowment, the Friends of the Nasher Museum of Art, and the Office of the President and the Office of the Provost, Duke University.
© 2000-2013 Nasher Museum of Art at Duke University. Unauthorized use is prohibited.
ON

CREATE
Summer Make and Take Series
Tuesdays at 10 AM, Thursdays at 5 PM
Explore exhibitions through hands on activities. No reservation necessary.  Free and open to all ages. Tuesdays and Thursdays from 
June 18 through August 22
.

TOUR
Tour with your Tot
Thursdays, 11 AM

Visitors with small children can take guided public tours of the Nasher Museum's exhibitions. Tours are offered
Thursdays at 11 AM
and last approximately 30 minutes. No reservations necessary. Children must be in a carrier or stroller during the guided tour. Adults pay $5 museum admission. Museum members and tots are free.

SUPPORT
JOIN
Join, renew, upgrade or give the gift of membership
online
or by calling 919-684-3411.
GIVE
Become a supporter. Individuals, corporations and foundations can call 919-668-3527 for further information.

VISIT
Location
Hours
Tue, Wed, Fri, Sat - 10 AM to 5 PM
Thu - 10 AM to 9 PM
Sun - Noon to 5 PM
Mon - closed
Admission
General admission to the Nasher Museum is $5 ($4 for Seniors). Admission is FREE for Nasher Museum members, children 15 and under, Duke students, faculty and staff with Duke I.D. and Duke Alumni Association Members with Alumni Membership Card. Thursday, 5-9 PM admission is free for all.

Admission is also FREE to all active duty military personnel and up to five family members, with military ID: Geneva Convention common access card (CAC), a DD Form 1173 ID card, or a DD Form 1173-1 ID card.