PLAY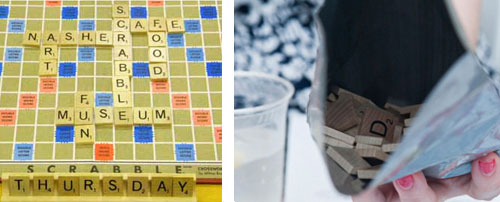 SUMMER DAYS NASHER NIGHTS / Art Scrabble TH, Aug 2, 5-9 PM / Join us in the museum cafe for Art Scrabble. This month's word list highlights Olafur Eliasson's The uncertain museum. For cafe reservations visit us online or call 919-684-6032. Details and a complete Summer Days Nasher Nights schedule.
Thursday, August 9 - Live & Local: TenOhFive Urban performs, 5:30-8 PM. Cafe menu will feature produce from the Duke Campus Farm.
Summer Days Nasher Nights is sponsored by


LOOK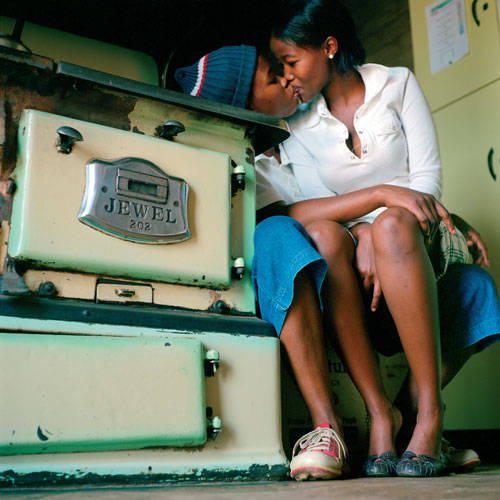 ARTIST ZANELE MUHOLI / This powerful photograph by artist and activist Zanele Muholi is part of the Nasher Museum's permanent collection. Many of us fell in love with her work in last year's exhibition Becoming: Photographs from the Wedge Collection. We congratulate Zanele, who lives and works in South Africa, on her new solo show, MO(U)RNING, at Stevenson gallery in South Africa. IMAGE: Zanele Muholi, Katlego Mashiloane and Nosipho Lavuta, Ext. 2, Lakeside, Johannesburg, 2007. Lambda print, 34 x 34 inches (86.4 x 86.4 cm). Collection of the Nasher Museum of Art at Duke University, Durham, NC, USA. Promised gift of Blake Byrne, T'57, L.17.2012.1. © Zanele Muholi.

LEARN
FIRST THURSDAY GALLERY TALK AND RECEPTION: JULINE CHEVALIER ON THE UNCERTAIN MUSEUM /
TH, August 2, 6 PM / Juline Chevalier, Curator of Education at the Nasher Museum of Art will give this
First Thursday gallery talk
about Olafur Eliasson's
The uncertain museum
. This event is free and open to the public. There is a cash bar at 5:30 PM, and the gallery talk begins at 6:00 PM. Photo by J Caldwell

CREATE
SUMMER MAKE AND TAKE / TH, August 2, 5-7 PM / Explore the museum with your hands. Create your own shiny jewelry inspired by pieces from the Containing Antiquity exhibition. Free and open to all ages. No reservation necessary. Photo by J Caldwell

INSPIRE
LOANS FROM THE RAYMOND AND PATSY NASHER COLLECTION
/ This week we saw a complete changeover of sculptures in the museum's Great Hall. The previous works by Max Ernst, Claes Oldenburg and Alexander Calder have been safely packed up and sent back to Dallas to make room for
Grande Maternite
by Henri Laurens,
Williamson Turn
by John Chamberlain and Richard Deacon's
Like a Bird
(pictured), on loan from the Nasher Sculpture Center in Dallas. Photo by J Caldwell |
View slideshow

BRUNCH
SUMMER DAYS AND SUNDAY BRUNCH / Sunday, August 5, 12-2 PM / Enjoy Sunday brunch at the Nasher Museum Cafe, with live music from Bob Vasile. He will perform traditional music of the British Isles and Early America on acoustic guitar.  Make your cafe reservations online or by calling 919-684-6032. Photo by J Caldwell

BLOG SHOP
FROM OUR BLOG
/ "As the son of contemporary art collectors, Jason Rubell spent a fair amount of his childhood at gallery openings and museum exhibitions," writes Bridget Booher in
Duke Magazine
. "By the time he was a teenager, Rubell started buying artwork that caught his eye, using money he'd made stringing tennis rackets. But he never thought of himself as a collector until his senior year at Duke."
Read more
Photo courtesy of Jason Rubell. Rubell in front of Keith Haring's nine-panel series exploring the burgeoning AIDS epidemic.
IN THE STORE / Save online and when you visit the Nasher Museum Store. Nasher Museum Members enjoy a 10% discount in the Nasher Museum Store and Nasher Museum Cafe, and receive free, unlimited admission and special invitations and subscriptions to our full-color calendar and post card mailings. Become a member! Join online, call 919-684-3411 or visit the museum information desk. Photo by J Caldwell

VOTE Image credit: Axl Leskoschek, Untitled from the book Brazilian Miniatures, 1974. Woodcut, 6 3/16 x 5 1/16 inches (15.7 x 12.9 cm). Collection of the Nasher Museum of Art at Duke University. Gift of Mrs. Nicolas Herpin, 1979.33.22.
Nasher Museum exhibitions and programs are generously supported by the Mary Duke Biddle Foundation, the late Mary D.B.T. Semans and James H. Semans, the late Frank E. Hanscom III, The Duke Endowment, the Nancy Hanks Endowment, the Courtney Shives Art Museum Fund, the James Hustead Semans Memorial Fund, the Janine and J. Tomilson Hill Family Fund, the Neely Family Fund, the E. T. Rollins, Jr. and Frances P. Rollins Fund, the Marilyn M. Arthur Fund, the Sarah Schroth Fund, the George W. and Viola Mitchell Fearnside Endowment Fund, the Gibby and Michael B. Waitzkin Fund, the K. Brantley and Maxine E. Watson Endowment Fund, the Victor and Lenore Behar Endowment Fund, the Margaret Elizabeth Collett Fund, the Nasher Museum of Art General Endowment, the Office of the President and the Office of the Provost, Duke University, and the Friends of the Nasher Museum of Art.
© 2000-2012 Nasher Museum of Art at Duke University. Unauthorized use is prohibited.
ON

VOTE
Set in the heart of the Amazon, State of Wonder is a thematic installation in the museum's education gallery inspired by Duke's incoming freshmen summer reading book, the novel of the same name by Ann Patchett.
Which of these artists is from Brazil?
(Click to answer)

Photo by J Caldwell
Last week's survey: It was a tricky one! By a narrow margin voters correctly identified the two rules given to ADF dancers when they visited and interacted with Olafur Eliasson's The uncertain museum.
Don't stare into the light and don't touch the large, rotating glass discs.

SUPPORT
Join
Join, renew, upgrade or give the gift of membership
online
or by calling 919-684-3411.
Give
Become a supporter. Individuals, corporations and foundations can call 919-668-3527 for further information.

VISIT
Location
Hours
Mon - closed
Tue, Wed, Fri, Sat - 10 AM to 5 PM
Thu - 10 AM to 9 PM
Sun - Noon to 5 PM
Admission
General admission to the Nasher Museum is $5 ($4 for Seniors). Admission is FREE for Nasher Museum members, children 15 and under, Duke students, faculty and staff with Duke I.D. and Duke Alumni Association Members with Alumni Membership Card. Thursday, 5-9 PM admission is free for all.