INSPIRE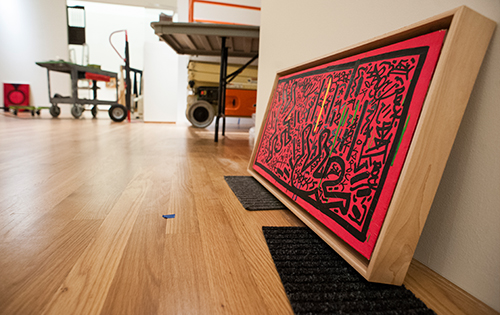 INSTALLING TIME CAPSULE / On view through January 6, 2013 / Time Capsule, Age 13 to 21: The Contemporary Art Collection of Jason Rubell reveals how Jason Rubell, one of the world's foremost contemporary art collectors, has always had a terrific eye for artists before they became famous. As a Duke senior in 1991, Jason presented his collection of work by 53 now-renowned artists at the former Duke University Museum of Art. That exhibition has been recreated at the Nasher Museum, inspiring new generations to collect contemporary art. Watch a slideshow of the installation process. The exhibition opens Thursday. Photo by J Caldwell

CELEBRATE
CELEBRATE THE OPENING OF COLLECTING MATISSE AND MODERN MASTERS / Saturday, November 3, 2012, 7 PM / Join us for an exclusive black-tie, sit-down dinner at Salon d'Automne, the Nasher Museum's Annual Benefit Gala. The evening will also serve as a farewell for the Nasher Museum's founding director, Kimerly Rorschach. Only 20 seats remain. We recommend reserving your seats as soon as possible.

SEE
SUMMER DAYS NASHER NIGHTS / Thursday, August 23 / Chef Tim Lyons of blu seafood and bar joins the Nasher Museum Cafe for this popular guest chef event. For cafe reservations visit us online or call 919-684-6032. Nasher Museum members always get a 10% discount in the cafe.
The
menu
for the evening can be found
here
(and is subject to change).
Next Thursday, August 30 / Art Scrabble end of summer event.
Details and a complete Summer Days Nasher Nights
schedule
.
Summer Days Nasher Nights is sponsored by

CREATE
SUMMER MAKE AND TAKE / Explore the museum with your hands / Thursday, August 23, 5-7 PM: Explore the exhibitions at the Nasher Museum through hands-on crafts. Combine "junk" from the Durham Scrap Exchange into your own John Chamberlain-inspired sculpture. Free and open to all ages. No reservation necessary. Photo by J Caldwell

BLOG SHOP
FROM OUR BLOG / In late July of this year, noted collector Herbert "Herb" Vogel passed away. He and his wife Dorothy were civil servants of modest means liiving in New York City who managed to build a most impressive contemporary art collection. Their story was told in Megumi Sasaki's documentary Herb & Dorothy, which screened at the Nasher Museum in 2009. Read more. IMAGE: Herb & Dorothy (2008) movie poster
IN THE STORE / Save online and when you visit the Nasher Museum Store. Nasher Museum Members enjoy a 10% discount in the Nasher Museum Store and Nasher Museum Cafe, and receive free, unlimited admission and special invitations and subscriptions to our full-color calendar and post card mailings. Become a member! Join online, call 919-684-3411 or visit the museum information desk.

Top image: Mark Bradford, Potable Water (detail), 2005. Mixed media collage with billboard paper, photomechanical reproductions, acrylic gel medium, and additional mixed media; 130 x 196 inches (330.2 x 497.8 cm). Collection of Hunter Gray. Courtesy of the artist and Sikkema Jenkins & Co., New York. © Mark Bradford. Photo by J Caldwell.
Upper image for VOTE: Katharina Fritsch, Gehirn (Brain), 1987/1989. Plaster of Paris and paint, Ed. open. 4 1/4 x 5 7/8 x 5 1/8 in. (11.5 x 15 x 13 cm). Rubell Family Collection, Miami. Photo by J Caldwell
Lower image for VOTE: Mark Bradford, Spinning Man (detail), 2007. Mixed media collage on canvas, 72 x 84 inches (182.9 x 213.4 cm). Collection of Blake Byrne, T'57. © Mark Bradford. Photo by J Caldwell
Nasher Museum exhibitions and programs are generously supported by the Mary Duke Biddle Foundation, the late Mary D.B.T. Semans and James H. Semans, the late Frank E. Hanscom III, The Duke Endowment, the Nancy Hanks Endowment, the Courtney Shives Art Museum Fund, the James Hustead Semans Memorial Fund, the Janine and J. Tomilson Hill Family Fund, the Neely Family Fund, the E. T. Rollins, Jr. and Frances P. Rollins Fund for the Nasher Museum of Art at Duke University, the Marilyn M. Arthur Fund, the Sarah Schroth Fund, the George W. and Viola Mitchell Fearnside Endowment Fund, the Gibby and Michael B. Waitzkin Fund, the K. Brantley and Maxine E. Watson Endowment Fund, the Victor and Lenore Behar Endowment Fund, the Margaret Elizabeth Collett Fund, the Nasher Museum of Art General Endowment, the Office of the President and the Office of the Provost, Duke University, and the Friends of the Nasher Museum of Art.
© 2000-2012 Nasher Museum of Art at Duke University. Unauthorized use is prohibited.
ON

VOTE
Five works from German contemporary artist and sculptor Katharina Fritsch are part of Time Capsule, Age 13 to 21: The Contemporary Art Collection of Jason Rubell. Which of her following works is not in his collection? (Click to answer)
-Money
-Brain
-Madonna Figure
-Double Bunny
-Green Silk Scarf

Last week's survey: We asked where Mark Bradford sourced his repurposed materials for his early collages? Two popular answers were tied, but it was his mother's hair salon, and not a photocopying, printing & shipping service!

SUPPORT
Join
Join, renew, upgrade or give the gift of membership
online
or by calling 919-684-3411.
Give
Become a supporter. Individuals, corporations and foundations can call 919-668-3527 for further information.

VISIT
Location
Hours
Mon - closed
Tue, Wed, Fri, Sat - 10 AM to 5 PM
Thu - 10 AM to 9 PM
Sun - Noon to 5 PM
Admission
General admission to the Nasher Museum is $5 ($4 for Seniors). Admission is FREE for Nasher Museum members, children 15 and under, Duke students, faculty and staff with Duke I.D. and Duke Alumni Association Members with Alumni Membership Card. Thursday, 5-9 PM admission is free for all.