INSPIRE
TIME CAPSULE 21 YEARS LATER / Last Wednesday, noted collector Jason Rubell led an exclusive tour of Time Capsule, an exhibition he organized in 1991 while he was a senior at Duke. Presented at the Nasher Museum 21 years later, Time Capsule lends insight into Rubell's terrific eye for identifying young, emerging artists - and his gift for collecting. Following the tour, Rubell engaged in a frank conversation with Nasher Museum Director Kim Rorschach in front of a packed house. View a slideshow of Rubell inTime Capsule. Left: Jason Rubell at the Duke University Museum of Art, March 1991. Courtesy of Jason Rubell and the Rubell Family Collection, Miami. Right : Jason Rubell at the Nasher Museum of Art, September 2012. Photo by J Caldwell

VIEW
EXHIBITION OPENING: EAT, PRAY, WEAVE
/ Saturday, September 15, 10 AM /
Eat, Pray, Weave: Ancient Peruvian Art from the Nasher Collection
highlights our vast collection of Ancient American art, focusing on works from Peru. The exhibition explores how people of these Andean cultures lived: how they dressed, what they ate, what they believed in and how they honored their dead. An
interactive
mobile web component is available on smart phones and tablets.

SEE
80s TO THE M-M-M-MAX: FREE FILM SERIES
/ Thursday, September 13, 7 PM / Free film series (see
complete listing
) on art and life in gritty New York, in conjunction with
Time Capsule
. This week:
Wild Style
(1983, Charlie Ahearn, 82 minutes). For an early dinner and reserved seating for the film, make cafe reservations
online
or by phone (919-684-6032).

LOOK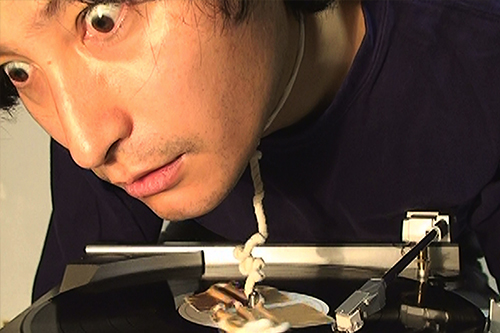 ARTIST TAIYO KIMURA / Congratulations to Japanese artist Taiyo Kimura for winning a fellowship grant from the Asian Cultural Council for an artist residency in New York, February through July 2013. Kimura's works on paper and video are part of The Record: Contemporary Art and Vinyl, which originated at the Nasher Museum in 2010 and is now on view through October 7 at Seattle's Henry Art Gallery. Keep up with Kimura's work here. IMAGE: Taiyo Kimura, Haunted by You (still), 2009. DVD, 5-minute loop. Courtesy of the artist. Collection of the Nasher Museum of Art at Duke University.

BLOG SHOP
FROM OUR BLOG / We have just a few more weeks to enjoy The uncertain museum. Here is a selection of visitor responses to the question, "Why do you visit museums?"
IN THE STORE / Save online and when you visit the Nasher Museum Store. Nasher Museum Members enjoy a 10% discount in the Nasher Museum Store and Nasher Museum Cafe, and receive free, unlimited admission and special invitations and subscriptions to our full-color calendar and post card mailings. Become a member! Join online, call 919-684-3411 or visit the museum information desk.

Top image: Mark Bradford, Potable Water (detail), 2005. Mixed media collage with billboard paper, photomechanical reproductions, acrylic gel medium, and additional mixed media; 130 x 196 inches (330.2 x 497.8 cm). Collection of Hunter Gray. Courtesy of the artist and Sikkema Jenkins & Co., New York. © Mark Bradford. Photo by J Caldwell.
Upper image for VOTE: Nazca, Plate, 100-300. Ceramic, polychrome, 1 3/8 x 5 13/16 x 5 13/16 inches (3.5 x 14.7 x 14.7 cm). Nasher Museum of Art at Duke University, Durham, NC, USA. The Paul A. and Virginia Clifford Collection, 1973.1.448.
Lower image for VOTE: Jenny Holzer, Truisms Footstool, 1988. Baltic brown granite, Ed. 27/40. 15 x 23 x 15 3/4 in. (38.1 x 58.4 x 40 cm). Rubell Family Collection, Miami. Photo by J Caldwell.
Nasher Museum exhibitions and programs are generously supported by the Mary Duke Biddle Foundation, the late Mary D.B.T. Semans and James H. Semans, the late Frank E. Hanscom III, The Duke Endowment, the Nancy Hanks Endowment, the Courtney Shives Art Museum Fund, the James Hustead Semans Memorial Fund, the Janine and J. Tomilson Hill Family Fund, the Trent A. Carmichael Fund for Community Education, the Neely Family Fund, the E. T. Rollins, Jr. and Frances P. Rollins Fund for the Nasher Museum of Art at Duke University, the Marilyn M. Arthur Fund, the Sarah Schroth Fund, the George W. and Viola Mitchell Fearnside Endowment Fund, the Gibby and Michael B. Waitzkin Fund, the K. Brantley and Maxine E. Watson Endowment Fund, the Victor and Lenore Behar Endowment Fund, the Margaret Elizabeth Collett Fund, the Nasher Museum of Art General Endowment, the Office of the President and the Office of the Provost, Duke University, and the Friends of the Nasher Museum of Art.
© 2000-2012 Nasher Museum of Art at Duke University. Unauthorized use is prohibited.
ON

VOTE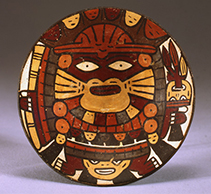 -Finial
-Tondo
-Lacuna
-Rondel
-Mandala

Last week's survey
: We asked which medium - LED signs, condoms, t-shirts or
Le Mans racecar
- was not one that Jenny Holzer adapted her
Truisms
series to. The correct answer was
none of the above
. Nice job!

SUPPORT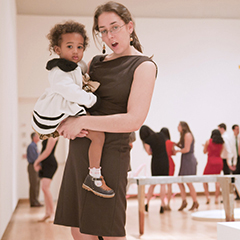 Join
Join, renew, upgrade or give the gift of membership
online
or by calling 919-684-3411.
Give
Become a supporter. Individuals, corporations and foundations can call 919-668-3527 for further information.

VISIT
Location
Hours
Mon - closed
Tue, Wed, Fri, Sat - 10 AM to 5 PM
Thu - 10 AM to 9 PM
Sun - Noon to 5 PM
Admission
General admission to the Nasher Museum is $5 ($4 for Seniors). Admission is FREE for Nasher Museum members, children 15 and under, Duke students, faculty and staff with Duke I.D. and Duke Alumni Association Members with Alumni Membership Card. Thursday, 5-9 PM admission is free for all.