EXPERIENCE
FIRST THURSDAY & ART FOR ALL / Thursday, October 4 / Join us for our First Thursday gallery talk by art history graduate students on Eat, Pray, Weave, a student-curated installation of pre-Columbian art. Cash bar at 5:30 PM; gallery talk at 6 PM. Following the gallery talk join us for Art for All to celebrate Time Capsule. Activities: 7:30 PM gallery talk with Kristine Stiles, France Family Professor of Art, Art History & Visual Studies, 8:30 PM performance by dance crew Stop Motion and free photobooth. The Nasher Student Advisory Board invites the Duke and Durham communities to fill a time capsule. Bring items that represent your best Durham or Duke experience!

VIEW
TICKETS ON SALE COLLECTING MATISSE AND MODERN MASTERS
/ We are delighted to announce that tickets are now on sale for
Collecting Matisse and Modern Masters: The Cone Sisters of Baltimore
, opening at the Nasher Museum on Sunday, November 4. Find ticket information, the story of the Cone sisters, fun ways to enhance the exhibition, art and 
much 
more on the
Collecting Matisse and Modern Masters site
.
Nasher Museum members
receive two free tickets per day to
Collecting Matisse and Modern Masters
per membership (some restrictions apply).

PARTNER

LEARN
ROTHSCHILD LECTURE: KERRY JAMES MARSHALL / Wednesday, October 10, 7 PM
Meet renowned contemporary artist Kerry James Marshall, known for his paintings, drawings and sculptures that are rich with art-historical references, from Renaissance painting to American folk art. In his work, Marshall investigates the visibility of black people in society and the connotations associated with darkness. Free and open to the public. Museum entrances and pavilions will open at 6:30 PM. Seating is limited. Lecture at 7 PM. Reception with cash bar to follow.

The lecture is made possible by Barbra and Andrew Rothschild.

CELEBRATE
CELEBRATE THE OPENING OF COLLECTING MATISSE AND MODERN MASTERS / Saturday, November 3, 2012, 7 PM / Join us for an exclusive black-tie, sit-down dinner at Salon d'Automne, the Nasher Museum's Annual Benefit Gala. The evening will also serve as a farewell for the Nasher Museum's founding director, Kimerly Rorschach. LAST FEW TICKETS AVAILABLE. We recommend reserving your seats as soon as possible.

INSPIRE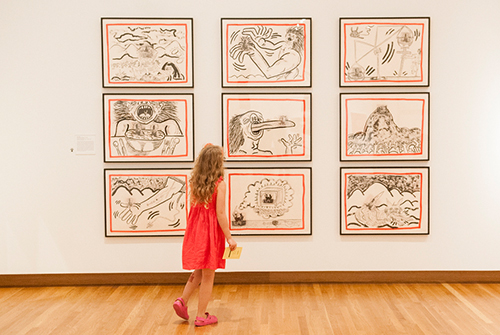 TIME CAPSULE, AGE 13 TO 21: THE CONTEMPORARY ART COLLECTION OF JASON RUBELL / On view through January 6, 2013 / Time Capsule reveals how Jason Rubell, one of the world's foremost contemporary art collectors, has always had a terrific eye for artists before they became famous. As a Duke senior in 1991, Jason presented his collection of work by 53 now-renowned artists at the former Duke University Museum of Art. That exhibition has been recreated at the Nasher Museum, inspiring new generations to collect contemporary art. Photo by J Caldwell

BLOG SHOP
FROM OUR BLOG / Our Education Gallery installation is inspired by Duke's summer reading book. Ann Patchett's novel State of Wonder offered a particularly challenging set of ideas to connect with art from the permanent collection. How do you convey teacher-student relationships, drug-induced nightmares and leading-edge medical advances? How can an installation translate the words froma page into a coherent display that captures the mystery, anxiety and beauty of an entire book? Photo by J Caldwell Read more
IN THE STORE / Save online and when you visit the Nasher Museum Store. Nasher Museum Members enjoy a 10% discount in the Nasher Museum Store and Nasher Museum Cafe, and receive free, unlimited admission and special invitations and subscriptions to our full-color calendar and post card mailings. Become a member! Join online, call 919-684-3411 or visit the museum information desk.

Top image: Mark Bradford, Potable Water (detail), 2005. Mixed media collage with billboard paper, photomechanical reproductions, acrylic gel medium, and additional mixed media; 130 x 196 inches (330.2 x 497.8 cm). Collection of Hunter Gray. Courtesy of the artist and Sikkema Jenkins & Co., New York. © Mark Bradford. Photo by J Caldwell.
Upper Images for VOTE: LEFT TO RIGHT: Etta Cone at age 18-19 wearing a riding outfit, late 1880s. The Baltimore Museum of Art: Dr. Claribel and Miss Etta Cone Papers, Archives and Manuscripts Collections, EC.1; Claribel Cone as a resident physician at the Philadelphia Hospital, approximately age 27, circa 1891-1892. The Baltimore Museum of Art: Dr. Claribel and Miss Etta Cone Papers, Archives and Manuscripts Collections, CC.2.
Lower image for VOTE: The front cover of David Bowie's 1971 album Hunky dory, copyright RCA. Low-resolution image of Hunky Dory used solely to illustrate the audio recording in question. Use is covered by the U.S. fair use laws via wikipedia.org.
Images for EXPERIENCE: Thomas Ruff, Porträt [J. Rubell], 1989. Chromogenic color print, 9 ¼ x 7 inches (24 x 18 cm). Collection of Jason Rubell, Miami. © Thomas Ruff. Courtesy of David Zwirner Gallery, New York. © 2012 Artists Rights Society (ARS), New York / VG Bild-Kunst, Bonn.

Nazca, Plate, 100-300. Ceramic, polychrome, 1 3/8 x 5 13/16 x 5 13/16 inches (3.5 x 14.7 x 14.7 cm). Nasher Museum of Art at Duke University, Durham, NC, USA. The Paul A. and Virginia Clifford Collection, 1973.1.448
Image for VIEW: Henri Matisse, Striped Robe, Fruit, and Anemones, 1940. Oil on canvas, 21 5/8 x 25 5/8 inches (54.9 x 65.1 cm). The Baltimore Museum of Art: The Cone Collection, formed by Dr. Claribel Cone and Miss Etta Cone of Baltimore, Maryland, BMA 1950.263. © 2012 Succession H. Matisse / Artists Rights Society (ARS), New York.
image for LEARN: Kerry James Marshall, Portrait of the Artist & Vacuum Cleaner, circa 1981. Arylic on paper 63 x 52 ½ inches. (160 x 133.4 cm). Museum purchase with additional funds provided by Nailya Alexander, Maya & Anatol Bekkerman, Jeff Bliumis, Dr. Robert E. Falcone, Alexandre Gertsman, Marilyn J. Holmes (T'72), INTART - International Foundation of Russian & Eastern-European Art, Inc., Virginia Kinzey, Jacques Leviant, Innessa Levkova-Lamm, Mina E. Litinsky, Fran & Robert Malina, Teresa & Joseph Masarich, Marjorie Pfeffer, Anthony T. Podesta, Maya & Michael Polsky, Estate of Alek Rapoport, Vladimir Rapoport, Mrs. W. A. Y. Sargent in memory of Dr. Winston Sargent, Natalia Sokov, and Drs. Irene & Alex Valger, by exchange.
Nasher Museum exhibitions and programs are generously supported by the Mary Duke Biddle Foundation, the late Mary D.B.T. Semans and James H. Semans, the late Frank E. Hanscom III, The Duke Endowment, the Nancy Hanks Endowment, the Courtney Shives Art Museum Fund, the James Hustead Semans Memorial Fund, the Janine and J. Tomilson Hill Family Fund, the Trent A. Carmichael Fund for Community Education, the Neely Family Fund, the E. T. Rollins, Jr. and Frances P. Rollins Fund for the Nasher Museum of Art at Duke University, the Marilyn M. Arthur Fund, the Sarah Schroth Fund, the George W. and Viola Mitchell Fearnside Endowment Fund, the Gibby and Michael B. Waitzkin Fund, the K. Brantley and Maxine E. Watson Endowment Fund, the Victor and Lenore Behar Endowment Fund, the Margaret Elizabeth Collett Fund, the Nasher Museum of Art General Endowment, the Office of the President and the Office of the Provost, Duke University, and the Friends of the Nasher Museum of Art.
© 2000-2012 Nasher Museum of Art at Duke University. Unauthorized use is prohibited.
ON

VOTE
Henri Matisse was friends with turn of the last century collectors Dr. Claribel and Miss Etta Cone. The two Cone sisters began buying art directly out of the Parisian studios of avant-garde artists in 1905. At which East Coast Medical College did Claribel work as a pathologist? (Click to answer)
-University of Maryland
-Mount Sinai
-Hofstra
-Duke
-Johns Hopkins


Last week's survey: In the film, Basquiat, David Bowie plays Andy Warhol. When they met, Warhol took a Polaroid image of Bowie's shoes. Strange, but true. Nice job everyone!

SUPPORT
Join
Join, renew, upgrade or give the gift of membership
online
or by calling 919-684-3411.
Give
Become a supporter. Individuals, corporations and foundations can call 919-668-3527 for further information.

VISIT
Location
Hours
Mon - closed
Tue, Wed, Fri, Sat - 10 AM to 5 PM
Thu - 10 AM to 9 PM
Sun - Noon to 5 PM
Admission
General admission to the Nasher Museum is $5 ($4 for Seniors). Admission is FREE for Nasher Museum members, children 15 and under, Duke students, faculty and staff with Duke I.D. and Duke Alumni Association Members with Alumni Membership Card. Thursday, 5-9 PM admission is free for all.