INSPIRE
FAREWELL TO FOUNDING DIRECTOR KIM RORSCHACH / Durham Mayor Bill Bell presented Kim Rorschach with a Key to the City last Wednesday at a special going-away party at the museum. The crowd gave her a farewell toast, led by Duke President Richard H. Brodhead, Provost Peter Lange, Ann Craver (president of the Nasher Museum Friends Board) and Sarah Schroth, Interim Director and Nancy Hanks Senior Curator. View a slideshow of the event. Photo by J Caldwell

LEARN
MEREDITH MONK: ARCHAEOLOGY OF AN ARTIST
/ Thursday, October 25, 7 PM /
Archaeology of an Artist
is a highlight of Meredith Monk's two-week residency with Duke Performances. This lively talk with integrated performances and video clips distills Monk's 50-year journey as a composer, choreographer, filmmaker, performer and tireless cartographer of the frontiers of the human voice. Tickets will be distributed on the evening of the presentation, at the Nasher Museum, on a first-come, first-seated basis.

CELEBRATE
CELEBRATE THE OPENING OF COLLECTING MATISSE AND MODERN MASTERS / Saturday, November 3, 7 PM / Join us for an exclusive black-tie, sit-down dinner at Salon d'Automne, the Nasher Museum's Annual Benefit Gala. The evening will also serve as a farewell for the Nasher Museum's founding director, Kimerly Rorschach. LAST FEW TICKETS AVAILABLE. We recommend reserving your seats as soon as possible.

SEE

BECOME
NOW IS THE TIME TO JOIN! / Members receive two free tickets, per day, to all ticketed exhibitions, including Collecting Matisse and Modern Masters, and free audio guides. Not a member? Become a supporting member and your tax-deductible membership will benefit the community and provide you a host of benefits to enhance your experience at the Nasher Museum. Photo by J Caldwell

BLOG SHOP
FROM OUR BLOG / With his recent delivery of the Annual Barbra and Andrew Rothschild Lecture, noted contemporary artist Kerry James Marshall told the audience that all artists want to be remembered for their "better" works of art. "The way artists want to be remembered is hard to chronicle," he said. "Successes and failures don't quite follow the narrative of genius many want. Artists try to get attention, but it's really more a bid for immortality." Photo by J Caldwell Read more
IN THE STORE / Save online and when you visit the Nasher Museum Store. Nasher Museum Members enjoy a 10% discount in the Nasher Museum Store and Nasher Museum Cafe, and receive free, unlimited admission and special invitations and subscriptions to our full-color calendar and post card mailings. Become a member! Join online, call 919-684-3411 or visit the museum information desk.

Top image: Mark Bradford, Red Painting, 2009. Mixed media collage on canvas, 101.75 x 143.5 inches (258.4 x 364.5 cm). Collection of Bryan Lipinski, Nashville, Tennessee. Courtesy of the artist and Sikkema Jenkins & Co., New York. © Mark Bradford.Photo by J Caldwell.
Upper image for VOTE: Man Ray (American, 1890-1976), Gertrude Stein (right) and Alice B. Toklas (left) in the Atelier at 27 rue de Fleurus, Paris, 1922. Yale Collection of American Literature, Beinecke Rare Book and Manuscript Library, Yale University, New Haven. © 2011 Man Ray Trust / Artists Rights Society (ARS), NY / ADAGP, Paris.
Lower Image for VOTE: Paul Gauguin, Vahine no te vi (Woman of the Mango), 1892. Oil on canvas, 28 ¾ x 17 ¾ inches (73 x 45.1 cm). The Baltimore Museum of Art: The Cone Collection, formed by Dr. Claribel Cone and Miss Etta Cone of Baltimore, Maryland, BMA 1950.213
Image for MATISSE: Henri Matisse, Striped Robe, Fruit, and Anemones, 1940. Oil on canvas, 21 5/8 x 25 5/8 inches (54.9 x 65.1 cm). The Baltimore Museum of Art: The Cone Collection, formed by Dr. Claribel Cone and Miss Etta Cone of Baltimore, Maryland, BMA 1950.263. © 2012 Succession H. Matisse / Artists Rights Society (ARS), New York.
Nasher Museum exhibitions and programs are generously supported by the Mary Duke Biddle Foundation, the late Mary D.B.T. Semans and James H. Semans, the late Frank E. Hanscom III, The Duke Endowment, the Nancy Hanks Endowment, the Courtney Shives Art Museum Fund, the James Hustead Semans Memorial Fund, the Janine and J. Tomilson Hill Family Fund, the Trent A. Carmichael Fund for Community Education, the Neely Family Fund, the E. T. Rollins, Jr. and Frances P. Rollins Fund for the Nasher Museum of Art at Duke University, the Marilyn M. Arthur Fund, the Sarah Schroth Fund, the George W. and Viola Mitchell Fearnside Endowment Fund, the Gibby and Michael B. Waitzkin Fund, the K. Brantley and Maxine E. Watson Endowment Fund, the Victor and Lenore Behar Endowment Fund, the Margaret Elizabeth Collett Fund, the Nasher Museum of Art General Endowment, the Office of the President and the Office of the Provost, Duke University, and the Friends of the Nasher Museum of Art.
© 2000-2012 Nasher Museum of Art at Duke University. Unauthorized use is prohibited.
ON

MATISSE
COMING SOON:
Collecting Matisse and Modern Masters: The Cone Sisters of Baltimore
.
Tickets
are available now.
One masterpiece exhibition not enough? Visit
Two for $22
for tickets to
Collecting Matisse
at the Nasher Museum
and
Still-Life
at the NCMA.

VOTE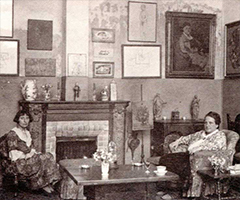 At the turn of the last century, the Cone sisters were friends with art collectors Leo and Gertrude Stein. Gertrude is perhaps better known for her experimental writing style. Which of her books was written in 1903, but not published until years after her death? (Click to answer)
-Tender Buttons
-Three Lives
-Q. E. D.
-The Making of Americans
-Fernhurst


Last week's survey:  Following Pablo Picasso's Blue Period (1901-1904), in 1905 he shifted to the Rose Period. It wasn't until 1909 that he started his Cubist period.

SUPPORT
JOIN
Join, renew, upgrade or give the gift of membership
online
or by calling 919-684-3411.
GIVE
Become a supporter. Individuals, corporations and foundations can call 919-668-3527 for further information.

VISIT
Location
Hours
Tue, Wed, Fri, Sat - 10 AM to 5 PM
Thu - 10 AM to 9 PM
Sun - Noon to 5 PM
Mon - closed
Admission
General admission to the Nasher Museum is $5 ($4 for Seniors). Admission is FREE for Nasher Museum members, children 15 and under, Duke students, faculty and staff with Duke I.D. and Duke Alumni Association Members with Alumni Membership Card. Thursday, 5-9 PM admission is free for all.