CELEBRATE
CELEBRATE MATISSE

LIVE FRENCH MUSIC / Thursday, December 20, 6 PM / Michele Darrah will perform selections by Edith Piaf, along with French holiday carols on guitar.
FRENCH WINE TASTING / Thursday, December 27, 6 PM / Great wine and stunning works of art are a natural pairing. Free for same-day exhibition ticket holders over the age
of 21.
SKETCHING IN THE GALLERIES / Friday, December 28, 11 AM / Tap into your inner artist with brief drawing lessons from local art instructors. Drawing utensils, paper and drawing boards will be provided, or bring your own sketchbook. Sketching in the Matisse exhibition will be limited to designated locations in the galleries.
PARLEZ-VOUS FRANÇAIS? / Saturday, December 29, 2 PM / French speakers from novice to expert are invited to join the conversation about this exposition extraordinaire. Art vocabulary tools en français will be provided along with conversation starters.
BOOK DISCUSSION / Sunday, December 30, 3 PM / Join Associate Curator of Education Jessica Ruhle for a group discussion on The Art of Acquiring: A Portrait of Etta and Claribel Cone by Mary Gabriel. Purchase this book in the Nasher Museum Store or borrow it from the Durham County Library. The discussion is free and open to the public.
Photos by J Caldwell

INSPIRE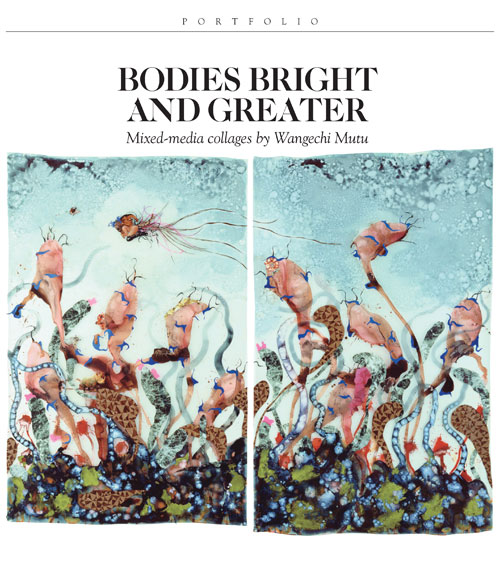 WANGECHI MUTU IN HARPER'S / We are thrilled to share the January issue of Harper's magazine, featuring a luscious three-page spread on the work of Wangechi Mutu. Don't miss the Nasher Museum's public opening event on March 20, 2013, for Wangechi Mutu: A Fantastic Journey, the first major solo museum exhibition for this internationally-renowned multidisciplinary artist.

SEE

BLOG SHOP
FROM OUR BLOG / SPACE MATTERS / Nasher Student intern Julia Park writes, "The wonderful thing about art and exhibitions is that you get a completely different experience with every visit, depending on what details you focus on. If you have already seen the Matisse exhibition, I challenge you to come visit again and see how your second visit can differ from the first!" Read more
IN THE STORE / Save online and when you visit the Nasher Museum Store. Nasher Museum Members enjoy a 10% discount in the store and cafe, and receive free, unlimited admission and special invitations and subscriptions to our full-color calendar and post card mailings. Become a member! Join online, call 919-684-3411 or visit the museum information desk.

Top banner image: Viewers in the gallery at Collecting Matisse and Modern Masters exhibition. Photo by J Caldwell.
Image for INSPIRE: Wangechi Mutu, Funkalicious fruit field, 2007. Ink, paint, mixed media, plant material, and plastic pearls on Mylar; overall: 184 x 106 inches (467.36 x 269.24 cm). Collection of Glenn Scott Wright, London. Image courtesy of Victoria Miro Gallery, London. © Wangechi Mutu.
Image for CONGRATULATIONS: Taiyo Kimura, Haunted by You (still), 2009. DVD, 5-minute loop. Courtesy of the artist.
Upper image for QUIZ: Pablo Picasso, La Coiffure, 1906. Pen and brown ink with brush and brown wash, 12 3/16 x 9 7/16 inches (31 x 24 cm). The Baltimore Museum of Art: The Cone Collection, formed by Dr. Claribel Cone and Miss Etta Cone of Baltimore, Maryland, BMA 1950.12.477. © 2012 Estate of Pablo Picasso/Artists Rights Society (ARS), New York.
Lower image for QUIZ: Henri Matisse, Resting Woman Wearing Tiara, 1936. Pen and black ink, Sheet: 12 3/8 x 19 5/8 inches (314 x 498 mm). The Baltimore Museum of Art: The Cone Collection, formed by Dr. Claribel Cone and Miss Etta Cone of Baltimore, Maryland, BMA 1950.12.130. © 2012 Succession H. Matisse / Artists Rights Society (ARS), New York.
Image for OFFER: Henri Matisse, Striped Robe, Fruit, and Anemones, 1940. Oil on canvas, 21 5/8 x 25 5/8 inches (54.9 x 65.1 cm). The Baltimore Museum of Art: The Cone Collection, formed by Dr. Claribel Cone and Miss Etta Cone of Baltimore, Maryland, BMA 1950.263. © 2012 Succession H. Matisse / Artists Rights Society (ARS), New York.
Nasher Museum exhibitions and programs are generously supported by the Mary Duke Biddle Foundation, the late Mary D.B.T. Semans and James H. Semans, the late Frank E. Hanscom III, The Duke Endowment, the Nancy Hanks Endowment, the Courtney Shives Art Museum Fund, the James Hustead Semans Memorial Fund, the Janine and J. Tomilson Hill Family Fund, the Trent A. Carmichael Fund for Community Education, the Neely Family Fund, the E. T. Rollins, Jr. and Frances P. Rollins Fund for the Nasher Museum of Art at Duke University, the Marilyn M. Arthur Fund, the Sarah Schroth Fund, the George W. and Viola Mitchell Fearnside Endowment Fund, the Gibby and Michael B. Waitzkin Fund, the K. Brantley and Maxine E. Watson Endowment Fund, the Victor and Lenore Behar Endowment Fund, the Margaret Elizabeth Collett Fund, the Nasher Museum of Art General Endowment, the Friends of the Nasher Museum of Art, and the Office of the President and the Office of the Provost, Duke University.
© 2000-2012 Nasher Museum of Art at Duke University. Unauthorized use is prohibited.
ON

ENJOY THE HOLIDAY SEASON AT THE NASHER MUSEUM
Christmas Day (Closed), Tuesday, Dec. 25, 2012
New Year's Day (Closed), Tuesday, Jan. 1, 2013

QUIZ
- Cup
- Cat
- Pencil
- Horse
- Owl


Last week's quiz
:  Where was Matisse's final work installed? Many of you guessed France, but it was, in fact, the
United States
. His final work was the design for a stained-glass window for the Union Church of Pocantico Hills near the Rockefeller estate, north of New York City.

OFFER
One masterpiece exhibition not enough?
Visit
Two for $22
for tickets to
Collecting Matisse
at the Nasher Museum
and
Still-Life
at the NCMA.

SUPPORT
JOIN
Join, renew, upgrade or give the gift of membership
online
or by calling 919-684-3411.
GIVE
Become a supporter. Individuals, corporations and foundations can call 919-668-3527 for further information.

VISIT
Location
Hours
Tue, Wed, Fri, Sat - 10 AM to 5 PM
Thu - 10 AM to 9 PM
Sun - Noon to 5 PM
Mon - closed
Admission
General admission to the Nasher Museum is $5 ($4 for Seniors). Admission is FREE for Nasher Museum members, children 15 and under, Duke students, faculty and staff with Duke I.D. and Duke Alumni Association Members with Alumni Membership Card. Thursday, 5-9 PM admission is free for all.

Free admission does not include special
ticketed exhibitions, such as our current exhibition, Collecting Matisse and Modern Masters: The Cone Sisters of Baltimore.

Admission is also FREE to all active duty military personnel and up to five family members, with military ID: Geneva Convention common access card (CAC), a DD Form 1173 ID card, or a DD Form 1173-1 ID card.