CELEBRATE
FREE FAMILY DAY / Sunday, March 17, Noon to 4 PM / Celebrate Light Sensitive: Photographic Works from North Carolina Collections and selections from the permanent collection. Hands-on activities include gallery hunt, make-and-take crafts, live entertainment. Family Days are supported in part by the Trent A. Carmichael Fund for Community Education, Fox Family Foundation, Nordstrom, Mindy and Guy Solie, and SunTrust Foundation. In-kind support is provided by The Container Store®.
Photo by J Caldwell

CREATE
SKETCHNG IN THE GALLERIES / Saturday, March 16, 10 AM / Following a brief drawing warm-up activity, visitors can practice sketching artwork around the museum. Paper and drawing utensils will be supplied. Pens and wet media are not permitted in the Nasher Museum galleries. Photo by J Caldwell

PREVIEW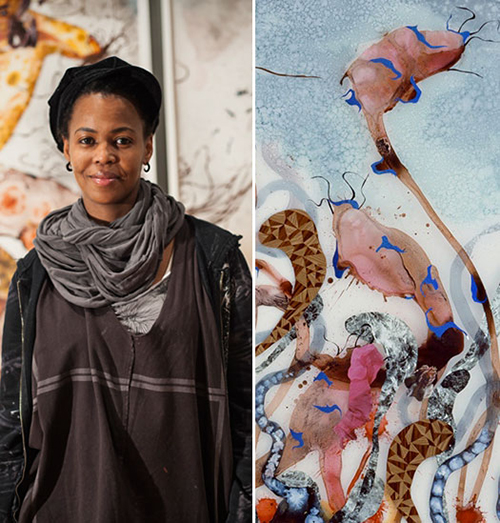 EXHIBITION PREVIEW FOR WANGECHI MUTU: A FANTASTIC JOURNEY
Wednesday, March 20, 7 PM / Don't miss the opening event for Wangechi Mutu: A Fantastic Journey, the artist's first survey in the United States. Meet Wangechi Mutu, who was born in Nairobi, Kenya, and lives and works in Brooklyn, NY. The exhibition, organized by the Nasher Museum, is the most comprehensive and innovative show yet for this internationally renowned, multidisciplinary artist. Mutu has transformed the gallery into an environmental installation, including a monumental wall drawing, which evokes an enchanted forest and allows visitors to immerse themselves in the artist's work.

LEARN
FREE K-12 EDUCATOR WORKSHOP WITH THE ARTIST WANGECHI MUTU / Thursday, March 21, 4-6 PM / Meet the artist and learn about the exhibition Wangechi Mutu: A Fantastic Journey. The program will include a presentation by Wangechi Mutu, time to explore the exhibition independently and a light reception. Participants will receive partial CEU credit. Register online. This program is open to K-12 educators and administrators. It is free, but space is limited, so early registration is encouraged.

BLOG SHOP
FROM OUR BLOG / The blog is buzzing with new entries! Three posts from guest writer Mike Levine from the Armory show in New York, an exclusive interivew with Barkley Hendricks by Wendy Livingston and uncovering the origins of "Aint nuthin but a sandwich," by Juline Chevalier. Photo by Wendy Livingston. Read more.
IN THE STORE / Save online and when you visit the Nasher Museum Store. Nasher Museum Members enjoy a 10% discount in the store and cafe, and receive free, unlimited admission and special invitations and subscriptions to our full-color calendar and post card mailings. Become a member! Join online, call 919-684-3411 or visit the museum information desk.

Top banner image: While installing her exhibition at the Nasher Museum last week, Wangechi Mutu brought an array of collage materials, some of which she used in her entrance wall drawing. Photo by J Caldwell
Upper Image for QUIZ: Photo by J Caldwell
Lower Image for QUIZ: Edwin Locke,
Walker Evans, profile, hand up to face
, 1937. Nitrate Negative. Retrieved from Library of Congress record ID:
fsa1997014657
Image for PREVIEW: (LEFT) Wangechi Mutu takes a break from installing her show at the Nasher Museum. Photo by J Caldwell. (RIGHT) Wangechi Mutu, Funkalicious fruit field, 2007 (detail). Ink, paint, mixed media, plastic pearls, and collage on Mylar; overall: 92 x 106 inches (233.7 x 269.24 cm). Collection of Glenn Scott Wright, London. Image courtesy of Victoria Miro Gallery, London. © Wangechi Mutu.
Image for LEARN: Wancechi Mutu, Yo Mama, 2003. Ink, mica flakes, pressure-sensitive synthetic polymer sheeting, cut-and-pasted printed paper, painted paper, and synthetic polymer paint on paper; overall: 59 1/8 x 85 inches (150.2 x 215.9 cm). The Museum of Modern Art, New York. The Judith Rothschild Foundation Contemporary Drawings Collection Gift, 2511.2005.a-b. © Wangechi Mutu. Digital Image © The Museum of Modern Art/Licensed by SCALA / Art Resource, NY. Photo by David Allison.
Nasher Museum exhibitions and programs are generously supported by the Mary Duke Biddle Foundation, the late Mary D.B.T. Semans and James H. Semans, the late Frank E. Hanscom III, The Duke Endowment, the Nancy Hanks Endowment, the Courtney Shives Art Museum Fund, the James Hustead Semans Memorial Fund, the Janine and J. Tomilson Hill Family Fund, the Trent A. Carmichael Fund for Community Education, the Neely Family Fund, the E. T. Rollins, Jr. and Frances P. Rollins Fund for the Nasher Museum of Art at Duke University, the Marilyn M. Arthur Fund, the Sarah Schroth Fund, the George W. and Viola Mitchell Fearnside Endowment Fund, the Gibby and Michael B. Waitzkin Fund, the K. Brantley and Maxine E. Watson Endowment Fund, the Victor and Lenore Behar Endowment Fund, the Margaret Elizabeth Collett Fund, the Nasher Museum of Art General Endowment, the Friends of the Nasher Museum of Art, and the Office of the President and the Office of the Provost, Duke University.
© 2000-2013 Nasher Museum of Art at Duke University. Unauthorized use is prohibited.
ON

QUIZ
In All Access Fountain, Angela Bourodimos creates same-sex pairs of Barbie and Ken dolls to represent homosexual love. When did Barbie debut at the American International Toy Fair? (click to answer)
-1945
-1952
-1959
-1963
-1969


Last week's quiz: In addition to being a photographer, Walker Evans (pictured) was a staff writer for Time.

SUPPORT
JOIN
Join, renew, upgrade or give the gift of membership
online
or by calling 919-684-3411.
GIVE
Become a supporter. Individuals, corporations and foundations can call 919-668-3527 for further information.

VISIT
Location
Hours
Tue, Wed, Fri, Sat - 10 AM to 5 PM
Thu - 10 AM to 9 PM
Sun - Noon to 5 PM
Mon - closed
Admission
General admission to the Nasher Museum is $5 ($4 for Seniors). Admission is FREE for Nasher Museum members, children 15 and under, Duke students, faculty and staff with Duke I.D. and Duke Alumni Association Members with Alumni Membership Card. Thursday, 5-9 PM admission is free for all.

Admission is also FREE to all active duty military personnel and up to five family members, with military ID: Geneva Convention common access card (CAC), a DD Form 1173 ID card, or a DD Form 1173-1 ID card.