SEE
DUKE REUNIONS / April 12-14 / Make new connections to Duke during Reunions Weekend 2013 with a visit to the Nasher Museum of Art. Duke alumni and their guests will receive FREE entry with a Duke Reunions 2013 nametag. 10 AM - 5 PM (Friday and Saturday) Noon - 5 PM (Sunday). Photo by J Caldwell

CREATE
BREW AND GLUE! / Wednesday, April 17, 6 PM / At Fullsteam Brewery, 726 Rigsbee Ave, Durham, NC 27701 /
Create your own one-of-a-kind collage while enjoying a
Fullsteam
brew. The Nasher Museum will provide all the materials. No experience necessary. Free and open to all at Durham's
Fullsteam Brewery
. This activity celebrates the exhibition
Wangechi Mutu: A Fantastic Journey
, on view at the Nasher Museum through July 21, 2013. Photo by J Caldwell

EXPLORE
AFRICAN AMERICAN CLOSE-UP: PRINTS, PHOTOGRAPHS AND WORKS ON PAPER FROM NORTH CAROLINA COLLECTIONS /
View the Nasher Museum's first online exhibition,
African American Close-up: Prints, Photographs and Works on Paper from North Carolina Collections
. The website features works of art selected by Duke students in the fall 2012 class, "Modern and Contemporary African American Art."  Taught by Richard J. Powell, Duke's John Spencer Bassett Professor of Art and Art History, the course—and the exhibition—examines the social and philosophical forces shaping a black presence in contemporary and modern visual culture.
closeup.nasher.duke.edu

SKETCH
SKETCHING IN THE GALLERIES / Saturday, April 20, 10 AM / Following a brief drawing warm-up activity, visitors can practice sketching artwork around the Nasher Museum. Paper and drawing utensils will be supplied. Pens and wet media are not permitted in the Nasher Museum galleries. Photo by J Caldwell

APP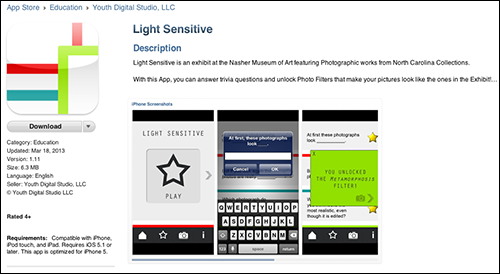 FUN PHOTO FILTERS /
Download a new
iPhone app
inspired by
Light Sensitive
and developed by four local middle school students through
Youth Digital.com
. The app allows visitors to answer questions and unlock photo filters that mimic techniques used by photographers in the exhibition.

BLOG SHOP
FROM OUR BLOG / Nasher Museum student intern Elizabeth Turner writes, "The perspective of the camera angle is lower than the praying mantis and, in doing so, this normally insignificant insect becomes larger than life. Fink's angle switches the roles of the human and the bug. We can see how the mantis must view its world." Read more.
IN THE STORE / Save online and when you visit the Nasher Museum Store. Nasher Museum Members enjoy a 10% discount in the store and cafe, and receive free, unlimited admission and special invitations and subscriptions to our full-color calendar and post card mailings. Become a member! Join online, call 919-684-3411 or visit the museum information desk.

Top banner image: Wangechi Mutu, Misguided Little Unforgivable Hierarchies (detail), 2005. Ink, acrylic, collage, and contact paper on Mylar; 81 x 52 inches (205.74 x 132.08 cm). San Francisco Museum of Art. Purchase through a gift of The Buddy Taub Foundation, Jill and Dennis Roach, Directors, 2005.184. Image courtesy of Susanne Vielmetter Los Angeles Projects. © Wangechi Mutu. Photo by Joshua White.
Upper Image for QUIZ: Waste Land (Walker, Harley, Jardim, 2010, 99 minutes) movie poster. Use is covered by the U.S. fair use laws via wikipedia.org.
Lower Image for QUIZ: Wangechi Mutu, Family Tree, 2012. Suite of 13, mixed-media collage on paper, 16.25 x 12.25 inches (41.28 x 31.12 cm). Collection of the Nasher Museum of Art at Duke University. Museum purchase with additional funds provided by Trent Carmichael (T'88, P'17), Blake Byrne (T'57), Marjorie and Michael Levine (T'84, P'16), Stefanie and Douglas Kahn (P'11, P'13), and Christen and Derek Wilson (T'86, B'90, P'15). Image courtesy of Susanne Vielmetter Los Angeles Projects. © Wangechi Mutu. Photo by Robert Wedemeyer.
Image for BLOG: Larry Fink, This Sporting Life, September 1978 from the series Primal Elegance, 1978. Gelatin silver print, 21 1/2 x 21 1/4 inches (54.6 x 54 cm). Private collection. ©Larry Fink.
Nasher Museum exhibitions and programs are generously supported by the Mary Duke Biddle Foundation, the late Mary D.B.T. Semans and James H. Semans, the late Frank E. Hanscom III, The Duke Endowment, the Nancy Hanks Endowment, the Courtney Shives Art Museum Fund, the James Hustead Semans Memorial Fund, the Janine and J. Tomilson Hill Family Fund, the Trent A. Carmichael Fund for Community Education, the Neely Family Fund, the E. T. Rollins, Jr. and Frances P. Rollins Fund for the Nasher Museum of Art at Duke University, the Marilyn M. Arthur Fund, the Sarah Schroth Fund, the George W. and Viola Mitchell Fearnside Endowment Fund, the Gibby and Michael B. Waitzkin Fund, the K. Brantley and Maxine E. Watson Endowment Fund, the Victor and Lenore Behar Endowment Fund, the Margaret Elizabeth Collett Fund, the Nasher Museum of Art General Endowment, the Friends of the Nasher Museum of Art, and the Office of the President and the Office of the Provost, Duke University.
© 2000-2013 Nasher Museum of Art at Duke University. Unauthorized use is prohibited.
ON

INTERACT
Download the Youth Digital Studio's new
iPhone app
for
Light Sensitive: Photographic Works from North Carolina Collections
. Read more below.

QUIZ
-Youssef Nabil
-Raymond Meeks
-William Noland
-Vik Muniz
-Chris McCaw


Last week's quiz. Wangechi Mutu depicts a philosopher resting a hand on a skull. This action is a well-known symbol of the Latin phrase Memento mori (remember your mortality).

SUPPORT
JOIN
Join, renew, upgrade or give the gift of membership
online
or by calling 919-684-3411.
GIVE
Become a supporter. Individuals, corporations and foundations can call 919-668-3527 for further information.

VISIT
Location
Hours
Tue, Wed, Fri, Sat - 10 AM to 5 PM
Thu - 10 AM to 9 PM
Sun - Noon to 5 PM
Mon - closed
Admission
General admission to the Nasher Museum is $5 ($4 for Seniors). Admission is FREE for Nasher Museum members, children 15 and under, Duke students, faculty and staff with Duke I.D. and Duke Alumni Association Members with Alumni Membership Card. Thursday, 5-9 PM admission is free for all.

Admission is also FREE to all active duty military personnel and up to five family members, with military ID: Geneva Convention common access card (CAC), a DD Form 1173 ID card, or a DD Form 1173-1 ID card.