EXPERIENCE
AMERICAN DANCE FESTIVAL: TWO ROOM APARTMENT / Tuesday, June 17, 7 and 9 PM /
ADF and the Nasher Museum co-present 
Two Room Apartment
by Israeli choreographers Niv Sheinfeld & Oren Laor (
view trailer
). Sheinfeld and Laor have recreated the seminal 1987 work 
Two Room Apartment
, which helped make a name for Israeli dance. Performance is about 50 minutes.  
americandancefestival.org
. 
The Nasher Museum is the only U.S. venue for Two Room Apartment in 2014.
Two shows: 7 PM and 9 PM. Free Nasher Museum 
tote
 with every ticket purchase for American Dance Festival's 
Two Room Apartment
.

TASTE
GUEST CHEF KATIE COLEMAN / Thursday, June 19, 5-9 PM (last seating 8 PM) /
Chef Katie Coleman, chef owner of 
Durham Spirits Company,
 starts off the summer series with great food and drinks.  Reservations are strongly encouraged, 
online
 or by calling 919-684-6032.
Chef Coleman's menu

REFRESH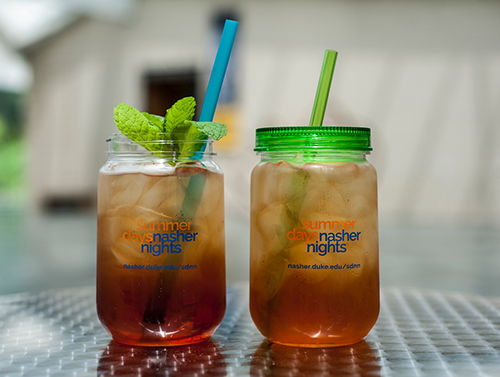 COOL OFF AT THE NASHER MUSEUM /
Stop by the Nasher Museum visitor services desk, Tuesday through Friday, between 11 AM and 2 PM, and claim a Summer Days Nasher Nights reusable mason jar. Every time you visit the
café
this summer, use it for complimentary iced tea. Find even more reasons to visit the Nasher Museum this summer
online
.

WORKSHOP
K-4 TEACHER WORKSHOP /
Join education staff from the 
Sarah P. Duke Gardens
 and the Nasher Museum as we explore the many connections between visual art and natural science. Spend time in both Duke Gardens and the Nasher Museum's galleries, try many hands-on activities and receive a binder filled with lessons directly connected to the North Carolina curriculum. Choose from the one-day workshop, or the extended two-day version.
Learn more and register
.

BLOG SHOP
FROM OUR BLOG / "Filled with rich, colorful images and a variety of subjects spanning four decades, the exhibition Archibald Motley: Jazz Age Modernist at the Nasher Museum gave a fantastic opportunity to various Duke classes to see original paintings by one of the most significant American artists of the 20th century" writes Molly Boarati, Academic Program Coordinator. "More than 150 Duke students who had never heard of Motley now consider him a famous artist." More.
IN THE STORE / All of the novels for the Summer Days, Nasher Nights book discussion series are availabe in the Nasher Museum Store.

Save online and when you visit the Nasher Museum Store. Nasher Museum Members enjoy a 10% discount in the store and cafe, and receive free, unlimited admission and special invitations and subscriptions to our mailings. Become a member! Join online, call 919-684-3411 or visit the museum information desk.

Banner and EXPERIENCE: Photos © Gadi Dogan
REFRESH, WORKSHOP, BLOGand SHOP photos by J Caldwell.
Nasher Museum exhibitions and programs are generously supported by the Mary Duke Biddle Foundation, the late Mary D.B.T. Semans and James H. Semans, the late Frank E. Hanscom III, The Duke Endowment, the Nancy Hanks Endowment, the Courtney Shives Art Museum Fund, the James Hustead Semans Memorial Fund, the Janine and J. Tomilson Hill Family Fund, the Trent A. Carmichael Fund for Community Education, the Neely Family Fund, the E. T. Rollins, Jr. and Frances P. Rollins Fund for the Nasher Museum of Art at Duke University, the Marilyn M. Arthur Fund, the Sarah Schroth Fund, the George W. and Viola Mitchell Fearnside Endowment Fund, the Gibby and Michael B. Waitzkin Fund, the K. Brantley and Maxine E. Watson Endowment Fund, the Victor and Lenore Behar Endowment Fund, the Margaret Elizabeth Collett Fund, the Nasher Museum of Art General Endowment, the Friends of the Nasher Museum of Art, and the Office of the President and the Office of the Provost, Duke University.
© 2000-2014 Nasher Museum of Art at Duke University. Unauthorized use is prohibited.
ON

UPDATE
Admission is free all week at the Nasher Museum: Tuesday, June 10 through Saturday, June 15. One gallery pavilion is closed to refurbish the floors. We are sorry for any inconvenience.

Explore exhibitions through hands-on activities. Open to all ages. Have fun at
Make and Take
from June 17 - August 14, Tuesdays, 10 AM-12 PM and Thursdays, 5-7 PM.
Complete SDNN schedule
.

READ
Take part in two discussions of
The Museum Guard: A Novel
by Howard Norman, to complement our
summer exhibitions
.
Wednesday, June 18, 11 AM,
and
Sunday, June 22, 2 PM
, at the Nasher Museum. Visitors are encouraged to read the book prior to the
discussions
The Museum Guard: A Novel
is available for purchase in the Nasher Museum Store. .

SHARE
The American Dance Festival will offer Nasher Museum of Art
members
20% off single tickets to ADF performances at Durham Performing Arts Center and Reynolds Industries Theater on Duke University's Campus. ADF's 81st season will run June 12-July 26 and tickets are on sale now. Tickets can be purchased 
online
, over the phone or in person at either box office using this code for Nasher Museum members: 
2014ADFNP
.
Thank you, ADF!
The discount is not available for Niv Sheinfeld & Oren Laor at the Nasher Museum or Ishmael Houston-Jones and Emily Wexler at The PSI Theatre at the Durham Arts Council.

SUPPORT
JOIN
Join, renew, upgrade or give the gift of membership
online
or by calling 919-684-3411.
GIVE
Become a supporter. Individuals, corporations and foundations can call 919-668-3527 for further information.

VISIT
Location
Hours
Tue, Wed, Fri, Sat - 10 AM to 5 PM
Thu - 10 AM to 9 PM
Sun - Noon to 5 PM
Mon - closed
Admission
General admission to the Nasher Museum is $5 ($4 for Seniors). Admission is FREE for Nasher Museum members, children 15 and under, Duke students, faculty and staff with Duke I.D. and Duke Alumni Association Members with Alumni Membership Card. Thursday, 5-9 PM, admission is free for all.

Admission is also FREE to all active duty military personnel and up to five family members, with military ID: Geneva Convention common access card (CAC), a DD Form 1173 ID card, or a DD Form 1173-1 ID card.