DIALOGUE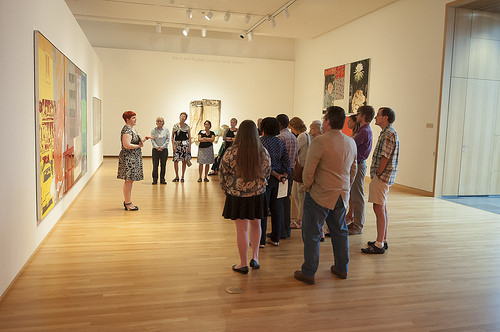 GALLERY TOUR: DUKE COUPLES IN DIALOGUE ON RAUSCHENBERG AND ARTISTS IN THE COLLECTION / Thursday, October 2, 6 PM /
Join two scholarly Duke couples on a casual, personal and fun tour of
Rauschenberg: Collecting & Connecting
. Curator Kristine Stiles asked each couple to select works of art in the exhibition and think about them as "conversations" with an enormous range of interpretation. Couples are author Jill McCorkle and photographer and Director of Duke's Experimental and Documentary Arts MFA program Tom Rankin, along with Duke's Priscilla Wald, Professor of English and Women's Studies, and Joseph Donahue, Professor of the Practice of English at Duke. The tour will last approximately 45 minutes.

VIEW
MEMBER MORNING / Sunday, October 5, 11 AM /
Members enjoy free early access to the exhibitions before the museum opens to the public at 12 PM. Not a member yet?
Join
today online or by calling 919-684-3411.

INSPIRE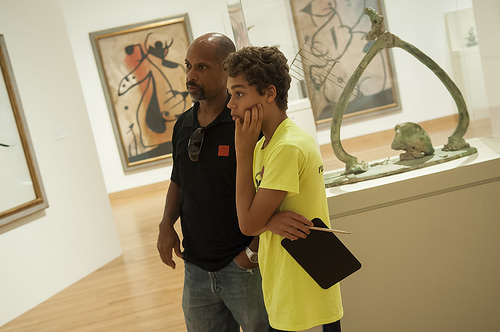 THANK YOU!
/ We would like to thank everyone who attended Free Family Day. View a
photo gallery
of the event.

TALK
ART WITH THE EXPERTS AT CAMERON VILLAGE REGIONAL LIBRARY / Monday, October 6, 6:30 PM /
Join Marshall Price, Nancy Hanks Curator of Modern and Contemporary Art, and Juline Chevalier, Curator of Education, for a discussion and slide lecture on
Miró: The Experience of Seeing
. This event is at the
Cameron Village Regional Library
, 1930 Clark Avenue, Raleigh, NC 27605.

CELEBRATE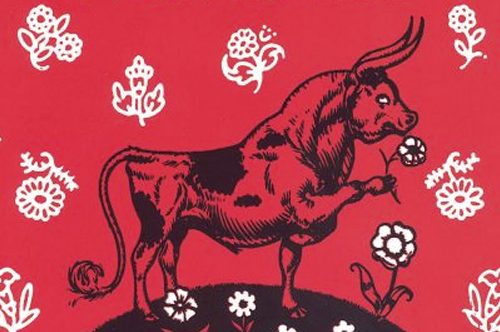 CELEBRATE MIRO AND SPAIN WITH FERDINAND THE BULL / Saturday, October 11, 10:30 AM /
Hear readings in English and Spanish of
The Story of Ferdinand
written by Murno Leaf and illustrated by Robert Lawson. After a related hands on activity, see the 1938 Disney animated short film Ferdinand the Bull. Recommended for children ages 3-6 and their caregivers. Available in the
Nasher Museum Store
.

CREATE
SCRATCH BLOCK WORKSHOP & IRON POUR AT LIBERTY ARTS / Saturday, October 11, 2 PM /
Join
Liberty Arts
 for a Scratch Block workshop at Cordoba Center for the Arts in Golden Belt, east of downtown Durham. Address: 923 Franklin Street, Durham. The workshop fee of $25 includes a cast iron relief that each participant can take home. The workshop will be followed by an Iron Pour demonstration at 5:30 PM that is free and open to the public. This workshop complements the special ticketed exhibition
Miró: The Experience of Seeing
at the Nasher Museum. The scratch block process is a technique that relates to many of Miró's sculptures. He often drew or carved into the surface of his wax mold before casting it in bronze.
Please RSVP via Tripp Jarvis at 
trippjarvis@hotmail.com
.

BLOG SHOP
IN THE STORE / Save online and when you visit the Nasher Museum Store. Nasher Museum Members enjoy a 10% discount in the store and cafe, and receive free, unlimited admission and special invitations and subscriptions to our mailings. Become a member! Join online, call 919-684-3411 or visit the museum information desk.

Banner: Photo by J Caldwell
BLOG: Jeff Whetstone, Caitlynn, from New Wilderness, 2013.
STAR: Joan Miró, Caress of a Bird (La Caresse d'un oiseau), 1967. Painted bronze, 123 × 43 1/2 × 19 inches (312.4 × 110.5 × 48.3 cm). Raymond and Patsy Nasher Collection at the Nasher Sculpture Center, Dallas, Texas. © Successió Miró / 2014 Artists Rights Society (ARS), New York, New York / ADAGP, Paris, France.
CREATE: Photo by F.Caperton Morton
EXPERIENCE, DIALOGUE, TALK, INSPIRE, VIEW and SHOP photos by J Caldwell
Nasher Museum exhibitions and programs are generously supported by the Mary Duke Biddle Foundation, the late Mary D.B.T. Semans and James H. Semans, the late Frank E. Hanscom III, The Duke Endowment, the Nancy Hanks Endowment, the Courtney Shives Art Museum Fund, the James Hustead Semans Memorial Fund, the Janine and J. Tomilson Hill Family Fund, the Trent A. Carmichael Fund for Community Education, the Neely Family Fund, the E. T. Rollins, Jr. and Frances P. Rollins Fund for the Nasher Museum of Art at Duke University, the Marilyn M. Arthur Fund, the Sarah Schroth Fund, the George W. and Viola Mitchell Fearnside Endowment Fund, the Gibby and Michael B. Waitzkin Fund, the K. Brantley and Maxine E. Watson Endowment Fund, the Victor and Lenore Behar Endowment Fund, the Margaret Elizabeth Collett Fund, the Nasher Museum of Art General Endowment, the Friends of the Nasher Museum of Art, and the Office of the President and the Office of the Provost, Duke University.
© 2000-2014 Nasher Museum of Art at Duke University. Unauthorized use is prohibited.
ON

Public Tours are Thursdays at 6 PM and Sundays at 2 PM. Learn more.

HANGOUT
Wednesday, October 8, 12:30 PM
The Nasher Museum is trying something new! We hope you'll join us in this experiment. We're using the Google Hangout platform to present some information and background on the
Mirό
exhibition.
More
.
If you missed our first Hangout, you can watch it on
YouTube

STAR
Get stamped! Earn stars on your
Miró Stars Card
for attending the book discussions, library talk, Google Hangout, Member Morning and more. Ten stars will win you a free two-month
Nasher Museum membership
or benefits, prizes and two free Miró tickets─or extend your membership by two months. Come back again and again to see the monumental sculptures and paintings of
Miró
. Ask for your own Miró Stars Card at the information desk.

EXPERIENCE
SUPPORTING MEMBER EVENT: MIRÓ: THE EXPERIENCE OF SEEING

Tuesday, October 14, 7 PM
Special reception, refreshments and tour to celebrate Miró. Details by upcoming e-mail invitation.  
Become a Supporting Member today 
to enjoy this exclusive offer.

READ
To accompany the exhibition Miró: The Experience of Seeing, the museum is hosting a series of book discussions featuring contemporary Catalan authors. October's selection is The Dolls' Room by Llorenç Villalonga.

Wednesday, October 8, 11 AM, and Sunday, October 12, 2 PM, at the Nasher Museum. Visitors are encouraged to read the book prior to the discussions. The Painter of Battles is available for purchase in the  Nasher Museum Store.

SUPPORT
JOIN
Join, renew, upgrade or give the gift of membership
online
or by calling 919-684-3411.
GIVE
Become a supporter. Individuals, corporations and foundations can call 919-668-3527 for further information.

VISIT
Location
Hours
Tue, Wed, Fri, Sat - 10 AM to 5 PM
Thu - 10 AM to 9 PM
Sun - Noon to 5 PM
Mon - closed
Admission
Admission to Miró: The Experience of Seeing

Members: 2 free tickets per adult member (additional tickets for 10% discount)
Adults: $12
Children 7 – 17: $6 / Children 6 and under: FREE
Senior Citizens: $10
Duke Faculty/Staff: $6 (limit 1 ticket per ID)
Duke University students: FREE (limit 1 ticket per ID)
Non-Duke Students: $8 (limit 1 ticket per ID)
Duke Alumni Association members with I.D.: $6
Active Duty Military and families (limit 6 tickets): $6

Miró: The Experience of Seeing are always available at the Nasher front desk. Purchase your tickets in person at the museum on the day of your visit.

Admission to Rauschenberg: Collecting & Connecting and the permanent collection:

5 Adults
$4 Seniors
$3 Non-Duke students with student ID


FREE ADMISSION FOR:
Nasher Museum members
Children 15 and under
Duke students, faculty and staff with DukeCard or Duke Medicine ID
Duke Alumni Assoc. Members with Alumni Membership Card
Every Thursday evening, 5-9 PM

Admission is also FREE to all active duty military personnel and up to five family members, with military ID: Geneva Convention common access card (CAC), a DD Form 1173 ID card, or a DD Form 1173-1 ID card.