DISCOVER
ARTIST TALK TONIGHT: ODILI DONALD ODITA / Tuesday, March 17, 7 PM /
Abstract painter Odili Donald Odita will deliver the annual Barbra and Andrew Rothschild Lecture, a talk entitled "3rd Degree of Separation." This summer, the Nasher Museum plans to commission a mural by Odita in downtown Durham, and also a large-scale wall painting at the museum for
Nasher10
, celebrating the museum's first decade.
More
.
The museum will re-open at 6 PM, and seating in the lecture hall will begin at 6:30 PM

WATCH
AREA 919 / The Nasher Museum presents the fifth in a series of interviews with artists whose works are part of Area 919: Artists in the Triangle. Artist Lavar Munroe talks about his series, The Footprints Go This Way and Then They Return.

LEARN
ART WITH THE EXPERTS AT DURHAM COUNTY LIBRARY MAIN BRANCH / Monday, March 30, 7 PM /
Join Chief Curator Trevor Schoonmaker for a discussion on 
Open This End
. This event is at the 
Durham County Library Main Branch
, 300 N Roxboro St, Durham, NC 27701.

INSPIRE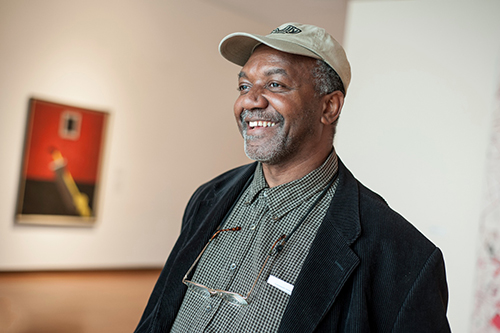 CELEBRATE
NASHER MUSEUM PARTNERS WITH 21C MUSEUM HOTEL DURHAM
/ Congratulations to 21c Museum Hotel Durham, which opened yesterday in the historic Hill Building in downtown Durham! The Nasher Museum is pleased to partner with 21c Museum Hotel Durham on the occasion of the opening of the hotel and also in celebration of
Nasher10
, the museum's first decade. The Double-Feature is an overnight package that includes two tickets to the Nasher Museum, a $100 credit to the hotel's Counting House restaurant and two T-shirts from the 21c Museum shop.
More information
.

PRESS SHOP
PRESS /
"[
Area 919
] is a rich and concise show that facilitates new conversations between distinct bodies of work." -Burnaway.com 
More
.
IN THE STORE
/ Save online and when you visit the
Nasher Museum Store
. Nasher Museum Members enjoy a 10% discount in the store and cafe, and receive free, unlimited admission and special invitations and subscriptions to our mailings. Become a member! Join online, call 919-684-3411 or visit the museum information desk.

Banner: Odili Donald Odita, Convergence (detail), 2014. Oil on canvas. 90 x 110 inches. Signed, titled, and dated on verso. Inventory #OD14.002. ©Odili Donald Odita.  Courtesy of the artist and Jack Shainman Gallery, New York.

DISCOVER: Odili Donald Odita at the 2007 Venice Biennale © Odili Donald Odita. Courtesy of the artist and Jack Shainman Gallery, New York.

LEARN: Andy Warhol, Open This End, 1962. Acrylic on canvas, 8 x 11 inches (20.32 x 27.94 cm). Collection of Blake Byrne, T'57, partial and promised gift to the Museum of Contemporary Art, Los Angeles. © 2014 The Andy Warhol Foundation for the Visual Arts, Inc. / Artists Rights Society (ARS), New York, New York. Photo by Brian Forrest.

CREATE: Photo by Magnus Lindqvist of Glint Studios. Courtesy of 21c Museum Hotels.

PRESS: George Jenne, Knowing Me (knowing you) (excerpt, detail), 2013. Video (color, sound), 9:45 minutes. Courtesy of the artist.  © George Jenne.

WATCH, READ, INSPIRE and SHOP photos by J Caldwell.
Nasher Museum exhibitions and programs are generously supported by the Mary Duke Biddle Foundation, the late Mary D.B.T. Semans and James H. Semans, the late Frank E. Hanscom III, The Duke Endowment, the Nancy Hanks Endowment, the Courtney Shives Art Museum Fund, the James Hustead Semans Memorial Fund, the Janine and J. Tomilson Hill Family Fund, the Trent A. Carmichael Fund for Community Education, the Neely Family Fund, the E. T. Rollins, Jr. and Frances P. Rollins Fund for the Nasher Museum of Art at Duke University, the Marilyn M. Arthur Fund, the Sarah Schroth Fund, the George W. and Viola Mitchell Fearnside Endowment Fund, the Gibby and Michael B. Waitzkin Fund, the K. Brantley and Maxine E. Watson Endowment Fund, the Victor and Lenore Behar Endowment Fund, the Margaret Elizabeth Collett Fund, the Nasher Museum of Art General Endowment, the Friends of the Nasher Museum of Art, and the Office of the President and the Office of the Provost, Duke University.
© 2000-2015 Nasher Museum of Art at Duke University. Unauthorized use is prohibited.
ON

INTERACT
Visitors are invited to experience Stacey L. Kirby's latest work 
Power of the Ballot 
(2014), part of 
Area 919: Artists in the Triangle
. This "performative interaction" asks visitors to consider "What obstacles do you overcome to vote?" Chief Precinct Officer Kirby and/or her Precinct Officers of the Interior will be at the Nasher Museum activating her performance installation throughout the run of the exhibition.
Complete performance schedule
.

READ
To accompany the exhibition 
Area 919
, the museum will host two discussions on "A Good Man is Hard to Find," the short story by Flannery O'Connor, recommended by artist George Jenne as inspiration for his video in
Area 919.
Wednesday, March 18, 11 AM
and
Sunday, March 22, 2 PM
at the Nasher Museum. Visitors are encouraged to read the book prior to the
discussions
. The book is available for purchase in the
Nasher Museum Store
.

PARTICIPATE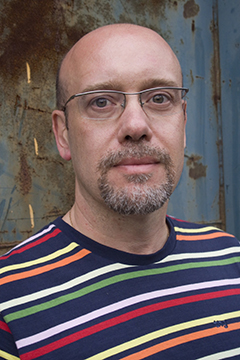 GLOBAL BRAZIL CONFERENCE KEYNOTE SPEAKER: ROBERTO CONDURU
Thursday, March 26, 6 PM
Art historian and scholar Roberto Conduru will give the keynote talk, "Indices of Africa in Brazilian Art of the 1960s and 1970s," for the 
Global Brazil Conference at Duke
. 

CREATE
ARTCON DUKE: STUDENT-LED ARTS AND CREATIVITY SUMMIT

Friday and Saturday, March 20 and 21
ArtCon Duke is Duke's first student-led arts and creativity summit. The two-day event will celebrate and develop the vibrant and diverse arts culture of Duke and the Durham community. Activities include career workshops, music, food and fun. Art-Storm Sessions will bring students, alumni, faculty, administrators, and local artists together to "artstigate" innovative ways of defining and expanding "The Arts" at Duke.
Registration required
.

SUPPORT
JOIN
Join, renew, upgrade or give the gift of membership
online
or by calling 919-684-3411.
GIVE
Become a supporter
online
. Individuals, corporations and foundations can call 919-668-4063 for further information.
All gifts and memberships are 100% tax-deductible.

VISIT
Location
Hours
Tue, Wed, Fri, Sat - 10 AM to 5 PM
Thu - 10 AM to 9 PM
Sun - Noon to 5 PM
Mon - closed
General admission
$5 Adults
$4 Seniors (65 and older)
$3 Non-Duke students with student ID

FREE ADMISSION:
Nasher Museum members
Children 15 and under
Duke students, faculty and staff with DukeCard or Duke Medicine ID
Duke Alumni Assoc. Members with Alumni Membership Card
Every Thursday evening, 5-9 PM

Admission is also FREE to all active duty military personnel and up to five family members, with military ID: Geneva Convention common access card (CAC), a DD Form 1173 ID card, or a DD Form 1173-1 ID card.