Abstract painter Odili Donald Odita has chosen the
Foster Street wall of the Downtown Durham YMCA, 218 W. Morgan St.
, as the site for his monumental wall painting.
Thank you
to the Downtown Durham YMCA--and Durham leaders--for embracing this project! The Nasher Museum has commissioned the mural for
Nasher10
, a celebration of our first decade at Duke and in Durham.
SAVE THE DATE
: On Oct. 10, we'll dedicate the mural at a Nasher10 Block Party in downtown Durham. The mural will remain on view for up to three years.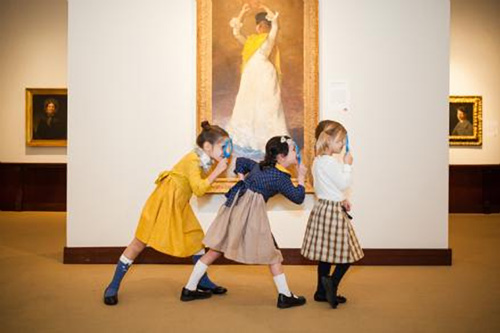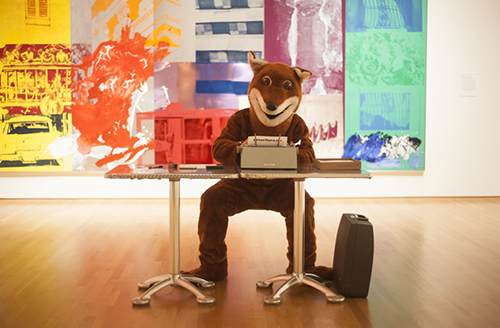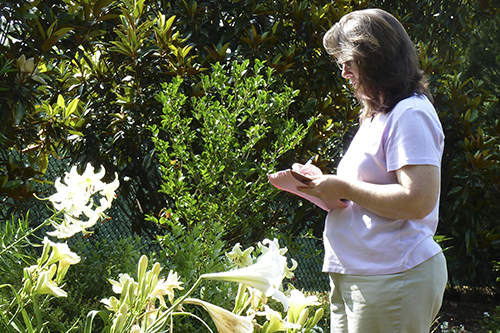 K-12 SUMMER TEACHER WORKSHOP / 2 Day Workshop: Wednesday, June 24 and Thursday, June 25, 9 AM – 4 PM, $35
/ Join education staff from the Sarah P. Duke Gardens and the Nasher Museum of Art as we explore the many connections between visual art and natural science. 
Register online
by May 29.


UPCOMING TOURS

Tour with Your Tot /
Thursday, May 7, 11 AM
more details
.
Free Slow Art Tour /
Saturday, May 9, 11 AM
more details
.
Fear and Loathing & The American Dream
/ Thursday, May 14, 6 PM
more details.
Public Tours
/ Thursdays, 6 PM, Sundays, 2 PM /
more details
.

Banner: Mike Kelley, Four Wire Sculptures, 1990. Four parts: mixed media with yarn and wire, dimensions variable. Collection of Blake Byrne, T'57.

Art Museum Day photo by Audrey Blake Breheney.

All other photos by J Caldwell.

Nasher Museum exhibitions and programs are generously supported by the Mary Duke Biddle Foundation, the late Mary D.B.T. Semans and James H. Semans, the late Frank E. Hanscom III, The Duke Endowment, the Nancy Hanks Endowment, the Courtney Shives Art Museum Fund, the James Hustead Semans Memorial Fund, the Janine and J. Tomilson Hill Family Fund, the Trent A. Carmichael Fund for Community Education, the Neely Family Fund, the E. T. Rollins, Jr. and Frances P. Rollins Fund for the Nasher Museum of Art at Duke University, the Marilyn M. Arthur Fund, the Sarah Schroth Fund, the George W. and Viola Mitchell Fearnside Endowment Fund, the Gibby and Michael B. Waitzkin Fund, the K. Brantley and Maxine E. Watson Endowment Fund, the Victor and Lenore Behar Endowment Fund, the Margaret Elizabeth Collett Fund, the Nasher Museum of Art General Endowment, the Friends of the Nasher Museum of Art, and the Office of the President and the Office of the Provost, Duke University.

© 2000-2015 Nasher Museum of Art at Duke University. Unauthorized use is prohibited
Events at the Nasher
over the next two weeks.
SPECIAL NOTE:
The museum will be closed from Tuesday, May 19 through Thursday, May 21 for renovations.

JOIN
Join, renew, upgrade or give the gift of membership
online
or by calling 919-684-3411.
GIVE
Become a supporter
online
. Individuals, corporations and foundations can call 919-668-4063 for further information.
All gifts and memberships are 100% tax-deductible.

VISIT
Location
Hours
Tue, Wed, Fri, Sat - 10 AM to 5 PM
Thu - 10 AM to 9 PM
Sun - Noon to 5 PM
Mon - closed
General admission
$5 Adults
$4 Seniors (65 and older)
$3 Non-Duke students with student ID

FREE ADMISSION:
Nasher Museum members
Children 15 and under
Duke students, faculty and staff with DukeCard or Duke Medicine ID
Duke Alumni Assoc. Members with Alumni Membership Card
Every Thursday evening, 5-9 PM

Admission is also FREE to all active duty military personnel and up to five family members, with military ID: Geneva Convention common access card (CAC), a DD Form 1173 ID card, or a DD Form 1173-1 ID card.