NASHER MUSEUM OF ART AT DUKE UNIVERSITY
@NasherMuseum no. 175 / You Belong Here
Gallery Talk in Art of the Americas: Mesoamerica
Thursday, November 12, 6 PM
Learn about chocolate and tobacco references in Art of the Americas: Mesoamerica, with Elvira Vilches, associate research professor of romance studies at Duke. Followed by a chocolate tasting led by
Escazú Artisan Chocolates
of Raleigh.
Annual Semans Lecture: Brooke Davis Anderson
Contemporary Art, New Orleans & the Nasher Museum
Thursday, November 19, 7 PM
Plan your fabulous art trip to New Orleans now! Join us for a free talk by Brooke Davis Anderson, executive director of 
Prospect New Orleans
, the largest international triennial in the United States. Anderson's talk, "Contemporary Art Meets the Big Easy" will be about the history of this city-wide exhibition. She will also talk about the future: Chief Curator Trevor Schoonmaker is the Artistic Director of 
Prospect 4
, opening in fall 2017. Reception with cash bar to follow.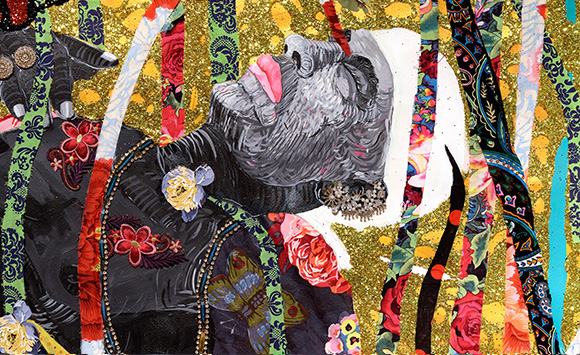 Free Slow Art Tour
Saturday, November 14, 11 AM
Enjoy art at a different pace. Instead of an exhibition overview, we'll spend 30-45 minutes with a single work of art. This week's Slow Art Tour selection is Ebony Patterson's ...shortly after 8- beyond the bladez. Seating is provided and tours are led by a gallery guide. Tours are free with museum admission.
Book Discussion: The New Jim Crow
Sunday, November 15, 2 PM & Wednesday, November 18, 11 AM
The museum is hosting two book discussions on 
The New Jim Crow 
by Michelle Alexander. Visitors are encouraged to read the book prior to the discussions. Books are available for purchase in the 
Nasher Museum Store
.
Sketching in the Galleries
Saturday, November 21, 10 AM
Local artist Rachel Goodwin will demonstrate several types of contour line drawings: blind contour, continuous line contour, modified contour and cross-contour drawing. Then you can try it out in the galleries! The program is free with admission and drawing materials are provided. You may bring your own materials, but please note that pens, charcoal and wet media are not permitted in the galleries. General museum admission is $5 for adults.
Free Family Day
Sunday, November 22, Noon - 4 PM
Science and Art Nerds Unite!

This Family Day we are hosting the North Carolina Section of the American Chemical Society, with a focus on the chemistry of color. This free day will feature live performances from Chemistry in Action as well as fun activities in the great hall like chromatography butterflies and marbeled nametags and so much more!
The newly renovated Rubenstein Photography Gallery features a new installation, Aunties: The Seven Summers of Alevtina and Ludmila, photographs by Nadia Sablin. Congratulations to our friends at the Archive of Documentary Arts at the Rubenstein Library and the Center for Documentary Studies at Duke! The opening event is Thursday, November 12, at 5:30 PM: reception, artist talk and book signing. The gallery is inside the Rubenstein Library, adjacent to Perkins Library on Duke's West Campus. Plan ahead for time to park.

Tavares Strachan, You belong here, 2014. Video recording of blocked out neon sign on the Mississippi River and Industrial Canal. Courtesy of the artist. A project for Prospect.3: Notes for Now, a Project of Prospect New Orleans, October 25, 2014 - January 25, 2015. Photo © Vincent Gray.

Maya (Guatemala), Cylinder vase, c. 600-850 CE. Polychrome on ceramic, 5 1/2 x 6 1/8 inches (14 x 15.6 cm). Collection of the Nasher Museum of Art at Duke University. Museum purchase, 1976.77.1. Photo by Peter Paul Geoffrion.

Ebony G. Patterson, ...shortly after 8- beyond the bladez (detail), 2014. Mixed media on paper, 92 x 111 inches (233.7 x 281.9 cm). Collection of the Nasher Museum of Art at Duke University, Durham, North Carolina. Museum purchase with additional funds provided by Blake Byrne (T'57) and Marjorie and Michael Levine (T'84, P'16, P'19, P'19); 2015.3.1. © Ebony G. Patterson. Photo by Peter Paul Geoffrion.

On a recent Family Day, children draw on the museum's windows with colors inspired by Odili Donald Odita. Photo by J Caldwell.

Nasher Museum exhibitions and programs are generously supported by the Mary Duke Biddle Foundation, the late Mary D.B.T. Semans and James H. Semans, the late Frank E. Hanscom III, The Duke Endowment, the Nancy Hanks Endowment, the Courtney Shives Art Museum Fund, the James Hustead Semans Memorial Fund, the Janine and J. Tomilson Hill Family Fund, the Trent A. Carmichael Fund for Community Education, the Neely Family Fund, the E. T. Rollins, Jr. and Frances P. Rollins Fund for the Nasher Museum of Art at Duke University, the Marilyn M. Arthur Fund, the Sarah Schroth Fund, the George W. and Viola Mitchell Fearnside Endowment Fund, the Gibby and Michael B. Waitzkin Fund, the K. Brantley and Maxine E. Watson Endowment Fund, the Victor and Lenore Behar Endowment Fund, the Margaret Elizabeth Collett Fund, the Nasher Museum of Art General Endowment, the Friends of the Nasher Museum of Art, and the Office of the President and the Office of the Provost, Duke University.

Both murals by Odili Donald Odita are commissioned by the Nasher Museum of Art at Duke University. Both murals are made possible by the Office of the Vice Provost for the Arts and Council for the Arts Visiting Artist Program of Duke University; the Winifred Johnson Clive Foundation; and Elizabeth Hitchins Quigley and L. Matthew Quigley. Additional generous support is provided by Nasher Annual Fund donors.

The New Galleries: A Collection Come to Light is made possible by Nasher Annual Fund donors with special support from Anita and John Schwarz.

The presentation of Richard Mosse: The Enclave at the Nasher Museum is made possible by Trent Carmichael, Katie Thorpe Kerr and Terrance I. R. Kerr, Lisa Lowenthal Pruzan and Jonathan Pruzan, Caroline and Arthur Rogers, and Gail M.D. Belvett.

2001 Campus Drive, Durham, NC 27705 (Map) | nasher.duke.edu | 919-684-5135

Visit Exhibitions Calendar Café Join Support

© 2000-2015 Nasher Museum of Art at Duke University. Unauthorized use is prohibited