NASHER MUSEUM OF ART AT DUKE UNIVERSITY
@NasherMuseum no. 177 / Oak Wreath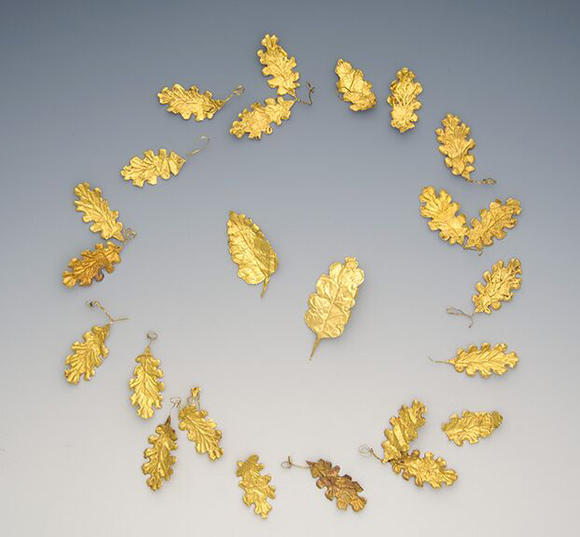 Happy Thanksgiving!
The museum is closed Thursday, November 26, and will return to normal business hours for the rest of the week.
Special Themed Tour: Identity Narratives in Contemporary Art
Sunday, November 29, 2 PM
Explore 
Reality of My Surroundings
in a conversational tour with gallery guide Maggie Griffin, who will discuss contemporary representations of identity. Individuals or groups of fewer than 10 people may take this free tour. Guided tours on various topics are offered every Thursday at 6 PM.
Tours
are free of charge and last about an hour
Member Appreciation Week
Sunday, December 6 - Saturday December 12
All week long, Nasher Museum members enjoy discounts in the store and café, prizes and an invitation to the Member Open House party!
Have you joined yet? Visit us 
online
 or email 
nashermembership@duke.edu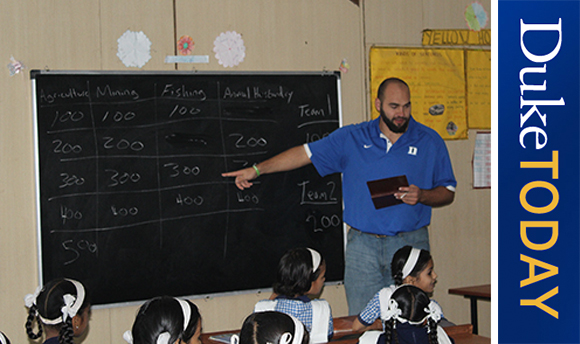 Life Lessons Go Beyond Football
Former museum guard Marcus Aprahamian is Blue Devil of the Week! Aprahamian puts to practice what he learned from Duke football
. Read more on
Duke Today
.
Thank you!
Thanks to all of our
Family Day
visitors last weekend! Special thanks to our partners from the NC Section of the American Chemical Society for helping us celebrate the chemistry of color through fun activities and exciting demonstrations. Join us for the next Family Day on Sunday, January 24, 2016 from Noon-4 PM.
Look Again: Nasher10 NED Talks
Watch vidoes from our recent Nasher, Education, Duke (NED) Talks:

* The Art of the Girl: John Caccavale, executive director, Duke Financial Economics Center
* Seeing with New Eyes: Indrani Saha, undergraduate student (T'17)
* Let There be Light (and Color): "Wired!" team comprised of faculty members Caroline Bruzelius, Anne M. Cogan Professor of Art History; Mark Olson, Cordelia and William Laverack Family  Assistant Professor of Art, Art History & Visual Studies; Guillermo Sapiro, Edmund T. Pratt Jr. School Professor of Electrical and Computer Engineering and Mariano Tepper, postdoctoral associate in Electrical and Computer Engineering
* Deja Vu, but Definitely Not All Over Again: Peter Lange, provost emeritus

Zanele Muholi, Katlego Mashiloane and Nosipho Lavuta, Ext. 2, Lakeside, Johannesburg, 2007. Lambda print, edition 7/8, 34 x 34 inches (86.4 x 86.4 cm). Collection of the Nasher Museum of Art at Duke University, Durham, North Carolina. Gift of Blake Byrne, T'57; 2012.14.1 © Zanele Muholi.

Northern Greek (?), Oak wreath, 3rd - 2nd century BCE. Gold, 1 x 1/2 inches (2.5 x 1 cm) each. Nasher Museum of Art. Collection of Walter Kempner, M.D., gift of Barbara Newborg, M.D.; 2006.1.215. Photo by Peter Paul Geoffrion.

Barkley L. Hendricks, Bahsir (Robert Gowens) (detail), 1975. Oil and acrylic on canvas, 83 ½ x 66 inches (212.1 x 167.6 cm). Collection of the Nasher Museum of Art. Museum purchase with additional funds provided by Jack Neely, 2007.5.1. © Barkley L. Hendricks. Courtesy of the artist and Jack Shainman Gallery, New York. Photo by Peter Paul Geoffrion.

Photo of artist Richard Mosse talking to museum visitors by J Caldwell.

Nasher Museum exhibitions and programs are generously supported by the Mary Duke Biddle Foundation, the late Mary D.B.T. Semans and James H. Semans, the late Frank E. Hanscom III, The Duke Endowment, the Nancy Hanks Endowment, the Courtney Shives Art Museum Fund, the James Hustead Semans Memorial Fund, the Janine and J. Tomilson Hill Family Fund, the Trent A. Carmichael Fund for Community Education, the Neely Family Fund, the E. T. Rollins, Jr. and Frances P. Rollins Fund for the Nasher Museum of Art at Duke University, the Marilyn M. Arthur Fund, the Sarah Schroth Fund, the George W. and Viola Mitchell Fearnside Endowment Fund, the Gibby and Michael B. Waitzkin Fund, the K. Brantley and Maxine E. Watson Endowment Fund, the Victor and Lenore Behar Endowment Fund, the Margaret Elizabeth Collett Fund, the Nasher Museum of Art General Endowment, the Friends of the Nasher Museum of Art, and the Office of the President and the Office of the Provost, Duke University.

Both murals by Odili Donald Odita are commissioned by the Nasher Museum of Art at Duke University. Both murals are made possible by the Office of the Vice Provost for the Arts and Council for the Arts Visiting Artist Program of Duke University; the Winifred Johnson Clive Foundation; and Elizabeth Hitchins Quigley and L. Matthew Quigley. Additional generous support is provided by Nasher Annual Fund donors.

The New Galleries: A Collection Come to Light is made possible by Nasher Annual Fund donors with special support from Anita and John Schwarz.

The presentation of Richard Mosse: The Enclave at the Nasher Museum is made possible by Trent Carmichael, Katie Thorpe Kerr and Terrance I. R. Kerr, Lisa Lowenthal Pruzan and Jonathan Pruzan, Caroline and Arthur Rogers, and Gail M.D. Belvett.

2001 Campus Drive, Durham, NC 27705 (Map) | nasher.duke.edu | 919-684-5135

Visit Exhibitions Calendar Café Join Support

© 2000-2015 Nasher Museum of Art at Duke University. Unauthorized use is prohibited