NASHER MUSEUM OF ART AT DUKE UNIVERSITY
@NasherMuseum no. 181 / Happy Holidays
Closed a Bit, Open a Lot
The Nasher Museum will close early next Thursday, New Year's Eve (5 PM), and we are closed next Friday for New Year's Day. Admission is always free for ages 15 and under. If you have an hour or a whole day, here are ways to make the most of your visit.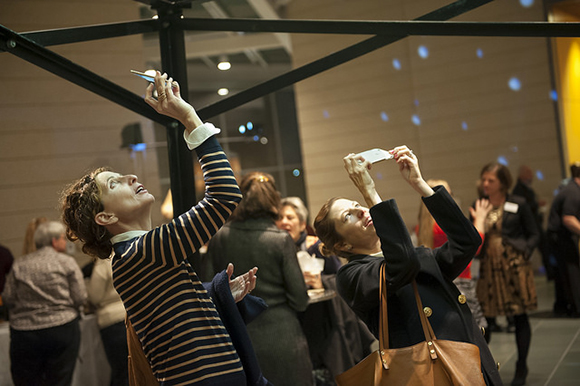 Impress Those Guests
We have art for all ages and sensibilities in
The Enclave
,
Reality of My Surroundings
and
The New Galleries
. Free Public Tours
/ Thursdays, 6 PM, Sundays, 2 PM /
more details
.
Nasher10: Connecting to the Community
Our pals at the Durham Convention and Visitors Bureau captured the Nasher Museum in this
fun video
, in honor of the museum's first decade in Durham and at Duke. Thank you Durham, NC, #wheregreatthingshappen
2.5 Shopping days left
The Nasher Museum Store features gifts that are unusual, inspired and affordable for everyone on your list.
Nine Gifting Days Left
Nasher Museum Membership gifts are 100% tax deductible (tax deadline is Dec. 31)! Give a year of creative and unexpected art experiences to every hard-to-shop-for person on your list. A
Gift Membership
will be mailed to your recipient with a special welcome kit.
It's a Match!
We are thrilled to announce a $250,000 Annual Fund Leadership challenge in honor of Raymond D. Nasher, the museum's founder and namesake. Thanks to the generosity of Nancy A. Nasher and her husband David J. Haemisegger, 
every
 new gift or pledge to the Nasher Annual Fund of $500 or more will be matched
dollar for dollar
up to $250,000 between now and June 30, 2016. Please make 
your gift
 of support today. 
Hip Hopera
Wednesday, December 30, 10:30 AM
Going stir crazy with the kids? Bring the family to see 5P1N0K10 (Spinokio), a Hip Hopera (Hip Hop Opera) about a robot-boy who wants to become human. This Afro-Futuristic take on Carlo Collodi's Classic "Pinocchio" features hand-crafted puppets by Tarish "
Jaghetto
" Pipkins, projections and a live score written by Durham hip hop/jazz quartet
The Beast
. This world premiere will be for the whole family! Recommended for children ages 10 and younger, but all ages are welcome. Free with museum admission.

Navajo, Third Phase chief's blanket, 20th century. Wool, 72 x 53 inches (182.9 x 134.6 cm). Collection of the Nasher Museum. Gift of Mr. and Mrs. Raymond D. Nasher.

French, Four reliefs of apostles, c. 1125-1150. Limestone, approx. 34 x 11 3/4 inches (86.4 x 29.8 cm) each. Nasher Museum of Art at Duke University, Durham, NC. The Brummer Collection, 1966.147-150.1. Photo by J Caldwell.

Rashid Johnson, Self-Portrait as the Professor of Astronomy, Miscegenation, and Critical Theory at "The New Negro Escapist Social and Athletic Club" Center for Graduate Studies, 2009. Lambda print, edition 4/5, 51 1/2 × 90 inches (130.8 × 228.6 cm). Nasher Museum of Art at Duke University, Durham, North Carolina. Promised gift of Marjorie and Michael Levine (T'84, P'16, P'19, P'19), L.29.2014.1. © Rashid Johnson. Courtesy of the artist and Monique Meloche Gallery, Chicago, Illinois.

All other photos by J Caldwell.

Nasher Museum exhibitions and programs are generously supported by the Mary Duke Biddle Foundation, the late Mary D.B.T. Semans and James H. Semans, the late Frank E. Hanscom III, The Duke Endowment, the Nancy Hanks Endowment, the Courtney Shives Art Museum Fund, the James Hustead Semans Memorial Fund, the Janine and J. Tomilson Hill Family Fund, the Trent A. Carmichael Fund for Community Education, the Neely Family Fund, the E. T. Rollins, Jr. and Frances P. Rollins Fund for the Nasher Museum of Art at Duke University, the Marilyn M. Arthur Fund, the Sarah Schroth Fund, the George W. and Viola Mitchell Fearnside Endowment Fund, the Gibby and Michael B. Waitzkin Fund, the K. Brantley and Maxine E. Watson Endowment Fund, the Victor and Lenore Behar Endowment Fund, the Margaret Elizabeth Collett Fund, the Nasher Museum of Art General Endowment, the Friends of the Nasher Museum of Art, and the Office of the President and the Office of the Provost, Duke University.

Both murals by Odili Donald Odita are commissioned by the Nasher Museum of Art at Duke University. Both murals are made possible by the Office of the Vice Provost for the Arts and Council for the Arts Visiting Artist Program of Duke University; the Winifred Johnson Clive Foundation; and Elizabeth Hitchins Quigley and L. Matthew Quigley. Additional generous support is provided by Nasher Annual Fund donors.

The New Galleries: A Collection Come to Light is made possible by Nasher Annual Fund donors with special support from Anita and John Schwarz.

The presentation of Richard Mosse: The Enclave at the Nasher Museum is made possible by Trent Carmichael, Katie Thorpe Kerr and Terrance I. R. Kerr, Lisa Lowenthal Pruzan and Jonathan Pruzan, Caroline and Arthur Rogers, and Gail M.D. Belvett.

2001 Campus Drive, Durham, NC 27705 (Map) | nasher.duke.edu | 919-684-5135

Visit Exhibitions Calendar Café Join Support

© 2000-2015 Nasher Museum of Art at Duke University. Unauthorized use is prohibited