NASHER MUSEUM OF ART AT DUKE UNIVERSITY
@NasherMuseum no. 187 / I Got You Babe
Panel Discussion: Collecting and Presenting Work by Artists of African Descent
Thursday, February 11, 7 PM
Please come early — 6 PM — to mingle with our panelists and take in our exhibition that features works by many artists of African descent, Reality of My Surroundings: The Contemporary Collection. Seats will fill up fast!

Join us for a lively conversation on collecting and presenting work by artists of African descent, with New York Times art critic Holland Cotter, Studio Museum in Harlem Director Thelma Golden, San Francisco art collector Pamela Joyner, New York gallery owner Jack Shainman and Pérez Art Museum (Miami) Director Franklin Sirmans. The panel will be moderated by Richard J. Powell, Dean of Humanities and John Spencer Bassett Professor of Art and Art History at Duke. This event is a collaboration between the Nasher Museum, Ackland Art Museum at the University of North Carolina at Chapel Hill, the North Carolina Central University Art Museum and the North Carolina Museum of Art. Free and open to all.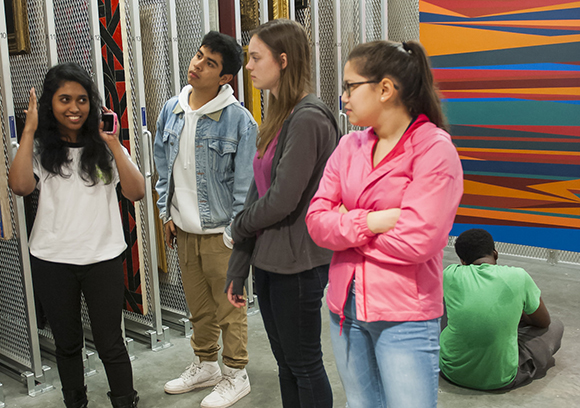 #NasherTeens Valentine's Day Meetup
Saturday, February 13, 11 AM
Have you ever had instant chemistry with a work of art? Or been turned right off? Join us for a chance to hear stories about art on view that will make you fall in love, want to break up or start a complicated relationship with works of art in our collection.  You'll discover art you love instantly and art that gives you more of a slow burn. Enjoy Valentine's Day-themed activities and snacks! Join us for the Nasher's first program in a series designed for teens — and open to all teens.

Space is limited! Register online and reserve a spot! Free admission and snacks for teens with a valid ID.

Not a teen? Check out our The Art of Love tour below.
Special Tour: The Art of Love
Sunday, February 14, 2 PM
Enjoy a special St. Valentine's Day tour of works in our collection with gallery guide Ruth Caccavale. Individuals, or groups of fewer than 10 people, may take this guided public tour. This tour is free with admission and lasts approximately one hour.

Artist Dario Robleto at SECCA in Winston-Salem
The Pulse Armed With a Pen: An Unknown History of the Human Heartbeat
Tuesday, February 2, 7 PM
Visit the
Southeastern Center for Contemporary Art
in Winston-Salem for the opening of the group exhibition, The Future We Remember and for artist Dario Robleto's live presentation, "The Pulse Armed With a Pen: An Unknown History of the Human Heartbeat." His presentation is followed by a reception that is free and open to all. Dario's beautiful triptych is also on view now at the Nasher Museum.
More details
.

Kehinde Wiley, Ivelaw III (study) (detail), 2006. Pencil and oil on paper, 27 1⁄2 x 21 1⁄2 inches (69.9 x 54.6 cm). Nasher Museum of Art at Duke University. Promised gift of Blake Byrne (T'57) in honor of Raymond D. Nasher. © Kehinde Wiley Studio. Photo by Peter Paul Geoffrion.

Nicola Maria Rossi, Italian, Marriage of Jupiter and Juno (detail), c. 1720-1730. Oil on canvas, 35 x 27 inches (88.9 x 68.6 cm). Collection of the Nasher Museum. Gift of Joseph and Marilyn Sparling. Photo by Peter Paul Geoffrion.

Dario Robleto, The Pulsed Armed With a Pen (An Unknown History of the Human Heartbeat), 2014. Courtesy Southeastern Center for Contemporary Art.

All other photos by J Caldwell.

Nasher Museum exhibitions and programs are generously supported by the Mary Duke Biddle Foundation, the late Mary D.B.T. Semans and James H. Semans, the late Frank E. Hanscom III, The Duke Endowment, the Nancy Hanks Endowment, the Courtney Shives Art Museum Fund, the James Hustead Semans Memorial Fund, the Janine and J. Tomilson Hill Family Fund, the Trent A. Carmichael Fund for Community Education, the Neely Family Fund, the E. T. Rollins, Jr. and Frances P. Rollins Fund for the Nasher Museum of Art at Duke University, the Marilyn M. Arthur Fund, the Sarah Schroth Fund, the George W. and Viola Mitchell Fearnside Endowment Fund, the Gibby and Michael B. Waitzkin Fund, the K. Brantley and Maxine E. Watson Endowment Fund, the Victor and Lenore Behar Endowment Fund, the Margaret Elizabeth Collett Fund, the Nasher Museum of Art General Endowment, the Friends of the Nasher Museum of Art, and the Office of the President and the Office of the Provost, Duke University.

Both murals by Odili Donald Odita are commissioned by the Nasher Museum of Art at Duke University. Both murals are made possible by the Office of the Vice Provost for the Arts and Council for the Arts Visiting Artist Program of Duke University; the Winifred Johnson Clive Foundation; and Elizabeth Hitchins Quigley and L. Matthew Quigley. Additional generous support is provided by Nasher Annual Fund donors.

The New Galleries: A Collection Come to Light is made possible by Nasher Annual Fund donors with special support from Anita and John Schwarz.

2001 Campus Drive, Durham, NC 27705 (Map) | nasher.duke.edu | 919-684-5135

Visit Exhibitions Calendar Café Join Support

© 2000-2016 Nasher Museum of Art at Duke University. Unauthorized use is prohibited