NASHER MUSEUM OF ART AT DUKE UNIVERSITY
@NasherMuseum no. 191 / Alfredo Jaar
The Annual Barbra and Andrew Rothschild Lecture: Alfredo Jaar
Wednesday, March 2, 7 PM (Doors open at 5:30 PM)
The Nasher Museum presents Alfredo Jaar, an internationally known artist and filmmaker whose work is part of
A Material Legacy: The Nancy A. Nasher and David J. Haemisegger Collection of Contemporary Art
. Born in Chile and now living and working in New York City, Jaar makes provocative and politically motivated art.
New Seating Policy
: Please arrive early! Seating is limited. Tickets are
FREE
, but required. Free ticket distribution starts at 5:30 PM. Pick up your ticket at the information desk (limit 2 tickets per person). Cash bar opens at 6 PM.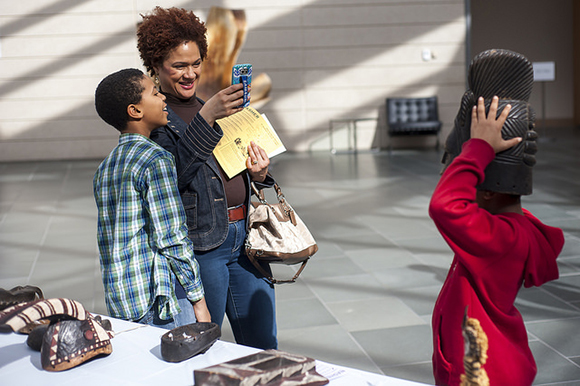 Free Family Day
Sunday, March 13, Noon-4 PM
his exciting Family Day will focus on A Material Legacy, with art making activities that explore non-traditional materials in conjunction with the Scrap Exchange and performances by Rags to Riches Theatre for Young Audiences. Should be a blast for all!

Admission to the museum is free on Family Days.
In the Museum Store
A Material Legacy, edited by Marshall N. Price
From the Blog
Questioning Representation: Alfredo Jaar
Yi Ying Teh, Duke Class of 2016, writes, "In response to a culture of image saturation, artist Alfredo Jaar's work conceives of ways for us to re-see the familiar and react once again."
Read more
.
Now on YouTube
Panel Dicussion: Collecting & Presenting Works by Artists of African Descent
Full playlist on YouTube
.
The Nasher Museum hosted a lively conversation on collecting and presenting work by artists of African descent, with New York Times art critic Holland Cotter, Studio Museum in Harlem Director Thelma Golden, San Francisco art collector Pamela Joyner, New York gallery owner Jack Shainman and Pérez Art Museum (Miami) Director Franklin Sirmans on February 11, 2016. The panel was moderated by Richard J. Powell, Dean of Humanities and John Spencer Bassett Professor of Art and Art History at Duke.
Dan Walsh,
Cycle X
, 2013. Pencil and acrylic on canvas, 70 x 70 inches (177.8 x 177.8 cm). Nancy A. Nasher and David J. Haemisegger Collection. Image courtesy of the artist and Paula Cooper Gallery, New York, New York. © Dan Walsh. Photo by Steven Probert.
Alfredo Jaar, 
The Geometry of Conscience
, 2010.
Alfredo Jaar,
 Life Magazine
, April 19, 1968, 1995. Three photographic prints, edition 3/3, 61 x 120 inches (154.9 x 304.8 cm) overall. Nancy A. Nasher and David J. Haemisegger Collection. Image courtesy of the artist and Galeries Lelong, New York, New York. © Alfredo Jaar.
All other photos by J Caldwell.
Nasher Museum exhibitions and programs are generously supported by the Mary Duke Biddle Foundation, the late Mary D.B.T. Semans and James H. Semans, the late Frank E. Hanscom III, The Duke Endowment, the Nancy Hanks Endowment, the Courtney Shives Art Museum Fund, the James Hustead Semans Memorial Fund, the Janine and J. Tomilson Hill Family Fund, the Trent A. Carmichael Fund for Community Education, the Neely Family Fund, the E. T. Rollins, Jr. and Frances P. Rollins Fund for the Nasher Museum of Art at Duke University, the Marilyn M. Arthur Fund, the Sarah Schroth Fund, the George W. and Viola Mitchell Fearnside Endowment Fund, the Gibby and Michael B. Waitzkin Fund, the K. Brantley and Maxine E. Watson Endowment Fund, the Victor and Lenore Behar Endowment Fund, the Margaret Elizabeth Collett Fund, the Nasher Museum of Art General Endowment, the Friends of the Nasher Museum of Art, and the Office of the President and the Office of the Provost, Duke University.
Both murals by Odili Donald Odita are commissioned by the Nasher Museum of Art at Duke University. Both murals are made possible by the Office of the Vice Provost for the Arts and Council for the Arts Visiting Artist Program of Duke University; the Winifred Johnson Clive Foundation; and Elizabeth Hitchins Quigley and L. Matthew Quigley. Additional generous support is provided by Nasher Annual Fund donors.
The New Galleries: A Collection Come to Light
is made possible by Nasher Annual Fund donors with special support from Anita and John Schwarz.
2001 Campus Drive, Durham, NC 27705 (
Map
) |
nasher.duke.edu
| 919-684-5135
Visit
Exhibitions
Calendar
Café
Join
Support
© 2000-2016 Nasher Museum of Art at Duke University. Unauthorized use is prohibited