NASHER MUSEUM OF ART AT DUKE UNIVERSITY
@NasherMuseum no. 208 / Black Ballerina
Highlights Tours

Highlights Tour: Place and Identity. Thursday, June 30, 6 PM. Examine how artists use symbols, colors, appropriated images and cultural archetypes to create a sense of place and identity within their work Kate Newman.
More details
.
We offer
Free Highlights Tours
on Thursdays at 6 PM and Sundays at 2 PM.
More details
.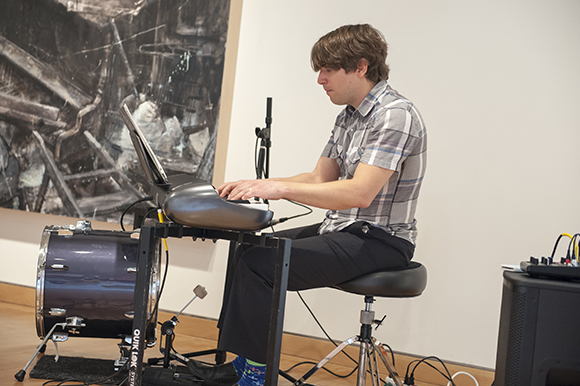 Gallery Concert
Thursday, July 7, 7 PM
Relax in The Collection Galleries with live music by Mark Wells that complements American Art, 1800-1945.
Nasher Creates: Kid Studio
Tuesday, July 12, 10 AM
Bring the family to a drop-in creative workshop! We will create tape paintings inspired by the mural 
Shadow and Light (For Julian Francis Abele) 
by Odili Donald Odita.
Free with admission. 
Kid Studio activities are intended for kids ages 5-10. Not for groups larger than 8. If you wish to have more than 8 people in a group, please contact
nashered@duke.edu
.
American Dance Festival: International Screendance Festival 2016
Thursday, July 7, 7 PM and Saturday, July 9, 2 PM
Enjoy free screenings of American Dance Festival's 2016 entries in the International Screendance Festival.

Thursday, July 7, ADF's Movies By Movers Documentary Feature Screening Black Ballerina (Director Frances McElroy) and Saturday, July 9, ADF's Movies By Movers professional shorts screening. More.
Nasher Artist in the News: Burk Uzzle
Museums Matter!
Last Chance for this Fiscal Year

Please consider
giving online
or calling (919) 684-3411 by June 30th to make your contribution for this fiscal year. Your support helps us deliver more of your favorite Nasher programs and exhibitions!
LaToya Ruby Frazier,
Grandma Ruby and me
, 2005. Gelatin silver print mounted on museum board, 20 x 24 inches (50.8 x 61 cm). Collection of the Nasher Museum of Art at Duke University, Durham, North Carolina. Museum purchase with funds provided by Marjorie and Michael Levine (T'84, P'16, P'19, P'19); 2013.6.2. © LaToya Ruby Frazier. Courtesy of the artist and Michel Rein, Paris, France / Brussels, Belgium.
Phoitos by J Caldwell. Video stills courtesy American Dance Festival.
Nasher Museum exhibitions and programs are generously supported by the Mary Duke Biddle Foundation, the late Mary D.B.T. Semans and James H. Semans, the late Frank E. Hanscom III, The Duke Endowment, the Nancy Hanks Endowment, the Courtney Shives Art Museum Fund, the James Hustead Semans Memorial Fund, the Janine and J. Tomilson Hill Family Fund, the Trent A. Carmichael Fund for Community Education, the Neely Family Fund, the E. T. Rollins, Jr. and Frances P. Rollins Fund for the Nasher Museum of Art at Duke University, the Marilyn M. Arthur Fund, the Sarah Schroth Fund, the George W. and Viola Mitchell Fearnside Endowment Fund, the Gibby and Michael B. Waitzkin Fund, the K. Brantley and Maxine E. Watson Endowment Fund, the Victor and Lenore Behar Endowment Fund, the Margaret Elizabeth Collett Fund, the Nasher Museum of Art General Endowment, the Friends of the Nasher Museum of Art, and the Office of the President and the Office of the Provost, Duke University.
The Collection Galleries 
is made possible by Nasher Annual Fund donors with special support from Anita and John Schwarz.
2001 Campus Drive, Durham, NC 27705 (
Map
) |
nasher.duke.edu
| 919-684-5135
Visit
Exhibitions
Calendar
Café
Join
Support
© 2000-2016 Nasher Museum of Art at Duke University. Unauthorized use is prohibited