Music, gallery performance, food!
Free and open to all
Cash bar and southern fare available for purchase.
7:15-8:15 PM - Musical performance by
Justin Robinson
7:30-8:30 PM - Artist
Sonya Clark
, gallery performance
8:30-9 PM - Musical performance by
shirlette ammons
9 PM - DJ set with producer
9th Wonder
Southern Accent: an exhibition four years in the making
The Nasher Museum presents
Southern Accent: Seeking the American South in Contemporary Art
, an exhibition that questions and explores the complex and contested space of the American South.
One needs to look no further than literature, cuisine and music to see evidence of the South's profound influence on American culture, and consequently much of the world. This unprecedented exhibition addresses and complicates the many realities, fantasies and myths that have long captured the public's imagination about the American South. Presenting a wide range of perspectives, from both within and outside of the region, the exhibition creates a composite portrait of southern identity through the work of 60 artists. The art reflects upon and pulls apart the dynamic nature of the South's social, political and cultural landscape.

More information: nasher.duke.edu/southern/
The Southern Accent catalogue is here!
The exhibition catalogue that accompanies
Southern Accent: Seeking the American South in Contemporary Art
is published by the Nasher Museum and distributed by Duke University Press. This beautiful 276-page catalogue offers a robust expansion of investigations raised by works in the exhibition, with texts from myriad perspectives, ranging from groundbreaking scholarship to poetry, song lyrics and personal reflections. The catalogue is available for purchase at the Nasher Museum Store.
Contributors include Diego Camposeco, Mel Chin, Brittney Cooper, John T. Edge, William Fagaly, Carter Foster, Brendan Greaves, Harrison Haynes, Andrew Hibbard, Patterson Hood, Miranda Lash, Ada Limón, Ari Marcopoulos, Mark Anthony Neal, Catherine Opie, Fahamu Pecou, Richard J. Powell, Tom Rankin, Dario Robleto, Trevor Schoonmaker, Bradley Sumrall, Natasha Trethewey, Kara Walker and Jeff Whetstone. The catalogue also features a selected music chronology, reading list and timeline of scholarship on southern art.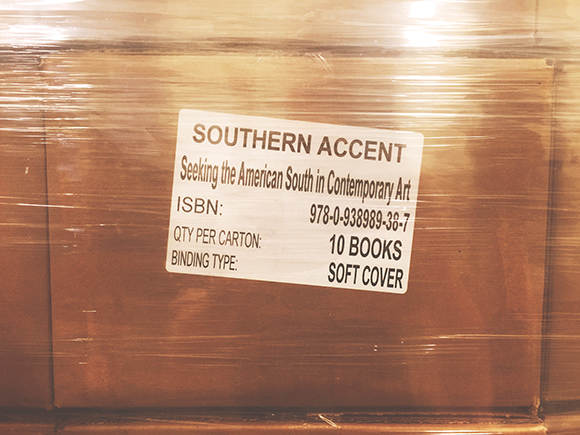 The
Southern Accen
t exhibition catalogue is co-edited by Trevor Schoonmaker, chief curator at the Nasher Museum, and Miranda Lash, curator of contemporary art at the Speed Art Museum in Kentucky.
Southern Accent: Seeking the American South in Contemporary Art
 is supported by the Andy Warhol Foundation for the Visual Arts; the William R. Kenan, Jr. Charitable Trust; Jennifer McCracken New and Jason New; Trent Carmichael; Katie Thorpe Kerr and Terrance I. R. Kerr; Drs. Victor and Lenore Behar; Caroline and Arthur Rogers; Ann Chanler and Andrew Scheman; Parker & Otis; Lisa Lowenthal Pruzan and Jonathan Pruzan; Kimball Richmond and Rodney Priddy; Sam Tsao; Gail Belvett; and Richard Tigner.
- - -
TOP: George Jenne, Spooky Understands, 2013. Video (color, sound); 21:27 minutes. Courtesy of the artist. © 2013 George Jenne.

ROTATING IMAGES: Sonya Clark and 9th Wonder photos by J Caldwell. Photo of shirlette ammons by Nika Kramer.

ABOVE: Crates hold the Southern Accent catalogue, delivered from the printer. Photo by J Caldwell.

BELOW: Sonya Clark, Unraveling (detail), 2015-present. Cotton Confederate battle flag and unraveled threads, edition 2/10; 70 x 36 x 7 inches (177.8 x 91.4 x 17.8 cm). Courtesy of the artist. © Sonya Clark. Photo by J Caldwell.

2001 Campus Drive, Durham, NC 27705 (Map) | nasher.duke.edu | 919-684-5135