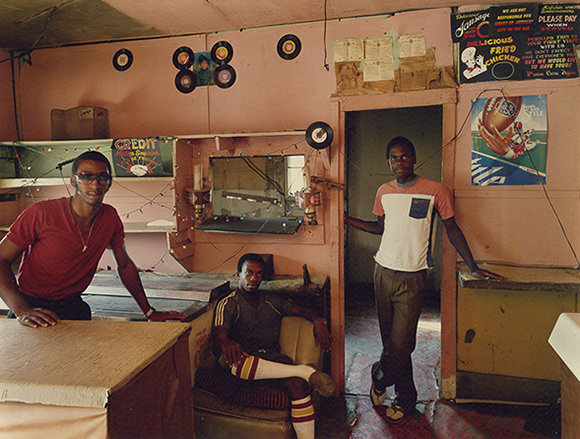 NASHER MUSEUM OF ART AT DUKE UNIVERSITY
@NasherMuseum no. 222 / A Home on the Field
LISTEN: Modern Art Notes Podcast with artist Xaviera Simmons
Historian and award-winning critic Tyler Green interviews
Southern Accent
artist Xaviera Simmons for his
Modern Art Notes Podcast
(MAN Podcast). This episode was recorded before a live Duke student audience at the Nasher Museum.
Pulitzer Prize-winning art critic Sebastian Smee has called The MAN Podcast "one of the great archives of the art of our time." Tto subscribe to this podcast, which has featured several
Southern Accent artists
. Check out
manpodcast.com
for details.
Music in the Galleries
Thursday, October 6, 7 PM
Join us in The Collection Galleries for an hour of period ambient music to enhance your viewing experience! Musicians Alex Weiss (recorder) and Lisa Doherty (violin and viola) will perform Renaissance and Baroque accompaniment as visitors explore the historical collection and art from these periods.
Upcoming Tours

Saturday, October 8, 11 AM
Slow art tour: We invite all visitors to enjoy art at a different pace. Instead of an exhibition overview, gallery guide Kate Newman will lead a 30-45 tour on Hank Willis Thomas' 
Ain't Gonna Let Nobody Turn Us Around
.
Suday October 9, 2 PM
Highlights tour; conversation on race with gallery guide Kate Newman.
Thursday, October 13, 6 PM
Highlights tour with Nicholas Stoia, assistant professor in Duke's Department of Music, connecting blues music with Southern Accent.

We offer Free Highlights Tours on Thursdays at 6 PM and Sundays at 2 PM. More details.
Sketching in the Galleries with Southern Accent artist Bill Thelen
Saturday, October 15, 10 AM

Artist Bill Thelen will present a brief lesson and demonstration of ways to respond to art by sketching. Then you can try it out in the galleries! The Nasher Museum will provide drawing materials. You are welcome to bring your own, but please note that pens, charcoal and wet media are not permitted in the galleries. The program is free with admission. General museum admission is $5 for adults.
Nasher Reads: Southern Author series A Home on the Field
Sunday, October 16, 2 PM and Wednesday, October 19, 11 AM

Join Nasher Museum staff for a group discussion of A Home on the Field, by Paul Cuadros, a story of Latino immigrants in Siler City, NC, and a soccer team that inspires hope for rural America. Portions of the conversation will take place in the exhibition Southern Accent: Seeking the South in Contemporary Art.
Visitors are encouraged, but not required, to read the book prior to discussions. Books are available for purchase in the Nasher Museum Store.
Hardcore Southern Punk Sunday Matinee
Sunday, October 23, 2-5 PM

In the early 80s, coffee shops, skating rinks, church basements and local clubs hosted hardcore punk matinees for kids not old enough to go to bars. The Nasher Museum presents an afternoon of southern punk energy expression in the hopes of complicating everyone's notions of southern culture. Featuring Pipe, Blackball and Natural Causes, with punk DJs spinning records in between sets. Organized by musician
Mac McCaughan
, co-founder of Merge Records, member of Superchunk. Free and open to all.
Birney Imes, 
The Playboy Club, Louise
, 1983. Chromogenic print; 30 x 40 inches (76.2 x 101.6 cm). Courtesy of the artist and Jackson Fine Art, Atlanta, Georgia. © Birney Imes.
Xaviera Simmons,
Session One: Around the Y
from the project
Thundersnow Road, North Carolina
, 2010. Chromogenic print, edition 1/3; 40.125 x 50 inches (101.92 x 127 cm). Collection of the Nasher Museum of Art at Duke University, Durham, North Carolina. Museum purchase, 2010.6.1. Image courtesy of the artist and David Castillo Gallery, Miami Beach, Florida. © Xaviera Simmons.
Hank Willis Thomas,
Ain't Gonna Let Nobody Turn Us Around
(detail), 2015–2016. Glass, silver, and digital prints; dimensions variable. Commissioned by the Nasher Museum of Art at Duke University, Durham, North Carolina. Courtesy of the artist and Jack Shainman Gallery, New York, New York. © 2016 Hank Willis Thomas. Original images © 1965 Spider Martin.
Sketch courtesy Bill Thelen.
Nasher Museum exhibitions and programs are generously supported by the Mary Duke Biddle Foundation, the late Mary D.B.T. Semans and James H. Semans, the late Frank E. Hanscom III, The Duke Endowment, the Nancy Hanks Endowment, the Courtney Shives Art Museum Fund, the James Hustead Semans Memorial Fund, the Janine and J. Tomilson Hill Family Fund, the Trent A. Carmichael Fund for Community Education, the Neely Family Fund, the E. T. Rollins, Jr. and Frances P. Rollins Fund for the Nasher Museum of Art at Duke University, the Marilyn M. Arthur Fund, the Sarah Schroth Fund, the George W. and Viola Mitchell Fearnside Endowment Fund, the Gibby and Michael B. Waitzkin Fund, the K. Brantley and Maxine E. Watson Endowment Fund, the Victor and Lenore Behar Endowment Fund, the Margaret Elizabeth Collett Fund, the Nasher Museum of Art General Endowment, the Friends of the Nasher Museum of Art, and the Office of the President and the Office of the Provost, Duke University.
The Collection Galleries 
is made possible by Nasher Annual Fund donors with special support from Anita and John Schwarz.
2001 Campus Drive, Durham, NC 27705 (
Map
) |
nasher.duke.edu
| 919-684-5135
Visit
Exhibitions
Calendar
Café
Join
Support
© 2000-2016 Nasher Museum of Art at Duke University. Unauthorized use is prohibited