NASHER MUSEUM OF ART AT DUKE UNIVERSITY
@NasherMuseum no. 230 / New Wilderness
Giving Tuesday
Today, November 29
Become part of a larger worldwide movement that promotes generosity. Last year, more than 30,000 organizations in 68 countries came together to celebrate Giving Tuesday. This year, help the Nasher Museum inspire and nurture creativity in all ages as we work with students and the community to offer quality, life-affirming art and experience through exhibitions and programming.
Join
or
donate
now and support the Nasher today.
All memberships and gifts are 100% tax-deductible!
Upcoming Tours

Thursday, December 1, 6 PM
Free Highlights Tour. Join gallery guides Susana Burns and Peggy Murray for a discussion of how race is represented in Southern Accent.

Sunday, December 4, 2 PM
Free Highlights Tour. Join gallery guides Susana Burns and Peggy Murray for a discussion of religion and spirituality in works of art.

Saturday, December 10, 11 AM
We invite all visitors to enjoy art at a different pace. Instead of an exhibition overview, gallery guide Ruth Caccavale will lead a 30-45 tour of Radcliffe Bailey's Up From.

Member Appreciation Week
Tuesday, December 6 through Sunday, December 11
Nasher members make the world go 'round! Members enjoy a
double discount
at the Nasher Museum Store this week – 20% off for members and 40% off for Brummer Society members. Not a member?
Join now
and take advantage of discounted holiday shopping!
Give the Gift that Keeps on Giving!
Need a gift for the person who has everything? Give a year of unforgettable experiences with the
gift of membership
to the Nasher Museum!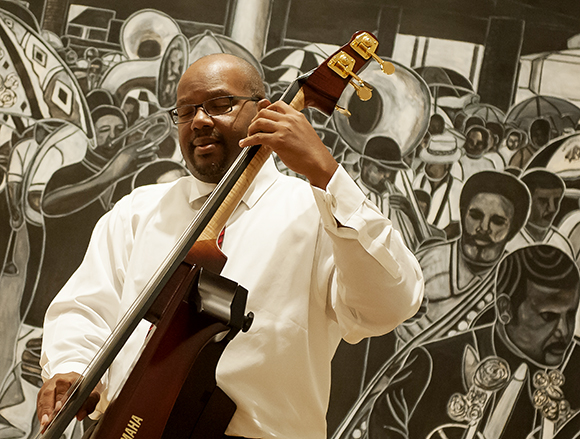 Member Holiday Party
Tuesday, December 6, 6 PM
A holiday party you can only find in the South! Jazz musician and Duke professor John Brown presents a musical tour of the South. Browse Southern Accent and join your fellow members in a southern party to remember. Enjoy double discounts in the Nasher Museum Store. RSVP for the Member Holiday Party by December 1.
nashermembership@duke.edu
or call (919) 681-8515.
Not a member?
Join now
to be included in this night of southern merriment!

Jeff Whetstone, Over Evarts Pair from the portfolio New Wilderness, 2006. Archival ink print. Courtesy of the artist and Julie Saul Gallery, New York, New York.

Henry Harrison Mayes, Untitled, n.d. Corrugated metal and rolled asphalt; 51.5 x 72 inches (130.81 x 182.88 cm). Collection of Jill McCorkle and Tom Rankin. © Estate of Henry Harrison Mayes. Photo by Peter Paul Geoffrion.

Mark Steinmetz, Cabbagetown, Atlanta, 1994. Gelatin silver print, edition 1/7; 30 x 40 inches (76.2 x 101.6 cm). Collection of the Nasher Museum of Art at Duke University, Durham, North Carolina. Museum purchase with funds provided by Frank Konhaus, Ellen Cassilly, and the Cassilhaus Collection; 2015.7.1. Image courtesy of the artist and Yancey Richardson Gallery, New York, New York. © Mark Steinmetz.

Photo of John Brown by J Caldwell.

Nasher Museum exhibitions and programs are generously supported by the Mary Duke Biddle Foundation, the late Mary D.B.T. Semans and James H. Semans, the late Frank E. Hanscom III, The Duke Endowment, the Nancy Hanks Endowment, the Courtney Shives Art Museum Fund, the James Hustead Semans Memorial Fund, the Janine and J. Tomilson Hill Family Fund, the Trent A. Carmichael Fund for Community Education, the Neely Family Fund, the E. T. Rollins, Jr. and Frances P. Rollins Fund for the Nasher Museum of Art at Duke University, the Marilyn M. Arthur Fund, the Sarah Schroth Fund, the George W. and Viola Mitchell Fearnside Endowment Fund, the Gibby and Michael B. Waitzkin Fund, the K. Brantley and Maxine E. Watson Endowment Fund, the Victor and Lenore Behar Endowment Fund, the Margaret Elizabeth Collett Fund, the Nasher Museum of Art General Endowment, the Friends of the Nasher Museum of Art, and the Office of the President and the Office of the Provost, Duke University.

The Collection Galleries is made possible by Nasher Annual Fund donors with special support from Anita and John Schwarz.

2001 Campus Drive, Durham, NC 27705 (Map) | nasher.duke.edu | 919-684-5135

Visit Exhibitions Calendar Café Join Support

© 2000-2016 Nasher Museum of Art at Duke University. Unauthorized use is prohibited