NASHER MUSEUM OF ART AT DUKE UNIVERSITY
@NasherMuseum no. 233 / Defrosting
Gallery Talk: Kara Walker's Prints, from the Collection
Thursday, January 19, 6 PM
Join Marianne Wardle, Andrew W. Mellon Curator of Academic Programs and Head of Education & Interpretation, on a gallery tour on 15 prints in the Nasher's collection by Kara Walker, Harper's Pictorial History of the Civil War (Annotated). Admission to the museum is free through February 15.
Nasher Creates: Sketching in the Galleries
Saturday, January 21, 10 AM

Artist William Paul Thomas will share a brief sketching demonstration–and then you can try it out in the galleries. The museum will provide drawing pencils. This program is free with general museum admission ($5 for adults).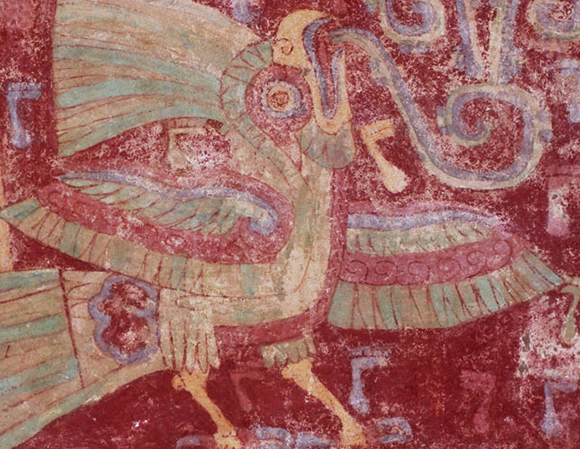 Upcoming Tours

Thursday, January 12, 6 PM
Free Highlights Tour. Gallery guide Ruth Caccavale will give a tour with the theme "Fantastic Beasts."

Saturday, January 14, 11 AM
Free Slow Art Tour. Join gallery guides Kate Newman and Meg Williams for an extended conversation about challenging works by Kara Walker that address the legacy of slavery in American culture.

We offer tours most Thursdays at 6 PM (free) and most Sundays at 2 PM (free with admission).

Free Family Day
Sunday, January 22, Noon - 4 PM
Journey around the world! Explore The Collection Galleries and learn about art from different cultures and eras. Create your own works of art and watch a local artist create a masterpiece. Take in a performance by the popular Rags to Riches Theater for Young Audiences.

Family Day is always free. Admission to the museum is free through February 15.
A "crown jewel" in the Nasher Museum collection comes home!
The Nasher Museum is proud to accept the gift of an important painting by American modernist Archibald Motley. The artist was 70 years old when he painted the oil on canvas, Hot Rhythm, (above) in 1961. The gift is from two of the artist's heirs, Dr. Mara Motley and Valerie Gerrard Browne, in honor of Richard J. Powell, Duke's John Spencer Bassett Professor of Art and Art History, and C.T. Woods-Powell. Hot Rhythm will be on view at the Nasher Museum later this month. "We fell in love with Hot Rhythm while it was here during the Motley exhibition and now it's come home," said Sarah Schroth, Mary D.B.T. and James H. Semans Director of the Nasher Museum. "This painting is truly a crown jewel in our collection and a fitting tribute to Rick Powell, who brought well-deserved new attention to a great artist."
Read more
.
Teotihuacan, Central Mexico, Mural fragment with dancing bird-shaman (detail), c. 400-550 CE. Fresco, 27 x 42 inches (68.6 x 106.7 cm). Collection of the Nasher Museum of Art at Duke University. Gift of Mr. and Mrs. Harry Schaeffer, 1977.38.1.
Archibald J. 
Motley
, Jr., 
Hot Rhythm
, 1961. Oil on canvas, 39 7/8 × 48 1/4 × 7/8 inches (101.3 × 122.6 × 2.2 cm). Collection of the Nasher Museum of Art at Duke University. Gift of Mara 
Motley
, M.D., and Valerie Gerrard Browne in honor of Professor Richard J. Powell and C.T. Woods-Powell and in memory of Archie 
Motley
. Image courtesy of the Chicago History Museum, Chicago, Illinois. © Nasher Museum of Art at Duke University.
Photos by J Caldwell.
Nasher Museum exhibitions and programs are generously supported by the Mary Duke Biddle Foundation, the late Mary D.B.T. Semans and James H. Semans, the late Frank E. Hanscom III, The Duke Endowment, the Nancy Hanks Endowment, the Courtney Shives Art Museum Fund, the James Hustead Semans Memorial Fund, the Janine and J. Tomilson Hill Family Fund, the Trent A. Carmichael Fund for Community Education, the Neely Family Fund, the E. T. Rollins, Jr. and Frances P. Rollins Fund for the Nasher Museum of Art at Duke University, the Marilyn M. Arthur Fund, the Sarah Schroth Fund, the George W. and Viola Mitchell Fearnside Endowment Fund, the Gibby and Michael B. Waitzkin Fund, the K. Brantley and Maxine E. Watson Endowment Fund, the Victor and Lenore Behar Endowment Fund, the Margaret Elizabeth Collett Fund, the Nasher Museum of Art General Endowment, the Friends of the Nasher Museum of Art, and the Office of the President and the Office of the Provost, Duke University.
The Collection Galleries 
is made possible by Nasher Annual Fund donors with special support from Anita and John Schwarz.
2001 Campus Drive, Durham, NC 27705 (
Map
) |
nasher.duke.edu
| 919-684-5135
Visit
Exhibitions
Calendar
Café
Join
Support
© 2000-2017 Nasher Museum of Art at Duke University. Unauthorized use is prohibited