Learning at the Museum
The Nasher Museum of Art at Duke University is an interdisciplinary nexus and laboratory where students and scholars can investigate, explore and test knowledge. Confronted with a different kind of source material—objects and images rather than text—viewers are challenged to consider concepts and issues in a new way. Visual literacy is an increasingly important skill and an essential component of a 21st-century education. By providing the necessary tools and experiences to critically consider visual culture we empower students and scholars to search out their own answers. We encourage you to explore the tabs above and the activities listed below for ideas. For more about visual literacy, explore "How Do You Look?"
The museum's academic program staff work one on one with faculty to design tours of exhibitions and collections in storage, lesson plans, assignments and installations that complement courses. To discuss the possibilities for your classes or research, contact Ellen C. Raimond, Ph.D., Assistant Curator of Academic Initiatives, at ellen.raimond@duke.edu or 919-684-8067.
To schedule a class visit to the Nasher Museum, email nasheracademics@duke.edu with your preferred visit date and time.
Featured

Featured

Articles
Several undergraduate seminars that are part of a new interdisciplinary research venture at Duke with a focus on Europe will culminate in an Incubator exhibition scheduled for Fall…
Published
Incubator Gallery
Located in Wilson Pavilion, the Incubator will often be used for student- and faculty-curated exhibitions. Shows in this gallery will be installed for approximately two to three months at a time. Proposals will be accepted and evaluated on a rolling basis, but keep in mind that organizing an exhibition may take one year or longer and scheduling is dependent on the availability of the gallery.
Please contact contact Ellen C. Raimond, Ph.D., Assistant Curator of Academic Initiatives, at ellen.raimond@duke.edu as soon as you have a potential idea for an exhibition.
Find out about current exhibitions in the Incubator Gallery.
Classrooms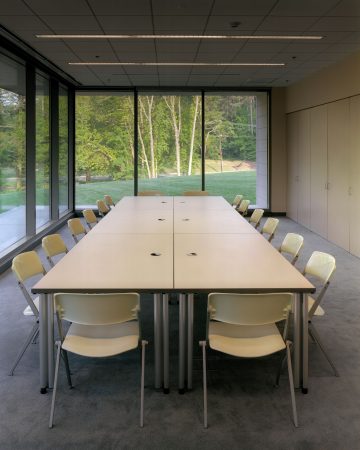 The Nasher Museum offers classrooms and a lecture hall for teaching. All spaces are fully equipped with advanced AV capabilities. The University Registrar schedules the classrooms and lecture hall for semester-long use, and requests for those spaces should be made through the Registrar's office.
NOTE: These spaces are available only Tuesday – Friday 10 AM – 5 PM. If you copy Ellen C. Raimond at (ellen.raimond@duke.edu) on your request, we can reinforce your request with the Registrar's office.
If you would like to reserve a classroom for class discussion on a day your class visits the museum, please email nasheracademics@duke.edu at least two weeks in advance.
To reserve the University Classroom or Lecture Hall for a special event, please contact Nasher Special Events, at 919-684-3321 or nasherevents@duke.edu, as far in advance as possible.