A Unique Destination for Memorable Events
The Nasher Museum is a spectacular choice for events. With contemporary design by architect Rafael Viñoly, the spacious atrium evokes the feel of an outdoor piazza, but with all the modern comforts of an upscale indoor venue. The surrounding exhibition galleries create an artistic backdrop for unique events, while exclusive gallery access during events builds memorable experiences for guests. Planning a special event at the Nasher Museum is effortless with fully customizable event services from the region's best caterers.
Rates are subject to change. Rates will not be subject to change later than thirty (30) days before the scheduled event.
Planning Your Special Event at the Museum
Before planning your event, we invite you to review the museum's rental guidelines which includes space specific information, and our approved caterer list. Then visit the museum in person to see the space. Listen to the special events audio guide as you walk around. Thursday nights are a great time to visit and see the space in the evening light.
Peruse our photo albums from past events at the Nasher Museum for inspiration and vendor referrals.
Please fill out the event rental inquiry form below to check the availability of your event date and request a consultation.
Meeting Space: University Classroom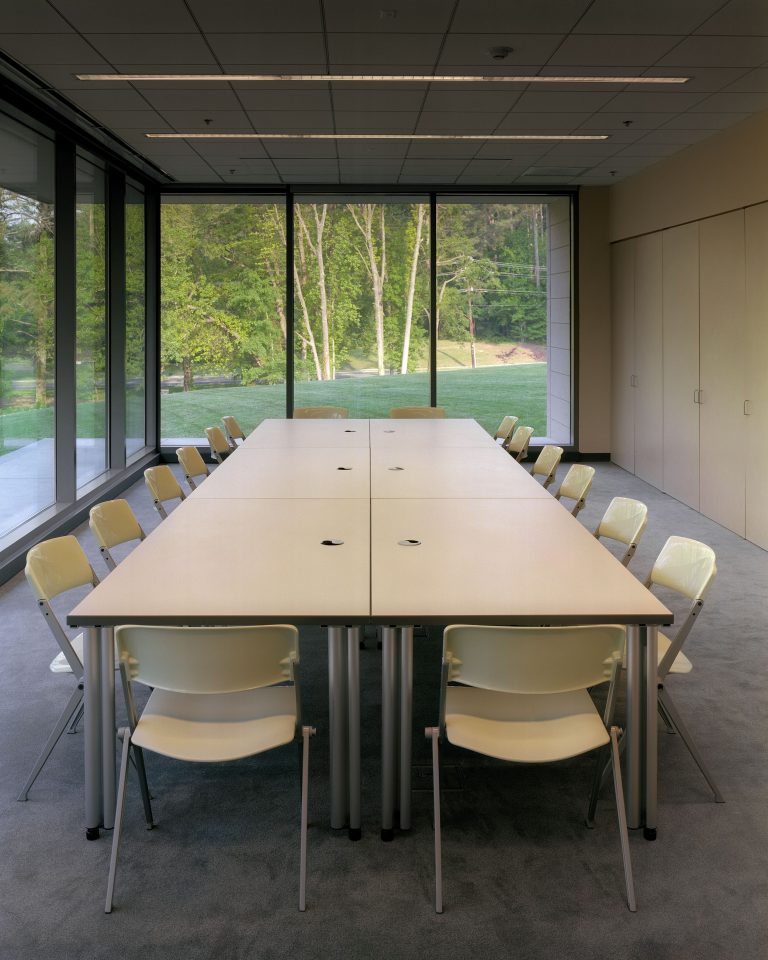 Availability & Hours
The University Classroom is available during normal museum hours. Earlier start times may be scheduled, however additional security costs will be incurred. Meeting attendees arriving before 10 AM (or Noon on Sundays) will need to use the loading dock entrance.
During the academic year, the University Classroom is often used for Duke classes. We are unable to confirm other weekday reservations until the class schedules have been posted by the university's registrar's office. Typically these schedules are available in early May for the fall semester and early December for the spring semester.
Standard Set-up and Capacity
There are six tables set up as one large conference table with 16-22 chairs; additional chairs for perimeter seating.
Available upon request one 8-foot banquet table for catering / display.
For dinner functions the six tables can be arranged into three squares seating 8-10 people each. This set-up is not conducive to meeting or audio-visual presentations.
Catering
All food and beverage services for the University Classroom are provided by the Nasher Café / Giorgios Hospitality Group. Please contact Aidan Peters, Café manager, at aidan.peters@duke.edu or 919-684-6032 for more information.
Audio Visual Features
We encourage you to make your media files available to our AV team by emailing nasherevents@duke.edu at least one day prior to your meeting. Our in-house audio visual features include:
DVDIVHS / Digital projection systems
Slide projectors with single or dual frame capability
Large Drop-down screens (6 x 10 feet)
Lectern with microphone, portable touchscreen AV control panel, and PC with Office Suite and internet access
Laptop projection capability from lectern or table
Wireless presentation devices and keyboard
House sound system with XM satellite radio and CD player
Speakerphone
Document camera
Fees
Museum admission fees are not included with the use of the classroom.
Hourly rental rate: $100 / hour (for non-Duke clients)
AV flat fee setup: $35
Additional security as needed: $100 per hour
University Classroom Rental Form
Please complete this form and email it to nasherevents@duke.edu at least two weeks prior to your event. We will send you an email regarding the availability of your event date and request a consultation.
Questions
For additional information, please contact the Special Events office by email, nasherevents@duke.edu or phone 919-684-3321.
Event Rental Inquiry Form
Please fill out this form to the best of your knowledge. We will send you an email regarding the availability of your event date and request a consultation.