Sacred Beauty: Medieval and Renaissance Illuminated Manuscripts from the Collection of Robert J. Parsons
January 19 – May 10, 2009
Sacred Beauty: Medieval and Renaissance Illuminated Manuscripts from the Collection of Robert J. Parsons featured 16 Spanish, Italian and Dutch manuscript illuminations, primarily from the 14th to 16th centuries. Throughout the European Middle Ages and Renaissance, sacred texts were often decorated to instruct the viewer in spiritual ideas, but also to display the importance of religious texts themselves by giving them a visually stunning presentation. Each page featured a painted scene, and many had additional decorations, including illuminated initials, and flora and fauna in the margins.
Religious illuminated manuscripts were originally produced in a scriptorium within a church complex, monastery or convent. There, scribes copied texts from other books to make new ones, and artists copied or modified existing prototype images, sometimes inventing new designs. The continued emphasis on traditional religious imagery was very strong, but did not preclude new interpretations. Both men and women were scribes and illuminators.
Animal Skins, Gold Leaf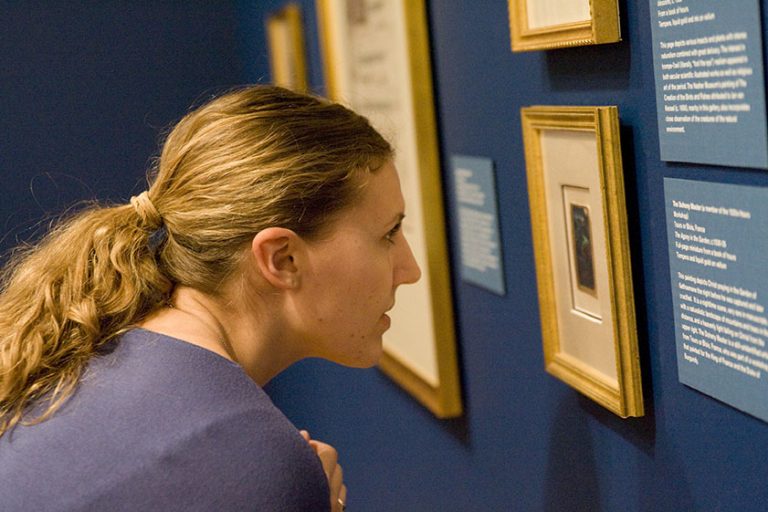 Both men and women were scribes and illuminators. Many books were produced by a team of workers, including those who scraped and prepared the animal skin used for the pages (vellum came from calves, parchment from sheep or goats), the page designer, the scribes, illuminators and book binders. The tempera pigments used were from a variety of vegetable, mineral and animal sources, mixed with egg white or a mixture of water and glue as a binding medium. The term "illumination" specifically refers to the luminosity of the colors used, accompanied by gold applied with a pen or brush in a liquid form containing ground gold powder, or as burnished gold leaf. Most of the works in this exhibition were produced after the invention of the printing press around 1450, at a time when books began to printed, and woodcuts and engravings began to be used for illustrations.
Support
The collection was assembled by Duke alumnus Robert J. Parsons (Ph.D., English, 1980) and was on view in an installation accompanied by religious works of the 14th to 17th centuries from the Nasher Museum's permanent collection.
Support for the exhibition came from the Center for Medieval & Renaissance Studies at Duke University and Duke Divinity School.