Street Level: Mark Bradford, William Cordova and Robin Rhode
Original Traveling Exhibition
March 29 – July 29, 2007
This is an exciting moment in the careers of Bradford, Cordova and Rhode. All three have achieved some
recognition, but they are still young, still experimenting and very much on the rise.

Trevor Schoonmaker
Three Emerging Contemporary Artists
The Nasher Museum presented the work of three promising early career artists who exhibited together for the first time. For Mark Bradford (Los Angeles), William Cordova (Lima, Miami, New York) and Robin Rhode (Cape Town, Johannesburg, Berlin), the streets of their respective cities act as fluid, living sources of inspiration. All three artists share an interest in unusual materials, and their work has a gritty sense of texture.
Street Level included paintings, works on paper, sculpture, photography, video, performance, installation and other mixed media.
Travel Venues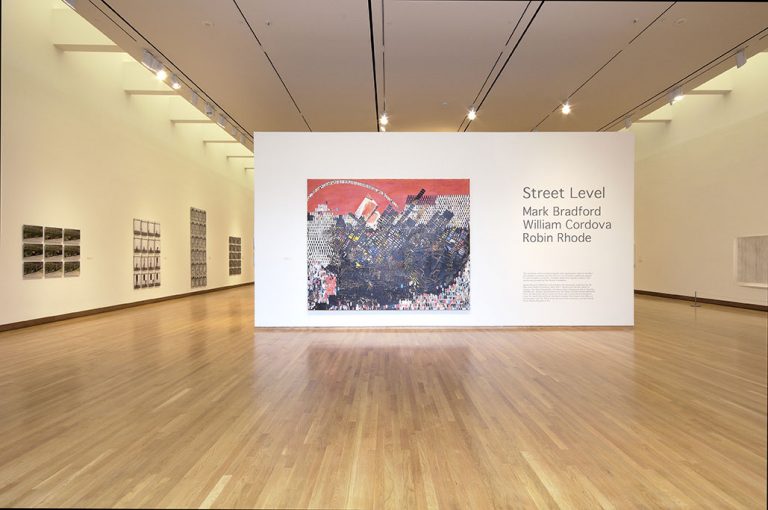 The exhibition traveled to the Contemporary Arts Center in New Orleans and to the Institute of Contemporary Art Boston. This was the first exhibition organized at the Nasher Museum by Trevor Schoonmaker, Patsy R. and Raymond D. Nasher Curator of Contemporary Art.
Featured

Featured

Video
by Nasher Museum | Duration 04m 50s | Published
Exhibition Catalogue
The exhibition was accompanied by a color catalogue distributed by Duke University Press and available at the Nasher Museum Store. It was edited by Schoonmaker and included essays by Isolde Brielmaier, director and chief curator at the Rotunda Gallery in Brooklyn, and Sarah Lewis, curatorial assistant at the Museum of Modern Art in New York.
About the Artists
Mark Bradford is best known for large-scale abstract collages made largely from accumulated signs taken from the streets of South Central Los Angeles that he tears, bleaches, sands and embellishes. His work responds to abandoned buildings and vacant lots and the adaptive nature of informal businesses and entrepreneurial cultures that rise to fill the void. Bradford was the 2006 recipient of the Bucksbaum Award, given every two years to a single outstanding artist in the Whitney Biennial exhibition.
William Cordova works largely with found paper and everyday objects to create drawings and mixed-media installations. The accumulation of materials and iconography such as discarded books, stereo speakers, automobile tires and record albums are recurring images that allude both to his Peruvian heritage and modern urban subcultures. William Cordova had his first gallery solo show with Arndt & Partner in Berlin in 2006.
Robin Rhode's performances involve the buildup and erasure of drawings on the walls of galleries and public spaces that playfully transform his renderings into illusory three-dimensional objects. He takes inspiration from graffiti, film, sports and hip-hop, as well as his personal experiences in the rough neighborhoods of Johannesburg, South Africa. Rhode documents and exhibits his performances through digital photography and computer animation. Rhode won the 2006 W South Beach Artist Commission at Art Basel Miami Beach's "Art Positions" exhibition.