Nasher Museum Annual Report 2019
From the Director
Welcome! I am pleased to present our 2019 online Annual Report.
Last fiscal year, the Nasher Museum continued to celebrate the amazing, fast-growing contemporary collection that truly makes this museum unique. Since opening in 2005, this museum has been steadfast in building a major contemporary collection with a special focus on artists of African descent. We have emphasized artists who are often underrepresented, overlooked or excluded from art institutions. We select every work of art in our collection for its quality and significance as well as its ability to generate new thought and meaningful conversation.
Through exhibitions, special installations, artist visits, live music, performances and scholarly discussions, we explored exciting topics that fit within the continuum of our ongoing work at the Nasher. As always, this museum strives to be a place where art helps us make sense of the world.
Throughout the year, as always, the Nasher Museum contributed to the canon of art history, creating new and revised stories about artists and art movements among people who were here all along and who previously have been left out of textbooks, exhibitions and collections. These stories vastly enrich and redefine the existing narrative.
Our major Fall 2018 collection show, People Get Ready: Building a Contemporary Collection, was organized by Trevor Schoonmaker, who was named Deputy Director of Curatorial Affairs and Patsy R. and Raymond D. Nasher Curator of Contemporary Art. Thanks in large part to Trevor, this exhibition represented not only a finely honed collection strategy but also a philosophy that extends to everything we do as a museum. People Get Ready showcased some of the most important works in our collection.
Another headliner from the year was Across County Lines: Contemporary Photography from the Piedmont, an exhibition of work by 39 photographers who have close ties to the region. I was thrilled with this group effort by our entire curatorial staff. Visitors were amazed at the breadth of work in this show. These talented photographers expressed themselves through tintype, installation, portrait, abstract composition, landscape and still life.
Diego Camposeco, Zulma from the series Transterrestria, 2014 (printed 2018). Archival pigment print on Epson Premium Luster Photo paper, 22 7/8 × 30 inches (58 × 76.2 cm). Courtesy of the artist's estate, Burgaw, North Carolina. © Estate of Diego Camposeco.
We were pleased to present a sweeping, groundbreaking exhibition that featured Latin American artists, Pop América, 1965 – 1975. Duke Professor and guest curator Esther Gabara opened our eyes and minds by turning "Pop!" into a verb and invited us to see Pop art in America with new understanding. For the first time, this exhibition demonstrated how Latin American and Latino/a artists have contributed significantly to the Pop art movement. Though lesser known to U.S. audiences, these artists' careers paralleled those of Andy Warhol, Roy Lichtenstein and their other U.S. and European counterparts. Pop América opened on October 4, 2018, in San Antonio, Texas, at the McNay Art Museum, which partnered with the Nasher Museum to stage the exhibition, and was on view there until January 13, 2019. The exhibition was on view at the Nasher Museum from February 21 through July 21, 2019, before traveling to the Block Museum at Northwestern University in Evanston, Illinois, from September 21 through December 8, 2019.
"Seeing Pop Art in the context of América rather than just the U.S. changes my perception of the works," a visitor commented. "Rather than focusing mostly on consumerist critiques, I was also bringing forth notions of Latin American politics, Latinx revolutionaries and a more heterogeneous Américan culture."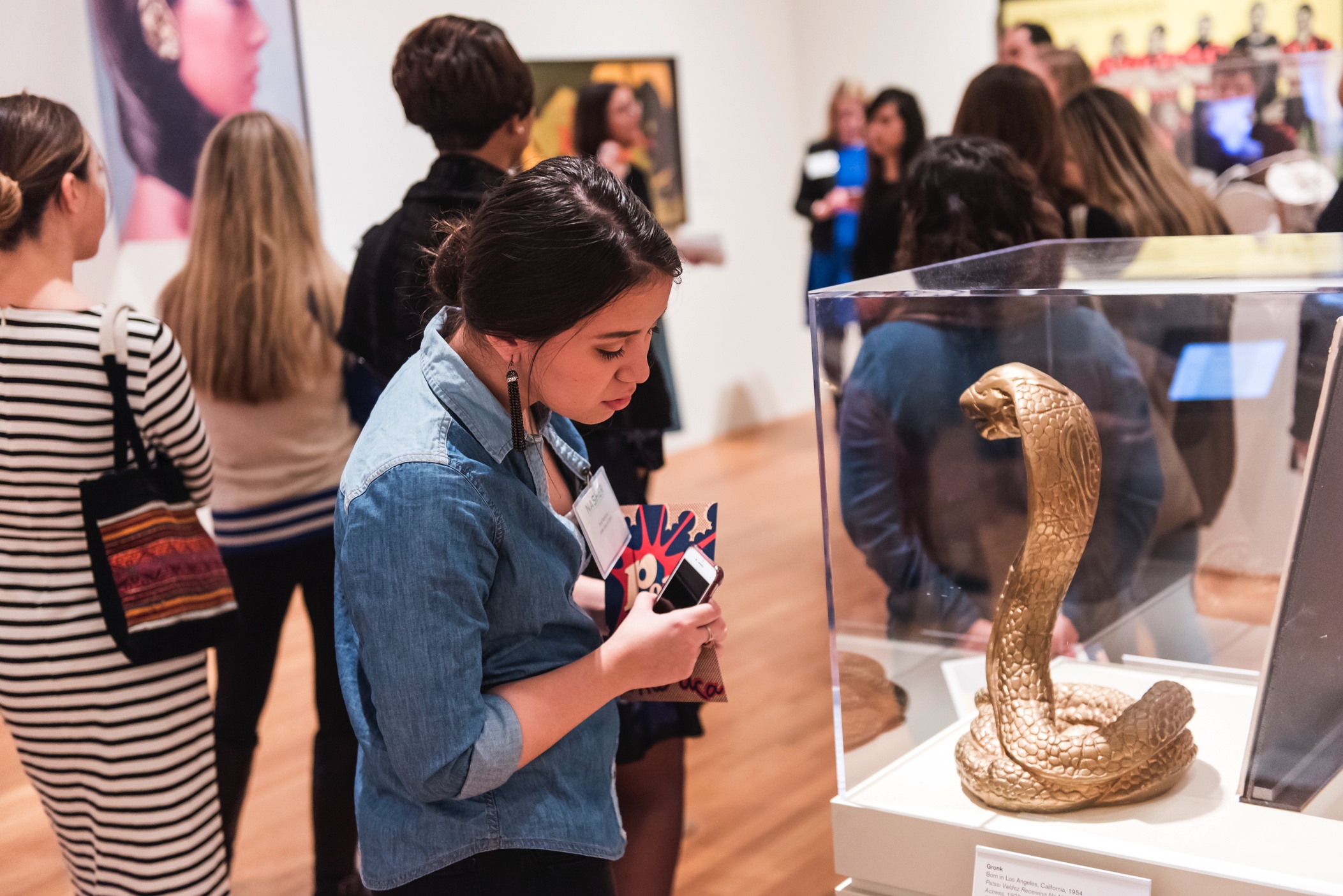 Alongside Pop América, we presented Christian Marclay: Surround Sounds, an environmental video installation by the London-based artist Christian Marclay, who has a 10-year history with the Nasher Museum. Although silent, the video felt noisy! It was projected on all four walls of the gallery and consisted of animated words appropriated from comic books.  We loved the onomatopoeia in Surround Sounds and visitors enjoyed the wry sense of humor present in so many of Christian's works.
A treasure trove of glass plate negatives hidden for 50 years in a Durham tobacco barn was the subject of Where We Find Ourselves: The Photographs of Hugh Mangum, an Incubator exhibition. Mangum was a self-taught photographer who ran a mobile portrait studio during the segregationist laws of the Jim Crow era. His portraits revealed a clientele that was both racially and economically diverse. Two faculty colleagues from Duke's Center for Documentary Studies, Margaret Sartor and Alex Harris, deftly organized this fascinating document of life in the South at the turn of the 20th century.
A Sad Goodbye
This year we lost a dear friend and supporter, E. Blake Byrne, who passed away in Los Angeles on March 23, 2019, at the age of 83. Blake was beloved at the Nasher. When he walked into our building, his booming voice and huge smile would make everybody's day. He had the best sense of humor and the greatest laugh. Blake exuded charm and warmth to his core. It was certainly a great privilege to have worked so closely with this wonderful and courageous man who wasn't afraid to be himself. We'll miss him terribly, but his legacy will live on through his lasting impact on the Nasher Museum.
New Faces
Our staff gained two amazing new department heads last fiscal year. Tamara Holmes Brothers, our new Director of Development and Major Gifts, has energized us with her love for art and exciting ideas. Julia McHugh, our new Curator of Academic Initiatives, brought expertise in ancient American art to Duke for the first time in 25 years. She has created new synergy with our talented Duke faculty and students.
Named Lectures
Amy Sherald, who painted the official portrait of former First Lady Michelle Obama, delivered the Annual Rothschild Lecture on October 20, 2018. Deborah Willis, the well-known art historian, curator, photographer and filmmaker (as well as mother of artist Hank Willis Thomas, whose work is in our collection) delivered the Annual Semans Lecture on April 25, 2019.
Duke Faculty & Students
The year brought more amazing opportunities for the Nasher Museum to serve as an interdisciplinary nexus and laboratory where Duke students and scholars can investigate, explore and test knowledge. Faculty and students activated our Incubator Gallery in Fall 2018 with In Transit: Arts & Migration Around Europe. Duke undergraduate students contributed to the installation through seminars taught by Professor Helen Solterer and other faculty members of the In Transit research group.
Future Talent Pool
The Nasher Museum was one of just 10 American museums selected by the Association of Art Museum Directors (AAMD) and National Endowment for the Arts to host a new paid summer internship program for college students from underrepresented communities. We need programs like this one to remove barriers and create opportunities for young, creative students of color. We must widen the net to find and nurture future talented art museum professionals.
Thank you!
The Nasher Museum could not reach ever-greater heights without the support of our members, visitors and Duke administration. Please remember that the Nasher Museum exists for all of you as we nurture a creative, inclusive and thoughtful community together. I am very grateful to report on this incredible support, which helps the Nasher Museum to make a difference in all of our lives through art.
Sarah Schroth
Mary D.B.T. and James H. Semans Director
Nasher Museum of Art at Duke University
Featured

Featured

Articles
Julia McHugh, Ph.D., Trent A. Carmichael Curator of Academic Initiatives, taught her first Museum Theory and Practice course in Spring 2019 with 20 students, the biggest class since the Concentration began three years earl...
Published
Featured

Featured

Articles
The Nasher Museum of Art at Duke University has received a gift of 27 works of art, including masks, figurative sculpture and musical instruments, collected by Reginald and Celeste Hodges while they lived for nearly two de...
Published
Featured

Featured

Nasher in the News
Historically underrepresented, overlooked, and excluded artists are the focus of the latest exhibition at The Nasher Museum in Durham. The museum has been collecting art centered on diversity and inclusion since it opened ...
view article on WUNC | Published September 07, 2018
Featured

Featured

Articles
For Freedoms started in 2016, co-founded by Hank Willis Thomas and Eric Gottesman as a platform for civic engagement, discourse and direct action for artists in the United States. The project is inspired by Norman Rockwell...
Published
Financials, July 1, 2018 – June 30, 2019