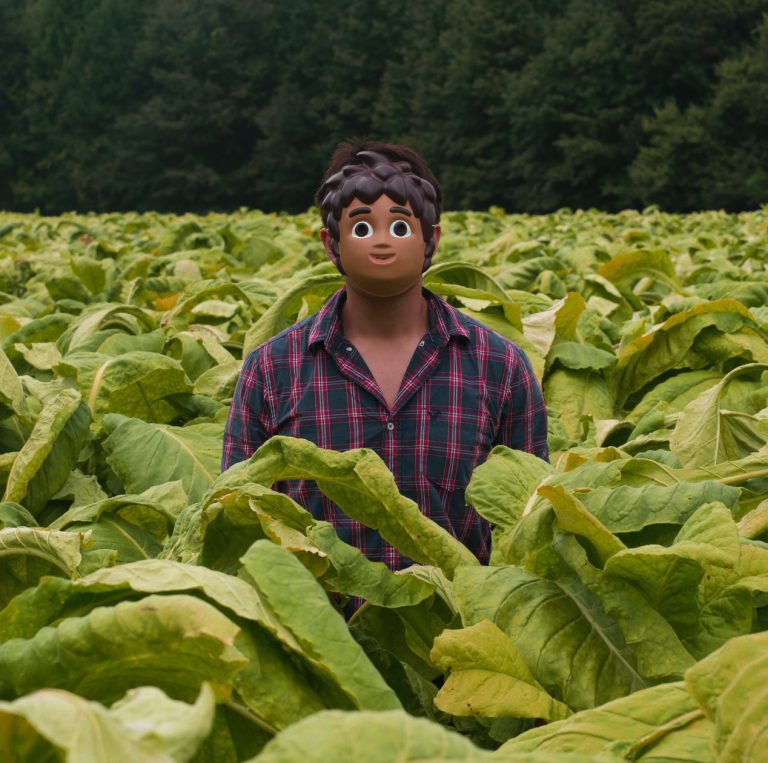 Diego Camposeco described himself as a magical realist and his photographs as a form of writing with light. His family migrated to North Carolina from Mexico in the early 1990s as part of a large wave of immigrants that has made North Carolina home to one of the fastest growing Latinx populations in the country.
Camposeco's background informed his use of color, pattern and symbols as he investigated the multilayered experiences of these populations in the American South prior to his untimely death.
Camposeco's masked and costumed subjects address identity and tradition, as in Quince (Fifteen), where a young woman stands in a Home Depot aisle with an orange background wearing a bright blue quinceañera dress—a symbol of the Latina celebration for a girl's 15th birthday.
In Tabaco, the artist stands in a tobacco field wearing the mask of Diego, a Latino action-adventure cartoon character. The insertion of the two Diegos into the southern cash crop hints at current issues surrounding immigrant labor, stereotyping and invisibility.
Both Quince and Tabaco were included in the Nasher's exhibition Southern Accent: Seeking the American South in Contemporary Art (2016). Through first-hand experiences, Camposeco examined how Latinx immigrants have changed physical spaces and maintained surrounding landscapes through their own labor and cultures.
In many ways, the American South has become an extension of the Global South—a mind-set that opens up new social and political possibilities for the Americas.

Diego Camposeco
Zulma, which was on view in the Nasher's exhibition Across County Lines: Contemporary Photography from the Piedmont (2018–2019), explores the importance of religion in Latinx communities in North Carolina.
In her portrait, Zulma, a Salvadoran, poses with Leonardo da Vinci's The Last Supper. A nearby table and wall hold family memorabilia that mirrors the table setting in the famous painting behind her.
In the gallery below, several works from the collection pair well with Diego Camposeco's photographs.
Learn more about the contemporary collection.