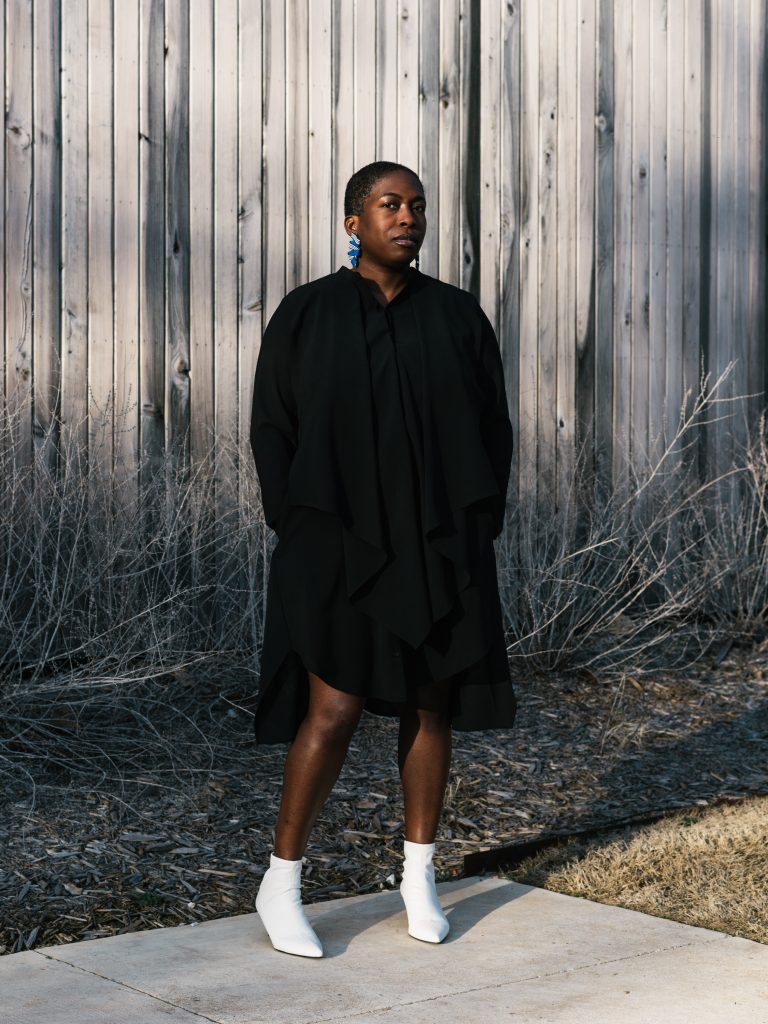 Lauren Haynes has been named senior curator of contemporary art, Nasher Museum Director Trevor Schoonmaker announced on March 8.
She will begin her position as the Patsy R. and Raymond D. Nasher Senior Curator of Contemporary Art on June 7.
Haynes comes to Duke from the Crystal Bridges Museum of American Art in Bentonville, Arkansas, where she has been curator of contemporary art since 2016.
For the past year, Haynes also directed the artist initiatives at both Crystal Bridges and the Momentary, a satellite to Crystal Bridges in downtown Bentonville, where she led the visual arts team.
Previously, Haynes for nearly a decade was a member of the curatorial department at the Studio Museum in Harlem.
"I am thrilled that Lauren is joining our team. I've been following her career since we first met at the Studio Museum in Harlem in 2008, at the opening of Barkley L. Hendricks: Birth of the Cool, said Schoonmaker, Mary D.B.T. and James H. Semans Director of the Nasher Museum. "There, she was mentored by one of the best — Thelma Golden — and I'm so impressed with how she has helped build a more inclusive collection at Crystal Bridges, acquiring works by artists like Jordan Casteel, Emma Amos, Sam Gilliam and Amy Sherald.
Over the past 15 years, she's developed a deep understanding of the global art world and I'm very excited for her to bring her curatorial vision and vast experience to the Nasher, Duke and our communities.

Trevor Schoonmaker, Mary D.B.T. and James H. Semans Director
At Crystal Bridges, Haynes was responsible for a range of exhibitions. She was co-curator of the 2018 exhibition The Beyond: Georgia O'Keeffe and Contemporary Art, coordinator of the first United States presentation of Soul of a Nation: Art in the Age of Black Power, and led the curatorial team on State of the Art, which opened at both Crystal Bridges and the Momentary in February 2020.
At the Studio Museum, she organized numerous exhibitions featuring work by Alma Thomas, Stanley Whitney, Richard Hunt, Ebony G. Patterson and Fred Wilson, among many others. Haynes, a 2018 Center for Curatorial Leadership fellow, received an ArtTable New Leadership Award in 2020.
"I have known and been an admirer of the work that the Nasher does for the majority of my career," she said. "I am very excited by the opportunity to be part of this team that is doing really exciting work, and also wants to continue to do more, is ambitious, and is helping to chart what the future looks like."
Haynes remembers falling in love with museums as an undergraduate at Oberlin College, where she earned a bachelor's degree in art history with a minor in African American studies. She worked at the school's Allen Memorial Art Museum during her freshman year.
"I'm very drawn to, and supportive of, college and university art museums, where I think some of the most innovative and interesting work is being done in the field," Haynes said. "To be able to join a team of (a museum) that also has a commitment to collecting and exhibiting artists of color is important to me."
Haynes said museums are complicated — especially now, in a time of great change. They must be places for important conversations about diversity in the field and expanding opportunities for people of color to learn about museum careers, she said.
I love museums. They drive me crazy, they frustrate me every day. But I don't know what else I would do if I didn't work in a museum, work with artists, make exhibitions, think about how we can allow people to have access to art and access to exhibitions and artists in ways that they might not have. But I don't think it's a perfect system. So why not ask the questions or try things to try to make it better? Because otherwise we're going to make ourselves obsolete.

Lauren Haynes, newly named Patsy R. and Raymond D. Nasher Senior Curator of Contemporary Art
At the Nasher Museum, Haynes joins a curatorial team of five led by Marshall N. Price, Nancy A. Nasher and David J. Haemisegger Curator of Modern and Contemporary Art.
Concurrent with Haynes's arrival, Price has been promoted to chief curator to replace Schoonmaker, who was named the museum's director in May. Molly Boarati was also promoted to associate curator. Rounding out the team are exhibitions and publications manager Melissa Gwynn and curatorial assistant Adria Gunter.