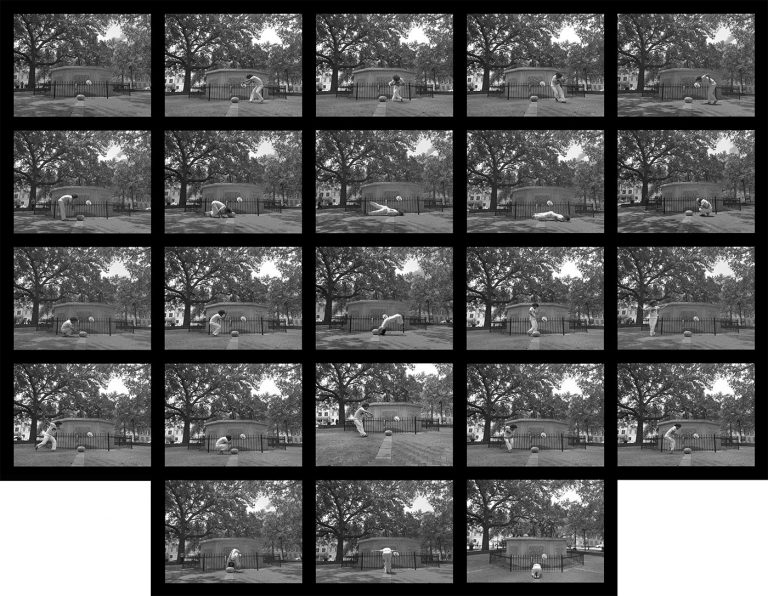 The major fall 2019 exhibition Cosmic Rhythm Vibrations inspired several important acquisitions. CA–Untitled (Allegory of Angola) is a series of 23 photographs by Paulo Nazareth, a Brazil-born multidisciplinary conceptual artist.
For this 2018 work, the artist drove along the Underground Railroad route from New Orleans to Montreal with a truck full of concrete watermelons. He made stops along the way, performing with—and leaving behind—the cast watermelons. A fruit that once symbolized self-sufficiency and freedom for emancipated black Americans, the watermelon was quickly weaponized by white society to falsely imply laziness and lack of sophistication. Nazareth thus reclaimed and restored the watermelon to its original meaning. CA–Untitled (Allegory of Angola) was captured in Savannah, Georgia, in front of a monument to black volunteer soldiers who fought against the British during the American Revolutionary War. These free men of color were recruited from the former French colony now known as Haiti. In the photographs, Nazareth performs capoeira, an Afro-Brazilian martial art dance form that has long served as a means of cultural resistance, self-defense and spiritual empowerment in Brazil.
In his performance, Nazareth is both honoring the soldiers and practicing the dance as a ritual of decolonization. The title of the work references Angola, in central Africa, where the majority of enslaved Africans in Brazil originated and from where capoeira's roots derive. CA–Untitled (Allegory of Angola) was a gift from Nancy A. Nasher and David J. Haemisegger.