By Briana Benkin
On June 15, 2021, Nasher staff called together a diverse group of young adults who have connected across different parts of the museum, including alumni of the Nasher Teen Council. These young people were invited to an online, open-table discussion to reflect on their personal experiences with the Nasher and with other arts spaces and institutions.
As a Teen Council alumna and current intern, I had attended the meeting to be in a collaborative conversation that would involve sharing ideas, dreams, goals and plans for the future. We all introduced ourselves to each other in the meeting.
"Hi, I'm Briana Benkin, I'm from Durham, and I'm the diversity intern this summer with Nasher. I've been a part of Nasher since 2018 and was on the Nasher Teen Council. I'm working with the marketing department during my internship…"
One particular person who stood out to me during the meeting was Adria Gunter, the Curatorial Assistant at the Nasher Museum. She was also participating in the discussion, explaining how her project called "Reading Black Art" came to be.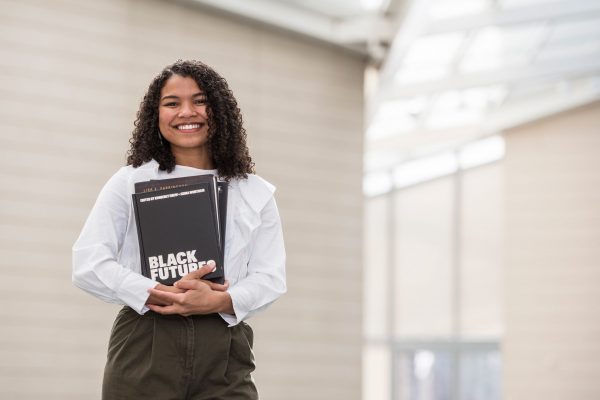 When I was reading books on Black feminism and books about Black artists that I felt like I should have known already but I didn't… I was finally catching up in that moment. I didn't have a really good foundation of Black art history... and so [with] this project, I really hope that students especially use it and are able to consult it so that there is a little bit of a foundation for them to start from, because I didn't really have that.

Adria Gunter, the Curatorial Assistant at the Nasher Museum
Hearing and understanding the message behind "Reading Black Art" was very powerful in itself. Adria was able to use her personal experiences regarding knowledge of Black art, history and culture as her inspiration to create a resource for young adults of Duke, the Nasher Museum, within the Durham community and beyond. While the "Reading Black Art" resource provides students the opportunity to read on topics in literary works regarding Black culture and issues dealing with race, it also opened my eyes to the reality and unjust treatment in oppressing Black people. Issues are continuing to resurface, while stemming from past roots. The acts of violence, full of hatred and animosity towards the Black community are still happening and are currently grabbing the nation's attention while being perceived as new threats–when in actuality, it has unfortunately been repeatedly going on for centuries.
As someone who is Black and isn't a Duke student, it may have seemed like I had no place of belonging compared with the rest of the Duke alumni who were in attendance for the young adult program.
Honestly though, while feeling like I most likely wouldn't be able to contribute in a way like everyone else was, I had to stop comparing myself to others and acknowledge that my association with the Nasher does not wholly define my presence for participating in the meeting. Although we all have completely different lifestyles, beliefs, traditions, and experiences, the thing we all had in common was being a young adult and trying to find our place in the world. It was a bit comforting to stop and realize that we are all still technically growing up through life, transitioning into adulthood one way or another, and working hard towards making our careers into a reality and our dreams come
true. Whether our professional passions are directly within or related to the art world, or even just in a completely different work field; we are all trying to "make it."
However, even if most of us may have not known each other too well, it still felt like we were a close group of friends catching up, talking about what's currently happening in our lives. Admittedly, I'm more of a listener rather than a talker, so I was very attentive while listening to everyone else's stories. And I was also filled with hope of returning to future young adult programs where I could potentially share more of my own experiences regarding my dreams, goals, as well as personal hardships, struggles and adversities.
In the beginning of the meeting, I had only introduced myself, sharing the basics of my name, where I was from, my education, and my current relations with the Nasher; towards the end, I felt like I could be more confident in myself and improve based on personal development due to the amount of welcoming energy and connection that filled up the 'room' even though the meeting was held virtually on Zoom. As the discussion among Nasher young adults concluded, the meeting ended on a positive note.
Jesse Huddleston, Program Educator for the Nasher Teens program and Nasher MUSE, encouraged all of the young people in the meeting to stay present in the moment when it comes to focusing on personal goals, while also emphasizing the importance of creatively interacting and collaborating with others who also pursue artistic fields.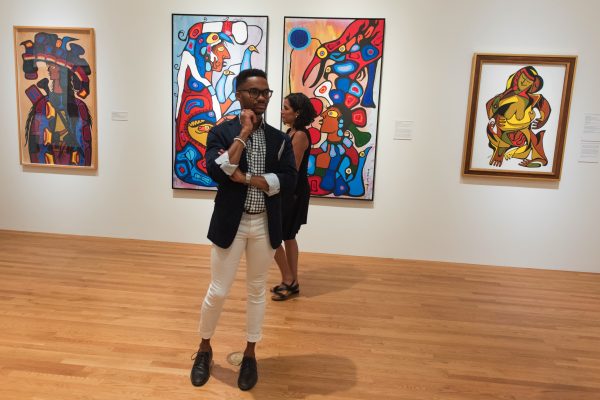 ...[When] you're showing up in your places of influence, especially as it relates to your interest in the arts; being able to figure out how to show up whole, how to maximize the resources that are available to you, how to activate other partners, other staff, people, and other peers – isn't just something you do by yourself as this lone wolf, but it's really this collective effort. And that's very much what this has been.

Jesse Huddleston, Program Educator for the Nasher Teens program and Nasher MUSE
We all said our goodbyes and went our separate ways to continue on with our lives. After the call ended, I closed my laptop with a certain thought in my mind and a feeling in my heart. I realized that even though it might have felt like it was the end of a present moment, it was actually just the beginning– to start moving towards the future.