Barkley L. Hendricks
The Nasher Museum acquired 46 important works of art last fall, several of which were on view as part of People Get Ready: Building a Contemporary Collection. Last fall, the museum's national Board of Advisors approved these works, which include paintings, works on paper, photographs and sculpture.
The two works by Barkley L. Hendricks, Them Changes and Untitled, belong to a body of work that reveals another  dimension of Hendricks. Relatively unknown until recently, these delicate watercolors, collages and drawings were made in the 1970s, at the same time he was painting the bold, life-sized portraits for which he is widely recognized. They were concurrent practices that balanced one another, demonstrating his artistic range and love of experimentation. These works on paper show the same attention to composition and detail as his paintings, but by combining text, drawing and found materials, they further exhibit his improvisational flair and conceptual interests. Reflecting the current events and popular culture of the era, references range from the 1950s TV police drama Dragnet to the 1970 album Them Changes by R&B composer Buddy Miles. The results are at once witty, irreverent, contemplative and intimate. The works were on view in People Get Ready. The gift is from Susan Hendricks in memory of Barkley L. Hendricks.
Jaune Quick-to-See Smith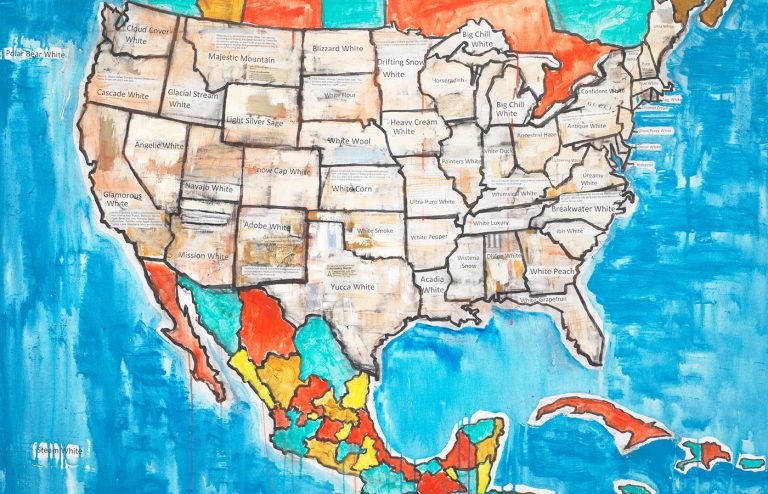 One of the important acquisitions is a painting by Jaune Quick-to-See Smith, which was also on view within People Get Ready.
The artist has been creating paintings since the 1970s, combining commercial slogans, art history and cultural narratives to convey personalized socio-political commentary. She merges Native American artistic traditions with contemporary subject matter to rethink issues related to the environment, history, identity and race. Born at the St. Ignatius Indian Mission on her reservation, Smith is an enrolled Salish member of the Confederated Salish and Kootenai Nation, Montana.
In Fifty Shades of White, Quick-to-See Smith presents a conventional map of the United States in varying shades of white paint, which contrasts with the multi-colored blocks of neighboring countries. Instead of labeling each state with its name, the artist inserts the descriptive names of various white paints carried by hardware store brands. Quick-to-See Smith uses humor—"White Peach" and "Blizzard White" replace the state names of Georgia and North Dakota—to prompt the viewer to reconsider notions of Euro-American cultural and racial authority, as well as the historical and current policies and attitudes towards indigenous cultures. This work will also be included in the fall 2019 exhibition Art for a New Understanding: Native Voices, 1950 to Now, organized by the Crystal Bridges Museum of American Art. The gift is from Nancy A. Nasher (L'79, P'18, P'22) and David J. Haemisegger (P'18, P'22).
Emma Amos
A woven painting by Emma Amos, entitled 22 and Cheetah, was part of People Get Ready. Amos is a major figure in American art, well known within African American art history, but someone who is only recently starting to receive mainstream art world recognition. Amos was born in 1938, raised in Atlanta and went to college at Antioch and the London Central School of Art. She moved to New York in 1960 for her Masters at NYU and stayed in New York for most of her career. Hale Woodruff was her advisor at NYU and recommended her for membership in the black artist collective, SPIRAL, as the group's only female, alongside Norman Lewis, Romare Bearden, Charles Alston, Felrath Hines, Hale Woodruff and others. In the early 1980s, Amos began her first woven paintings like 22 and Cheetah. Those works featured mostly athletes, swimmers, dancers, etc., in relationship to animals, woven and painted into African textiles and other fabrics. A dynamic work, 22 and Cheetah possesses the ability to bridge practices and generate conversations between seemingly disparate works, such as the textiles of Silvia Heyden and the oil portraits of Barkley L. Hendricks. Amos's work also connects to the prominent textile industry of North Carolina and the history of basketball in the region, allowing visitors to relate to the work through both materials and subject matter. The museum purchased this work with funds provided by the Jolie and Matthew Johnson Fund for Acquisitions; Sotheby's, in honor of Blake Byrne (T'57); Lori Arthur Stroud (T'79) and Thomas K. Stroud; Ruth (T'81) and John (T'81) Caccavale; Trent A. Carmichael (T'88, P'17, P'19); Gail Belvett; Laurie Cone; and Michelle F. Hooper.
Featured

Featured

gallery
This installation offers a glimpse into the art and cultural attitudes of the United States during the years surrounding World War II. In the first decades of the 20th century, the avant-garde styles of Cubism and abstract...