EXPERIENCE
MARK HAIM: THIS LAND IS YOUR LAND / Tuesday, June 25 and Wednesday, June 26, 7 & 9 PM / The American Dance Festival and Nasher Museum co-present This Land Is Your Land by Seattle choreographer and distinguished ADF faculty member Mark Haim for 14 performers in the minimalist tradition. The acclaimed work debuted in Paris in January and is special to North Carolina audiences this summer. Set to a dynamic country music score, This Land is Your Land is based on a simple, continuously mutating walking pattern. Haim uses culturally-identifiable props, from Starbucks cups to cell phones, to explore contemporary hot-button issues such as consumerism, environmental abuse and body image. Contains adult themes and nudity. Seating will be provided; personal chairs are not permitted.

Advance tickets are avaible: $15. Purchase tickets at Duke University Box Office online at tickets.duke.edu or by phone: 919-684-4444. There will be limited chair seating available on a first come, first served basis. Additional seating will be available on the floor, and audience members will also have the option of standing. Performances are 50 minutes. More information: americandance festival.org. Photo by Tim Summers

WATCH
SUMMER DAYS NASHER NIGHTS: DINNER AND A MOVIE - BAMAKO / Thursday, June 27, 5 PM / Bamako (Abderrahmane Sissako, 2006, 118 min, France, in French and Bambara with English subtitles, Color, DVD). Free film at 7 PM in the lecture hall. Dinner patrons enjoy ample parking, two-course dinner specials and reserved film seating. Dinner reservations are strongly encouraged (5 PM or 5:30 PM), online or by calling 919-684-6032. View all Summer Days Nasher Nights events.

VIEW
THE CINEMATIC IMPULSE OPENS / Saturday, June 29, 10 AM / Drawing from the Nasher Museum's permanent collection of contemporary art, The Cinematic Impulse explores the intricate relationships between cinema, visual art and culture. Cinema, in the sense of a moving image, came about in the late 1800s, and its evolution has had a lasting impact on contemporary society. Its stories and images are sharply etched into our imaginations and act as windows into the shifting ideals, fantasies and preoccupations of society. The artists represented in this installation use a variety of strategies to visually examine the effects of Hollywood, from photography and video art to film itself. Their approaches reveal and examine the power of cinema, its origins and histories, audio-visual relationships, film narratives whether implied or direct, editing processes and character studies.

READ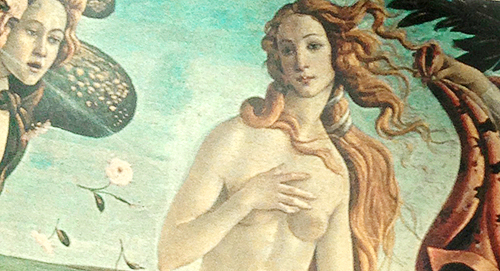 BLOG SHOP
FROM OUR BLOG / Nasher Museum student intern Dwayna Clark writes "Stacy Lynn Waddell is a local artist whose art work Awful Conflagration of the Steam Ship Lexington (after Nathaniel Currier), 1840/2011 is on view at the Nasher Museum as part of Recent Acquisitions. I had the pleasure of interviewing Stacy Lynn Waddell the day before she spoke at our First Thursday Gallery Talk on Wangechi Mutu: A Fantastic Journey." Read more.
IN THE STORE / Save online and when you visit the Nasher Museum Store. Nasher Museum Members enjoy a 10% discount in the store and cafe, and receive free, unlimited admission and special invitations and subscriptions to our full-color calendar and post card mailings. Become a member! Join online, call 919-684-3411 or visit the museum information desk.

BANNER, CREATE, SUPPORT , SHOP and READ photos by J Caldwell.
Image for VIEW: Isaac Julien, Encore (Paradise Omeros: Redux) (still) from the suite Point of View: An Anthology of the Moving Image, 2003. Video (color, sound); 4:38 minute loop. Collection of the Nasher Museum of Art at Duke University, Durham, NC. Museum purchase, 2005.5.7. ©Isaac Julien. Courtesy of the artist and Metro Pictures, New York.
Image for BLOG: Stacy Lynn Waddell, Awful Conflagration of the Steam Ship Lexington (after Nathaniel Currier), 1840/2011, 2011. Burned and branded paper with watercolor, gold leaf and acrylic; 22 x 29 3/4 inches (55.9 x 75.6 cm). Collection of the Nasher Museum of Art at Duke University, Durham, NC, USA. Museum purchase, 2012.12.1. ©Stacy Lynn Waddell. Photo by Peter Paul Geoffrion.
Nasher Museum exhibitions and programs are generously supported by the Mary Duke Biddle Foundation, the late Mary D.B.T. Semans and James H. Semans, the late Frank E. Hanscom III, The Duke Endowment, the Nancy Hanks Endowment, the Courtney Shives Art Museum Fund, the James Hustead Semans Memorial Fund, the Janine and J. Tomilson Hill Family Fund, the Trent A. Carmichael Fund for Community Education, the Neely Family Fund, the E. T. Rollins, Jr. and Frances P. Rollins Fund for the Nasher Museum of Art at Duke University, the Marilyn M. Arthur Fund, the Sarah Schroth Fund, the George W. and Viola Mitchell Fearnside Endowment Fund, the Gibby and Michael B. Waitzkin Fund, the K. Brantley and Maxine E. Watson Endowment Fund, the Victor and Lenore Behar Endowment Fund, the Margaret Elizabeth Collett Fund, the Nasher Museum of Art General Endowment, the Friends of the Nasher Museum of Art, and the Office of the President and the Office of the Provost, Duke University.
© 2000-2013 Nasher Museum of Art at Duke University. Unauthorized use is prohibited.
ON

CREATE
Summer Make and Take Series
Tuesdays at 10 AM, Thursdays at 5 PM
Explore exhibitions through hands on activities. No reservation necessary.  Free and open to all ages. Tuesdays and Thursdays from 
June 18 through August 22
.

SUPPORT
JOIN
Join, renew, upgrade or give the gift of membership
online
or by calling 919-684-3411.
GIVE
Become a supporter. Individuals, corporations and foundations can call 919-668-3527 for further information.

VISIT
Location
Hours
Tue, Wed, Fri, Sat - 10 AM to 5 PM
Thu - 10 AM to 9 PM
Sun - Noon to 5 PM
Mon - closed
Admission
General admission to the Nasher Museum is $5 ($4 for Seniors). Admission is FREE for Nasher Museum members, children 15 and under, Duke students, faculty and staff with Duke I.D. and Duke Alumni Association Members with Alumni Membership Card. Thursday, 5-9 PM admission is free for all.

Admission is also FREE to all active duty military personnel and up to five family members, with military ID: Geneva Convention common access card (CAC), a DD Form 1173 ID card, or a DD Form 1173-1 ID card.