ANTICIPATE
MIRÓ IS COMING! OPENING SEPTEMBER 14 /
 We invite you to explore our new 
website
for 
Miró: The Experience of Seeing
, opening September 14. 

DINE
GUEST CHEF TEDDY DIGGS / Thursday, August 7, 5 PM /
Chef Teddy Diggs, executive chef of 
Il Palio Ristorante
 at The Siena Hotel, brings a
taste of Italy
to the Nasher Museum Café. Only a few reservations for dinner remain. Make reservations
online
or by calling 919-684-6032. Last seating for dinner is at 8 PM.

LEARN
ARTIST TO ARTIST: HOMAGE, INSPIRATION AND SATIRE - PUBLIC TOUR / Thursday, August 7, 6 PM / Join Gallery Guide Ruth Caccavale for an engaging tour through the Nasher Museum's exhibitions. We'll talk about how artists borrow from art, popular culture and the world around them. Public tours are free to charge to individuals, or groups of fewer than 10 people. Tours last approximately one hour. Public tours are free of charge to individuals, or groups of fewer than 10 people. Tours last approximately one hour.

TASTE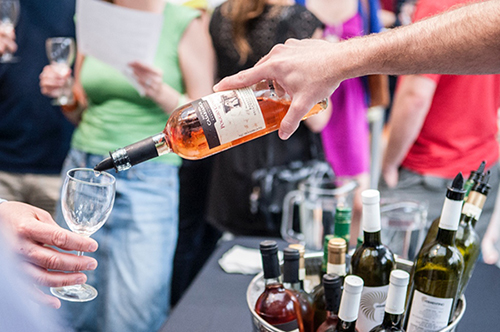 SIP, SAMPLE, SHOP / Thursday, August 14, 6 PM /
Start the evening with great white wines and passed hors d'oeuvres by the
Nasher Museum Café
, then enjoy the galleries at your own pace. The $10 pass covers tastings of four selections from the Tryon Beverage portfolio and a 20%-off coupon for shopping that evening at the
Nasher Museum Store
. Participants must be of legal drinking age with proper ID.

SKETCH
SKETCHING IN THE GALLERIES / Saturday, August 16, 10 AM / Following a brief drawing warm-up activity, visitors can practice sketching artwork around the museum. Paper and drawing utensils will be supplied. Pens and wet media are not permitted in the Nasher Museum galleries.

BLOG SHOP
BLOG / When we encounter a work of art by Dario Robleto, we are drawn in with our senses, right away. And when we read the accompanying label, well, a spontaneous little symposium will inevitably take place with whoever happens to be standing nearby. How can art be useful? How can art connect humans through the ages? We are thrilled to share a recent On Being radio interview in which Dario talks about "how objects — in life and in culture — can become meditations on war, love, time and healing." More.
IN THE STORE / All of the novels for the Summer Days, Nasher Nights book discussion series are availabe in the Nasher Museum Store.

Save online and when you visit the Nasher Museum Store. Nasher Museum Members enjoy a 10% discount in the store and cafe, and receive free, unlimited admission and special invitations and subscriptions to our mailings. Become a member! Join online, call 919-684-3411 or visit the museum information desk.

Banner: Pere Portabella, Miró l'altre (Miró the Other) (detail), 1969. Video (color, sound), 15:00 minute loop,
ANTICIPATE:
Seattle Art Museum installation of 
Miro: The Experience of Seeing
. Photo by Nathaniel Willson.
TASTE, LEARN, BLOG and SHOP photos by J Caldwell.
Nasher Museum exhibitions and programs are generously supported by the Mary Duke Biddle Foundation, the late Mary D.B.T. Semans and James H. Semans, the late Frank E. Hanscom III, The Duke Endowment, the Nancy Hanks Endowment, the Courtney Shives Art Museum Fund, the James Hustead Semans Memorial Fund, the Janine and J. Tomilson Hill Family Fund, the Trent A. Carmichael Fund for Community Education, the Neely Family Fund, the E. T. Rollins, Jr. and Frances P. Rollins Fund for the Nasher Museum of Art at Duke University, the Marilyn M. Arthur Fund, the Sarah Schroth Fund, the George W. and Viola Mitchell Fearnside Endowment Fund, the Gibby and Michael B. Waitzkin Fund, the K. Brantley and Maxine E. Watson Endowment Fund, the Victor and Lenore Behar Endowment Fund, the Margaret Elizabeth Collett Fund, the Nasher Museum of Art General Endowment, the Friends of the Nasher Museum of Art, and the Office of the President and the Office of the Provost, Duke University.
© 2000-2014 Nasher Museum of Art at Duke University. Unauthorized use is prohibited.
ON

LIVE & LOCAL 
Sunday, August 10 , Noon
Sunday, August 17, Noon


Experience live acoustic guitar with Bob Vasile (August 10) and live jazz flute with Julia Price (August 17). The Nahser Museum Café will offer a brunch menu featuring local ingredients. Performances are free for café patrons. Reservations
online
 or call 919-684-6032. For locally sourced and produced gifts and books by local authors, also visit the Nasher Museum Store.
Complete SDNN schedule
.

READ
Join us this week for two book discussions on 
Seven Days in the Art World
 by Sarah Thornton. She takes the reader behind the scenes of the contemporary art world. With a background in sociology, Thornton captures the motivations and subtleties behind what occurs in the artist's studio, the auction house and everywhere in between.
Wednesday, August 6, 11 AM,
and
Sunday, August 10, 2 PM
, at the Nasher Museum. Visitors are encouraged to read the book prior to the
discussions
.
Seven Days in the Art World
is available for purchase in the Nasher Museum Store.

SUPPORT
JOIN
Join, renew, upgrade or give the gift of membership
online
or by calling 919-684-3411.
GIVE
Become a supporter. Individuals, corporations and foundations can call 919-668-3527 for further information.

VISIT
Location
Hours
Tue, Wed, Fri, Sat - 10 AM to 5 PM
Thu - 10 AM to 9 PM
Sun - Noon to 5 PM
Mon - closed
Admission
Admission is free to the museum through July 25, 2014.

General admission to the Nasher Museum is $5 ($4 for Seniors). Admission is FREE for Nasher Museum members, children 15 and under, Duke students, faculty and staff with Duke I.D. and Duke Alumni Association Members with Alumni Membership Card. Thursday, 5-9 PM, admission is free for all.

Admission is also FREE to all active duty military personnel and up to five family members, with military ID: Geneva Convention common access card (CAC), a DD Form 1173 ID card, or a DD Form 1173-1 ID card.