Concentration in Museum Theory & Practice
A Duke Partnership Offers Students Hands-on Experience
In collaboration with Duke's Art, Art History & Visual Studies department, the Nasher Museum offers a Concentration in Museum Theory & Practice to undergraduates within the Art History major. The Concentration is limited to Art History majors, but courses are open to all students. The series of classes allows students insight into the nature and ideology of the museum as a cultural institution, while also providing hands-on experience as students are taught and mentored by museum staff to gain essential career preparation.
During the 2019 – 2020 academic year, the museum is offering seven classes as part of the Concentration in Museum Theory & Practice. Every semester the Nasher Museum also offers Museum Internship 1 and 2, which are pre-professional practicums in the basics of museum work. Students receive course credit and are placed within a museum department or assigned to collection-based projects that align with their undergraduate studies.
Curatorial Practicum Class
In Fall 2019, the Curatorial Practicum gave students the opportunity to conceptualize and execute an exhibition in the Incubator Gallery. The students curated a selection of works of art from the Nasher Museum's Art of the Americas collection for the exhibition Cultures of the Sea: Art of the Ancient Americas. This class was taught by Julia McHugh, Ph.D., Trent A. Carmichael Curator of Academic Initiatives, who has brought expertise in ancient American art to Duke for the first time in 25 years.
In 2017, students in the Curatorial Practicum taught by assistant curator Molly Boarati organized Courtside: Photographs by Bill Bamberger, an exhibition of vibrant color photographs that capture a variety of basketball hoops around the world.
Featured

Featured

Articles
Seven seniors knew from the course description that a class, Curatorial Practicum: Exhibition Development and Design, would give them the opportunity to organize an exhibition at the Nasher Museum. They did not expect thei...
Published
The History and Theory of Curatorial Practice Class
In the last two decades, terms like "curator" and "to curate" have become commonplace in today's popular lexicon. Advanced degree programs in curatorial studies have proliferated around the world and publications dedicated to curatorial practice have increased. In Fall 2019, the Nasher offered History and Theory of Curatorial Practice, taught by Marshall N. Price, Ph.D., Nancy A. Nasher and David J. Haemisegger Curator of Modern and Contemporary Art.
The class examined various approaches to curatorial practice in a global context, including the rise of the biennial, performance art and non-traditional venues, as well as curatorial critique. The course included a unit on Indigenous curatorial methodologies to coincide with the exhibition, Art for a New Understanding: Native Voices, 1950s to Now.
Spring 2020 and Beyond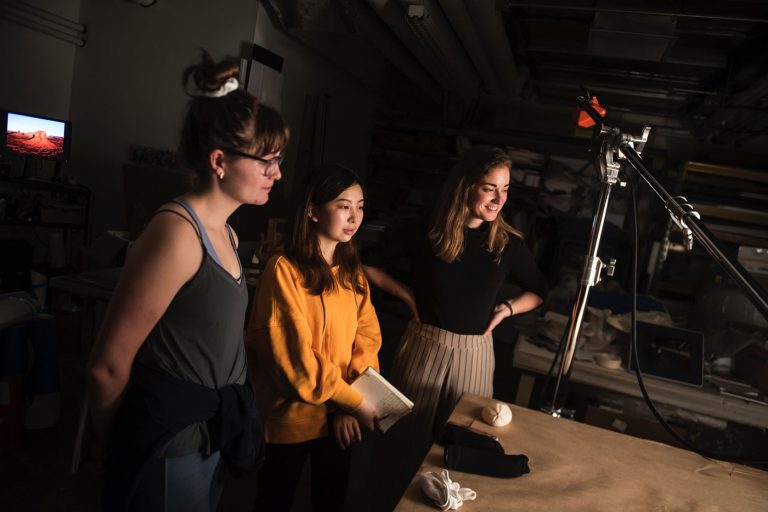 Another core course, The Museum Object, allows students to focus on object-based learning, studying artist materials and various mediums as well as strategies of display, storage and the ethics of acquisitions. This class makes extensive use of our accessible Study Storage rooms, where students can examine closely works of art from the Nasher's collection.
Julia McHugh, Ph.D., Trent A. Carmichael Curator of Academic Initiatives, taught her first Museum Theory and Practice course in Spring 2019 with 20 students, the biggest class since the Concentration began three years earlier—and the first with an official graduate level. Museum Theory and Practice provided an introduction to museum theory and the operation of art museums. Students examined topics such as collection and exhibition practices, strategies of decolonizing and social media and technology in museums. As a final project, students created proposals for a contemporary intervention in The Collection Galleries, the historical galleries in Wilson pavilion. This course will be taught again in Fall 2020.
Museum Theory and Practice, just one of the museum's many strong connections with Duke students and faculty, was one reason The New York Times wrote that the Nasher Museum is a "hub for students."
Featured

Featured

Nasher in the News
When you think of Duke University, the image of its gothic-style chapel may come to mind, or perhaps Cameron Indoor Stadium, the raucous center of the Blue Devil basketball games. But tucked along Campus Drive here, amid t...
view article on The New York Times | Published March 12, 2019