Gallery for Learning
Students can work with faculty to design installations in the museum's Academic Focus Gallery relevant to their courses. The gallery is located on the main floor near the University Classroom. Departments that have utilized the Academic Focus Gallery include: Classical Studies; Cultural Anthropology; Romance Studies; Eurasian Studies and Art, Art History & Visual Studies.
For more information about using the Academic Focus Gallery, contact Julia K. McHugh, Ph.D., Trent A. Carmichael Curator of Academic Initiatives, at juliamchugh@duke.edu
The Academic Focus Gallery is a gift of Susan and Trent Carmichael and the Morrow Family.
Past Installations
Creative Process
February 20 – May 20, 2019
Drawings can be records of visual observation, or a speculative thought process; ways of working out ideas and ways of presenting plans. They also achieve the status of independent art objects. At their most ambitious, early modern (roughly 1500 – 1800) art theorists saw drawing (disegno) as a quality of the mind and a property of perceived objects, and as an essential skill for all artists working in all media.
Creative Process, a selection of works from the permanent collection organized by co-instructors Susanna Caviglia, Ph.D. and Bill Fick from Duke's Art, Art History, & Visual Studies Department for their course "Drawing Foundations in Early Modern Europe" (Art History 265/ Visual Media Studies 256), explores the role of drawing in the creative process.
This spring, through museum visits, classroom lectures, and studio practice, "Drawing Foundations'" students will be studying the place of drawing in the early modern theorization of the visual arts and artistic practice from the standpoints of theory, practice, content and the art market. The artwork chosen for Creative Process furthers course aims by problematizing the nature, evolution, and stakes of drawing as a cognitive and aesthetic process.
---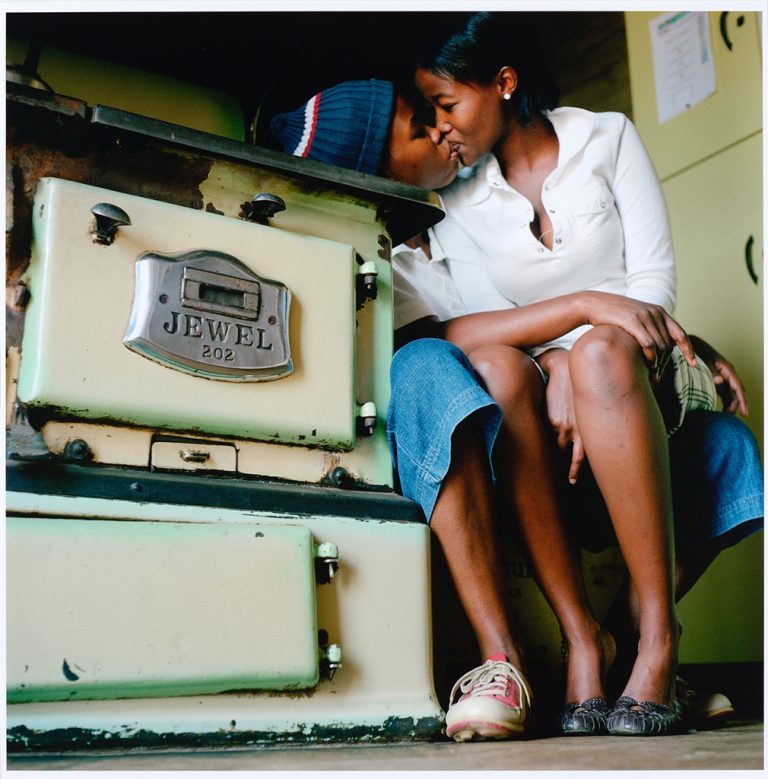 No Place Like Home
April 7 – July 22, 2018
No Place Like Home examines evolving representations of the home through artwork dating from the late nineteenth to twenty-first century. Early representations equated domesticity with female responsibilities for child care. Women were mothers, lacking sexuality or individuality, and the home kept them safe from the dangers that existed outside its walls.
A woman's sexuality was not viewed within the domain of the domestic sphere until the emergence of the Woman's Movement in the United States. The dominant model of the white middle-class housewife was beautiful and sexy, as opposed to matronly. In contrast, black women were portrayed as the Mammy figure, characterized by race, middle age, and role as domestic laborer.
Contemporary artists tackle themes such as domesticity by using historical references to make visible the societal expectations faced by women today. No Place Like Home re-presents work that confronts femininity in conjunction with race, age, and class.
This installation is organized by Savannah Chauvet (T'18), as part of a Nasher Museum internship.
---
Exploring Art and Architecture—Foundations and Histories
October 1, 2017 – January 7, 2018
These works representing a variety of artistic media have been selected from the permanent collection by art history and visual studies Professor Susanna Caviglia for use by her students over the course of this semester. In "Exploring Art and Architecture—Foundations and Histories" (Art History 104), also co-taught by Professor Neil McWilliam, Duke University students develop skills in visual analysis and historical interpretation of art from antiquity to the present; examine major theoretical frameworks, key movements and concepts; explore how we look at and talk about works of art, investigate a variety of approaches to their study and how the social and political roles of art change over time.
The first selection of works "Drawing Foundations and Artistic Training" will be up through October 29th; the second selection "Body in Art" will be on view beginning on November 7th.
---
The Prince of Los Cocuyos
August 5 – September 24, 2017
This installation is inspired by The Prince of Los Cocuyos: A Miami Childhood by Richard Prince, the Duke University Class of 2021 Common Experience summer reading selection. The Duke Common Experience Program is designed to give incoming students a shared intellectual experience with other members of their class, with the summer reading choice as a key focal point. A committee composed of students, staff and faculty selected the book after an extensive review of numerous recommendations, along with input from the larger Duke community.
Richard Blanco's memoir depicts a childhood and coming-of-age in the Miami suburb of Westchester during the 1970s and '80s. Surrounded by his Cuban-refugee family, Blanco describes his struggles navigating his identity, both cultural and sexual, and finding his place in the world.
In past years, Duke faculty and staff have responded to the themes of the book and the chosen artwork. This year, we have selected passages from the book that relate to the artworks, and ask for your responses to the questions included by writing on a comment card and placing it in a photo album installed in the gallery.
---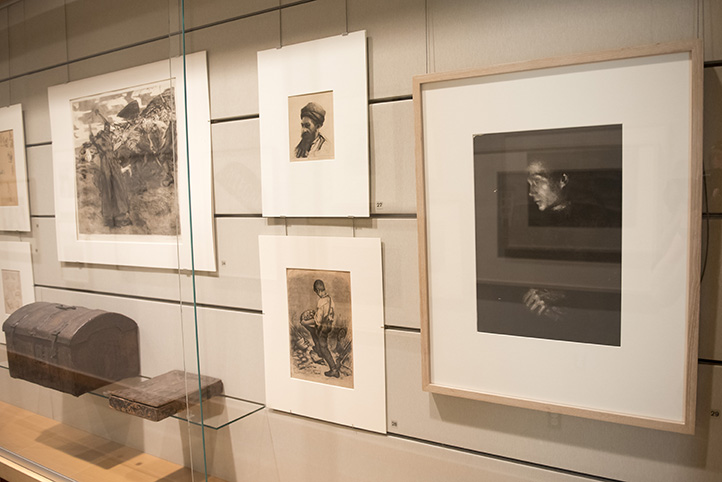 Europe in Transit: The Arts of Migration
February 2 – July 14, 2017
Europe today faces waves of migrants from the South, as well as refugees from the war zones of the Middle East. This migration represents a threat for some on the Right as it feeds debate over the European Union's 'austerity' policy that tightens restrictions for full rights in the EU. These political positions take for granted that a core of Europe exists, one assumed to be stable, even uniform. This course investigates the opposite view of European culture by considering currents of migration that have defined & enriched European cultures over centuries. It tests this view through the literary and visual arts, and takes an historical approach.
Duke Unversity seminar taught by Professor Helen Solterer, "Art History/Visual Media Studies/Romance Studies 202 and French 429," is structured as a collaborative seminar with the Nasher Museum, we explored artworks that could have been made by itinerant craftsmen, or could have been carried long distances by their subsequent owners. The seminar was designed, in part, as a practicum, initiating students in the preparatory work for a future small exhibition. The class is using this installation in the Academic Focus Gallery as a study space for the works selected from the Nasher's permanent collection.
We consider these artworks in the contexts of first of A Seventh Man by John Berger and Jean Mohr, and Dispossession: The Performative in the Political, by Judith Butler and Athena Athanasiou, which give us tools for analyzing the arts of migration.
---
Chinese Art: 1900 to the Present
October 15, 2016 – January 22, 2017
This exhibition for the class "Chinese Art: 1900 to the Present" taught by Professor Stanley Abe offers the opportunity to view a small but distinguished group of Chinese art.  The works span the history of Chinese art from the earliest periods (Shang Dynasty, c. 1500–c. 1050 BCE) to the twenty-first century.
Most important are scholarly objects—the brush, the ink stone and implements for producing ink, and identifying seals to afix in red on the completed calligraphy or painting.  Writing and painting are a single process and act. The shape, density and nuance of the brushed line is the art.
---
Just Mercy
August 6 – October 2, 2016
This installation was inspired by Bryan Stevenson's memoir, Just Mercy: A Story of Justice and Redemption (2014), the 2016 Common Experience summer reading book for incoming first-year students at Duke. The works on display come from the Nasher Museum's collection. They broadly reflect themes found throughout Just Mercy, including the law, the criminal justice system, imprisonment, and racial and socio-economic injustices. Twenty-three Duke faculty members have offered their personal responses to the artworks and to Stevenson's book. Read their responses (pdf).
View the Just Mercy installation booklet.
 Just Mercy is Bryan Stevenson's personal account of fighting for justice in the U.S. legal system. While a student at Harvard Law School, Stevenson interned at the Southern Prisoners Defense Committee in Atlanta, Georgia, representing poor clients on death row. This experience inspired him to later co-found the Equal Justice Initiative (EJI) in Montgomery, Alabama. The non-profit organization provides legal representation to indigent defendants and prisoners who have been denied fair and just treatment in the legal system, most often due to racial and socio-economic biases. EJI also advocates for reforming the criminal justice system. In Just Mercy, Stevenson details several of the cases he has taken on as a defense attorney—individuals wrongly convicted of crimes and sentenced to death, children prosecuted as adults and placed in prisons where they were abused, and mentally disabled people, convicted and sent to jail, their special needs ignored. Working closely with the poor, the accused, the incarcerated, and the condemned has taught Stevenson—and Stevenson, in turn, teaches us—that everyone deserves justice and mercy.
---

Making Faces at the Intersection of Art and Neuroscience
March 26 – July 24, 2016
"Who sees the human face correctly: the photographer, the mirror or the painter?" –Pablo Picasso
A Bass Connections project team of faculty and students organized this installation exploring the intersection of art and neuroscience of making faces at the Nasher Museum. We see faces everywhere: in electrical outlets, in the headlights and grill of a car and even in the shadows of the moon. But why do we see faces in these objects, and what are the necessary elements for us to perceive them? Do representations of faces have to be realistic for them to be recognizable? And why do faces capture our attention more than other objects? Humans have a particular expertise for faces that biases our perception of them. From an artistic perspective, many of the works presented here push the boundaries of representation in their distortion of facial features, leading us to question the limits of what makes a face. For scientists, they may prompt questions about specific face processing neural mechanisms and the relationship between our perception and human nature. Many of these works seek to challenge our conventional ideas of what elements are necessary to compose a face, while others seek to reinforce them. By merging art and neuroscience, we can reframe our understanding of faces in artwork by exploring both why and how we see them.
View the Making Faces booklet.
This project is part of the work of Art, Vision, & the Brain, a Bass Connections team at Duke exploring the depictions of faces and how our brains make sense of our visual and social world.
Learn about Eye Tracking and Art from Pearson Lab.
Project Team:
Monica Huerta, Ph.D, Provost's Postdoctoral Associate, Women's Studies
Elizabeth Johnson, Ph.D, Assistant Research Professor, Neurobiology, and Associate Director, Duke Institute for Brain Sciences
Eleonora Lad, MD, Ph.D, Assistant Professor, Ophthalmology
Jeff MacInnes, Ph.D, Postdoctoral Fellow, Center for Cognitive Neuroscience
Guillermo Sapiro, Ph.D, Edmund T. Pratt, Jr. School Professor of Electrical and Computer Engineering
Marianne Wardle, Ph.D, Andrew W. Mellon Curator of Academic Programs, Head of Education & Interpretation, Nasher Museum
Kaitlin Henderson, Masters in Liberal Studies (Duke class of '16)
Anuhita Basavaraju, Neuroscience Major (Duke class of '18)
Peter Cangialosi, Neuroscience and French Major (Duke class of '16)
Sophie Katz, Neuroscience Major (Duke class of '17)
Eduardo Salgado, Neuroscience and Psychology Major (Duke class of '18)
Christopher Yoo, Biology Major ('18)
---