Your Museum Career Starts Now!
Students enjoy many part-time paid positions at the museum. Pay is $10 per hour. Work-study students are welcome.
Visitor Services Representative Duke Student Position Available
Are you interested in working in an open, sun-lit space, surrounded by contemporary visual art? Do you enjoy engaging with people from all occupations, young to old, local to international? Would you like to add customer service to your resume?
If you answered yes to the above questions, we encourage you to apply for the Visitor Services Representative position at the Nasher Museum of Art!
We are currently seeking a Duke student to fill a dynamic, customer-service based position that offers the opportunity to work in a contemporary art setting with an international reputation and record of diverse, engaging exhibitions.
Show More
Become a Gallery Guide
Learn about art, gain experience leading tours of K-12 school groups and adult groups, facilitate and lead inquiry-based discussions. Student gallery guides must commit to three semesters. If interested, please contact Jessica Ruhle, Director of Education and Public Programs (jessica.ruhle@duke.edu).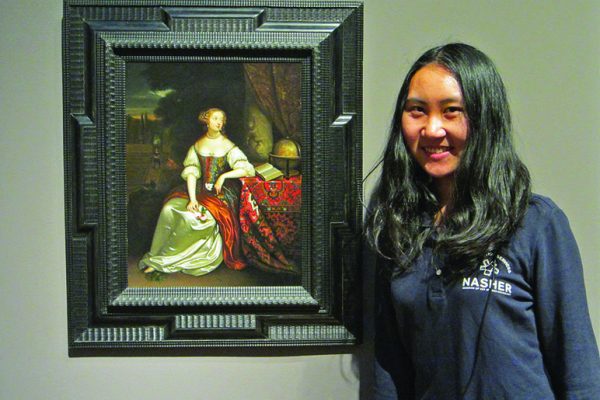 This painting always catches my eye when I enter the gallery. The woman is depicted so elegantly with her silver dress and her pose. I also like how everything in the painting is symbolic, like the plant the woman is stepping on. It's like a puzzle trying to figure out what the details mean.

Yijun Qian, who graduated in December 2016 with a master's degree in engineering management.
Featured

Featured

Articles
Join the tradition of famous artists who began their careers as museum guards! The Nasher Museum seeks art-minded students to help keep art safe and enhance the visitor experience. We are looking for alert, responsive and ...
Published
Office/Research Assistant
Periodically work-study positions are available with specific museum departments, including curatorial, education, membership, registrar, special events and public affairs.

For information about possible openings please contact Carolyn Watson, HR Specialist, (carolyn.watson@duke.edu) or 919-684-3307.
Featured

Featured

Articles
Caroline Frank's parents gave her a choice: Christmas presents or New Orleans. The Duke senior did not hesitate. She picked the Big Easy, traveling with the Nasher Museum's marketing department in November 2017 for the ope...
Published