Your Museum Career Starts Now!
Students enjoy many part-time paid positions at the museum. Pay is $10 per hour. Work-study students are welcome.
Become a Gallery Guide
Learn about art, gain experience leading tours of K-12 school groups and adult groups, facilitate and lead inquiry-based discussions. Student gallery guides must commit to three semesters. The application deadline is March 15, 2018. Spring recruits will start leading tours in the fall.

If interested, please contact Jessica Ruhle, Director of Education and Public Programs (jessica.ruhle@duke.edu).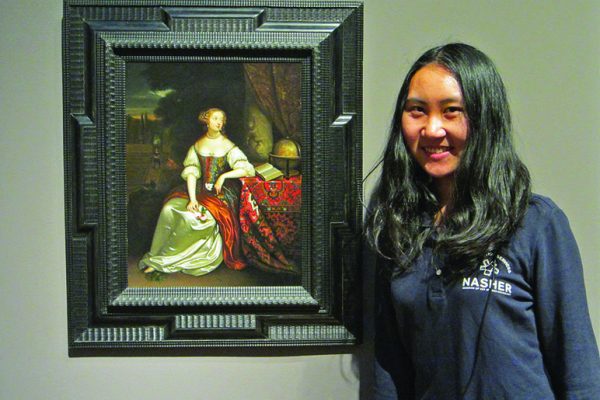 This painting always catches my eye when I enter the gallery. The woman is depicted so elegantly with her silver dress and her pose. I also like how everything in the painting is symbolic, like the plant the woman is stepping on. It's like a puzzle trying to figure out what the details mean.

Yijun Qian, who graduated in December 2016 with a master's degree in engineering management.
Security Guard
Security guards help keep art safe and enhance the visitor experience. Pay is $10/hour, work study is welcomed, and shifts are flexible.
If interested, contact Sgt. Jimmie Jones, Manager of Protection Services, (jimmie.jones@duke.edu) or 919-684-3352.
Office/Research Assistant
Periodically work-study positions are available with specific museum departments, including curatorial, education, membership, registrar, special events and public affairs.

For information about possible openings please contact Kate Piva, Deputy Director of Operations, (kate.piva@duke.edu) or 919-684-5126.
Visitor Services Representative
Visitor Services Representatives handle admissions fees, answer the telephone and direct calls, greet and keep an accurate count of visitors, assist visitors with the purchase of museum memberships and answer visitors' questions.
If interested please contact Myra Weise, Visitor Services Manager, (myra.weise@duke.edu).