Big Shots: Andy Warhol Polaroids
November 12, 2009 – February 21, 2010
The Nasher Museum presented an exhibition of rare Warhol photographs that revealed an important dimension of the artist's process in creating his famous large-scale portraits. The Polaroids were Warhol's aids for painting portraits, but in and of themselves they are significant and represent a relatively unknown body of his work.
Big Shots included about 250 Polaroids, many of famous subjects: artist Jean-Michel Basquiat, writer Truman Capote, skater Dorothy Hamill, fashion icon Bianca Jagger, artist Grace Jones, golfer Jack Nicklaus and musician Rick Ocasek. The exhibition also included 75 silver gelatin black-and-white prints taken by Warhol from 1970 to 1987, depicting such luminaries as Studio 54 owner Steve Rubell and fashion critic André Leon Talley. Many of these original prints were on public view for the first time.
The exhibition also included portraits on canvas of Patsy, Andrea, Joan and Nancy Nasher, the wife and daughters of the late Raymond D. Nasher, the museum's namesake, accompanied by the corresponding Polaroid studies.
Gifts to Three Art Museums
Big Shots was organized by the Nasher Museum, the Ackland Art Museum, University of North Carolina at Chapel Hill, and the Weatherspoon Art Museum, University of North Carolina at Greensboro. All three institutions received gifts of about 100 original Polaroid photographs and 50 gelatin silver black-and-white prints in 2008, in celebration of the 20th anniversary of the Andy Warhol Photographic Legacy Program, a division of the Andy Warhol Foundation in New York.
At the Nasher Museum, the exhibition was supported by McKinney.
Lift Imitates Art
Nasher visitors and staff pose for Warhol-inspired photos with exhibition T-shirts at the opening event for Big Shots: Andy Warhol Polaroids on November 12, 2009.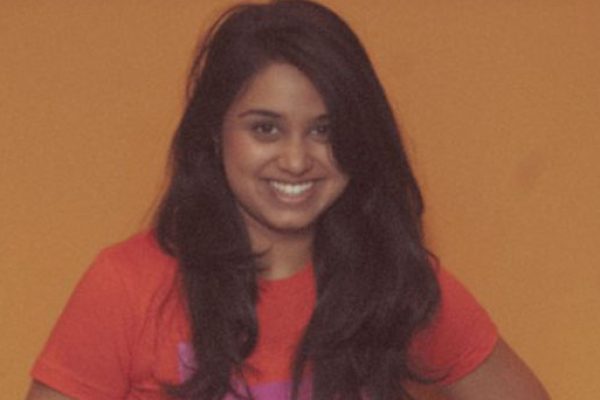 The fall of my sophomore year, the Nasher Museum featured an exhibition of Andy Warhol Polaroids, in a show called Big Shots. To parallel the artist's striking portraits, often in both photograph and paint form, we at the Nasher created our own Polaroid collage of students and community members. The day of the opening, we donned brightly colored pink and orange T-shirts and posted, laughing on the steps of the museum, in an impromptu shoot. My favorite memory of spending time at the museum was that evening, when Ms. Nancy Nasher stood by her portrait and shared the story of her and her family's incredible experience being painted by Warhol. While that in itself, having the opportunity to have a subject of a painting speak about its artist, would have make for a memorable night, Ms. Nasher in her gracious and generous manner then took the time to view our Polaroid collage and meet those of us who had helped put it together. In a larger than life way, she stepped out of her portrait as an alumna and leader and took an interest in our studies, museum engagement and careers that extended well beyond the evening. I'll cherish forever that memory and this Polaroid, not quite a Warhol, but a Nasher Museum original nonetheless.

Reshma Kalimi, T'12