Nasher Annual Report 2018
From the Director
Welcome to the Nasher Museum's online Annual Report 2018.
Last year opened with our special ticketed exhibition, The Medici's Painter: Carlo Dolci and 17th-Century Florence, the first-ever Dolci exhibition in the United States. Visitors loved perusing the galleries, leaning in and taking time to study the exquisite craftsmanship of the beautiful paintings and works on paper by Carlo Dolci. His fine brushwork calls to mind the perfectionist style of medieval miniatures. This gifted Baroque artist was also a master of light, shadow and composition—the topics of popular talks by contemporary photographer Burk Uzzle and Durham-based artists Stacy Lynn Waddell and Will Paul Thomas.
We explored the fascinating and moving world of abstract art through two major exhibitions last year. I am very proud of our fall 2017 collection show, Disorderly Conduct: American Painting and Sculpture, 1960 – 1990. Curator Marshall N. Price brought us on an art historical journey over three decades with treasures he brought out of storage from our modern and contemporary collections. Many of these works were on view for the first time, such as the rare early Abstract Expressionist canvas by Al Held, a recent gift. Using his brilliant eye and wide knowledge, Price selected a group of intriguing and irresistible works of portraiture, abstraction and sculpture.
Our headliner from spring 2018, Solidary & Solitary: Joyner/Giuffrida Collection, was drawn from a unique and highly respected collection formed by Pamela Joyner and her husband, Fred, residents of San Francisco. The exhibition illustrated the history of art by artists of African descent from the 1940s to the present, with a special emphasis on black abstraction. Prior to the exhibition, Pamela Joyner published a weighty catalogue of her collection, lauded on the front page of the Arts section of The New York Times, and covered by other national press.
First Sotheby's Prize

I am also deeply honored that the Nasher Museum was the co-recipient of the inaugural Sotheby's Prize last year, in recognition of curatorial excellence for our upcoming exhibition Pop América, 1965 – 1975. We are privileged to support the groundbreaking research of guest curator and Duke Professor Esther Gabara with this exhibition, the first to present a hemispheric vision of Pop art. This generous award came at a critical time as we prepared to fund such an ambitious exhibition. As a small university art museum, we need to support our forward-looking faculty whose curatorial research becomes cutting edge exhibitions.
Faculty and Student Connections

As a teaching institution, the Nasher was pleased to present two special faculty-student collaborations in the Incubator Gallery, part of The Collection Galleries in Wilson Pavilion. The first project explored the magical city of Venice through Jacopo de' Barbari's famous View of Venice, the world's first city view made in 1500. Duke art historian Kristin L. Huffman and her students created 3-D digital tools to help us understand Venice as it existed more than 500 years ago, animating and enlarging details in de' Barbari's amazing print, illustrating historic shipbuilding techniques and changing Venetian architecture.
Four Duke undergraduate students co-curated the second project, Courtside: Photographs by Bill Bamberger, through a Curatorial Practicum class taught at the Nasher Museum by Assistant Curator Molly Boarati. Their terrific efforts paid off when the installation traveled to NorthPark Center in Dallas.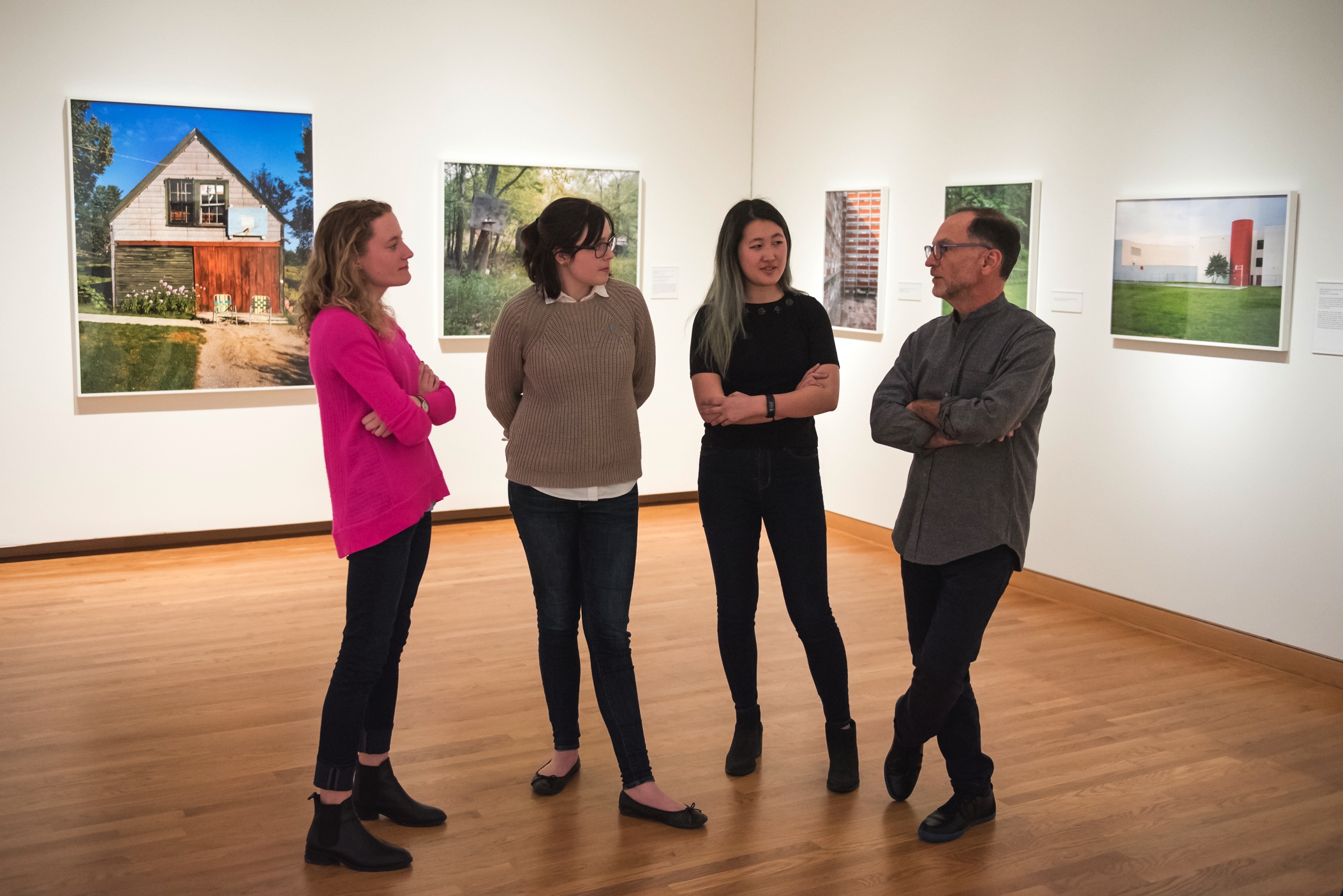 The Nasher Museum was also excited to convert a major gallery pavilion into a performance art space for four days in March. Michael Kliën, associate professor of the practice in Duke's Dance Program, invited visitors to take part in Parliament at Duke. They agreed to simple rules: no talking, no electronic devices, no reading material, short breaks for food and water. Kliën had presented versions of Parliament in Amsterdam, Greece, Brussels, London and New York. The result was an interactive experience that was unprecedented at this museum.
Thank You
This Annual Report could not be complete without each and every one of you—museum members, our board participants, visitors from the Duke and Durham communities and new faces. Thank you for embracing the Nasher as your museum and making the Nasher Museum truly special by supporting the exhibitions, programs, scholarship, publications and experiences that would not be possible without you.

Sarah Schroth
Mary D.B.T. and James H. Semans Director
Nasher Museum of Art at Duke University
Featured

Featured

Articles
The basketball hoop is ubiquitous. That was a quick conclusion for four Duke undergraduate students when they began to co-organize the exhibition Courtside: Photographs by Bill Bamberger. Janie Booth (T'19), Savannah Chauv...
Published
Featured

Featured

Recent Acquisition
Duke graduate Charles Googe (A.B. '84) and his wife Linda Googe have made a transformative gift of photographs to the Nasher Museum. Comprised of more than 500 photographs, the gift will be presented to the museum in a ser...
Financials, July 1, 2017 – June 30, 2018