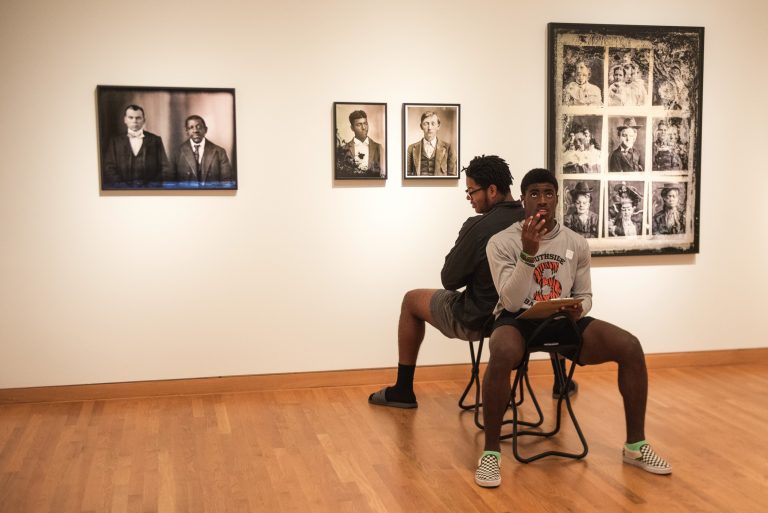 ACADEMIC INITIATIVES
The Nasher Museum of Art at Duke University is an interdisciplinary nexus and laboratory where students and scholars can investigate, explore and test knowledge. Confronted with a different kind of source material—objects and images rather than text—viewers are challenged to consider concepts and issues in a new way. Visual literacy is an increasingly important skill and an essential component of a 21st-century education. By providing the necessary tools and experiences to critically consider visual culture, we empower students and scholars to search out their own answers.
COLLEGE & UNIVERSITY TOURS
A Museum for Learning
The museum's academic program staff works one on one with faculty to design tours, lesson plans and assignments that complement classes and research interests, as well as facilitate skills-based learning in visual literacy, communication and teamwork. Tours can explore exhibitions or visit Study Storage to experience works of art up close.
ACADEMIC FOCUS GALLERY
A Gallery for Teaching
Duke faculty can collaborate with academic curators to design installations using works of art in the Nasher's collection to move student learning beyond the classroom. The gallery is located on the main floor near the University Classroom.
CONNECT
To discuss the possibilities for your classes or research, contact Julia K. McHugh, Ph.D., Trent A. Carmichael Curator of Academic Initiatives, at julia.mchugh@duke.edu or 919-684-5203 or Ellen C. Raimond, Ph.D., Assistant Curator of Academic Initiatives, at ellen.raimond@duke.edu or 919-684-8067.
VISIT
To schedule a class visit email nasheracademics@duke.edu with a preferred visit date and time.
SUPPORT ACADEMIC INITIATIVES
Please consider making a tax-deductible donation to support
Duke student and faculty programs. Contact Tamara Holmes Brothers, Director of Development and Major Gifts, at tamara.brothers@duke.edu to learn more.