Live Performance
Echoes: From Here
by John Felix Arnold, Michelle Dorrance and Byron Tittle
Wednesday, June 22
Nasher Museum
1 PM Performance in the Great Hall
1:30 PM Artist conversation in the Lecture Hall, moderated by UNC scholar Danielle Purifoy
Free and open to all
Join us for a multidisciplinary collaboration between visual artist John Felix Arnold, MacArthur fellow Michelle Dorrance and Byron Tittle of Dorrance Dance tap company. Commissioned by Duke Arts and co-presented by American Dance Festival and the Nasher Museum, Echoes: From Here is a 30-minute dance performance that will result in the creation of a new work of visual art: a 6-by-8-foot "stage" created by Arnold from reclaimed wood sourced from both the Triangle and New York City.
The dancers will explore the materiality, sound and presence of the wood in transforming the surface. Their movements will be captured in the piece through marks made by their taps, evoking and creating a conversation with the history of the tap dance form, situated between the North and the South. In this sense, the project also represents the geographies of its creators' lives: Arnold and Dorrance are Triangle natives, and Tittle was raised in New York, where all three live and work. The piece will exist as a living document — a transformative moment and reflection on the intersections of art, dance, and the social and physical environments in which we live. This collaboration is part of Arnold's ongoing Echoes project series.
This project is also supported by Cassilhaus where Arnold is in residence this summer.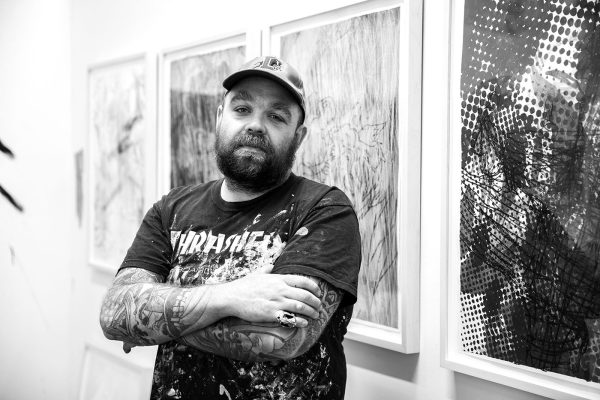 Echoes is an evolving body of work that visualizes the temporal languages of dancers' movements through experimental modes of drawing. At the core of these movements, dancers channel their personal narratives with the lineages and histories of their disciplines, remaining in conversation with the materials they move upon and the spaces they move within.

John Felix Arnold, artist and writer based in Brooklyn, N.Y. Photo by Walter Wlodarczyk.
Echoes seeks to honor and offer space to the interwoven threads imbued in the work for current and future generations to experience in a way active performance alone cannot. The work exists as a space for the essence and energy of bodies in motion which transcend our two- and three-dimensional perspectives into a fourth dimension of resonance.

John Felix Arnold, artist and writer based in Brookly, N.Y.
About the artists
Byron Tittle began studying tap dance privately with David Rider and Kendrick Jones II in his hometown of New York. He trained extensively at Broadway Dance Center and Steps on Broadway and has been a member of Michelle Dorrance's "Dorrance Dance" company since 2011 and co-dance captain since 2018. With Dorrance Dance, Byron has traveled extensively throughout Europe, Asia, and Canada. Throughout the United States he's had the privilege to perform at The Joyce Theater, The Guggenheim Museum, and The Kennedy Center in Washington D.C. Byron was a featured dancer in the 2019 Jon M. Chu film, "In The Heights," toured internationally with Hugh Jackman in "The Man, The Music, The Show", and is humbled to have received a Princess Grace Foundation Dance Fellowship Award. He most recently participated in the 2022 "Artists at the Center" curation as an associate choreographer and dancer under the leadership of Tiler Peck, Michelle Dorrance, and Jillian Meyers.
Michelle Dorrance is a New York City-based tap dancer, musician, director, teacher, performer and award-winning choreographer, and is the founder and Artistic Director of Dorrance Dance. Mentored by Gene Medler, she grew up performing with his North Carolina Youth Tap Ensemble  and studied under many of the last master hoofers of the jazz era. As a solo artist, Michelle has performed with the NYC and North American touring casts of STOMP, and was a founding member of Savion Glover's company, ti dii. Other work includes: Manhattan Tap, Barbara Duffy & Co, JazzTap Ensemble, Max Pollak's Rumba Tap, Ayodele Casel's Diary of a Tap Dancer, Mable Lee's Dancing Ladies, Harold Cromer's original Opus One, Derick Grant's IMAGINE TAP!, Jason Samuels Smith's Charlie's Angels/Chasing the Bird, and solo work ranging from The Late Show with Stephen Colbert to choreographic commissions for the Martha Graham Dance Company, Vail International Dance Festival, American Ballet Theatre, New York City Center, and Works & Process at the Guggenheim Museum. A MacArthur Fellow, Doris Duke Artist, Ford Foundation Art of Change Fellow, United States Artist, Alpert Award winner, Jacob's Pillow Dance Award winner and Princess Grace Award winner, Michelle holds a B.A. from New York University and is a Capezio Athlete.
John Felix Arnold was born in Durham, NC. He has exhibited with SFMOMA, B.R.I.C. Arts, The Luggage Store Gallery, Aggregate Space, and Tokyo's Spes-Lab Experimental Art Space. He is a Duke University Visiting Artist in Residence, Foundation for Contemporary Arts Grant Awardee, Los Angeles Department of Cultural Affairs Grant Awardee, and  two time Joan Mitchell Foundation Grant Nominee. His work is in collections of the Duke University Rubenstein Arts Center, Takashi Murakami, and Goldman Sachs. He has s been published by Juxtapoz Magazine, The San Francisco Chronicle's 96 Hours, Hi-Fructose, Wide Walls, SF Weekly, Supersonic Art, Common Magazine (Japan), and is represented in Aggregate Space Gallery's First 50 Retrospective hardcover publication. His work confronts and reimagines mythologies which have influenced and informed much of the contemporary world we exist in, through a range of both formal and experimental modes of artmaking. He is a contributing writer for the online arts publication Coastal Post. He holds a BFA from Pratt Institute and  is based in Brooklyn, NY.
About Danielle Purifoy
Danielle Purifoy is assistant professor in the Department of Geography at the University of North Carolina at Chapel Hill.
​She completed a Ph.D in Environmental Politics and African American Studies at Duke University. She earned a B.A. in English and Political Science from Vassar College, and a J.D. from Harvard Law School.
Purifoy's current research traces the roots of contemporary environmental conditions in the U.S. South, specifically in Black towns dating back to the post-Bellum era. She has also written about the legal dimensions of environmental justice and equity in food systems.
She is the former Race and Place Editor editor at Scalawag, a magazine devoted to Southern politics and culture, and I serve as the current  Board Chair of the North Carolina Environmental Justice Network. I also serve on the Board of Directors of Inside Climate News.