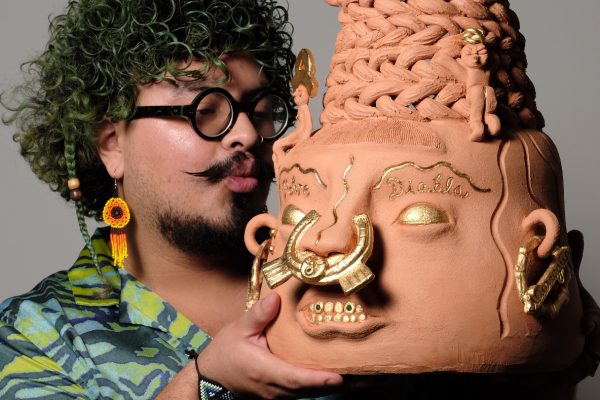 I'm not into simple display, I'm into heavy storytelling.

Artist Joel Gaitan, in W Magazine, March 16, 2022
The Nasher Museum has acquired a sculpture by Joel Gaitan that expands our holdings by Latinx and Latin American artists and has strong connections to our vast collection of arts of the ancient Americas. The Nasher is the first museum to acquire a work by Gaitan.
Working primarily in unglazed ceramic with flourishes of gold and semi-precious stones, sculptor Joel Gaitan creates fantastical, figural pottery that blends historical motifs with a contemporary Latinx sensibility. The artist makes sculptures incorporating themes and imagery from ancient Central American pottery, drawing on his Nicaraguan heritage. He updates the ancient designs with pop culture references and embellishing them with accoutrements of contemporary urban society such as jewelry, hairstyles and piercings. The result is work that is filled with insightful takes on gender and masculinity, and has been described as embodying a contemporary Latinx and, more specifically, a Nicaraguan experience.
Pobre Diabla (Poor Devil) is from a group of vessels the artist created for Domesticanx, an exhibition at El Museo del Barrio earlier this year, and was inspired by the song "Pobre Diabla" by Puerto Rican musician Don Omar. The reggaeton song tells the tale of a woman who is weeping over a man who betrayed her.
The sculpture, a female head, is filled with symbolic iconography and adornments. Two small ancestor figures playfully perch at the base of her elaborate hairstyle above her eyebrows, and, according to the artist, listen to reggaeton music. The face has two large gold hoop bamboo earrings that read "Nicaragua," showing her national pride, while the title is depicted like a tattoo in gold on her eyelids. In her nose she prominently wears a large septum (another ancestor in the form of a protective jewlery piece), while her teeth are adorned in gold and jade that, according to Gaitan, show the strength and power she carries as a divine being.
Photos of the artist and his work by Rodrigo Gaya.
The gallery below showcases several works from the collection that explore similar themes to Gaitan's work.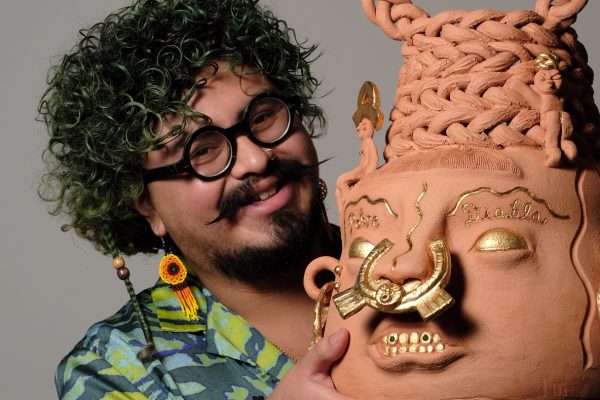 I love to take up space and I like to represent the unrepresented.

Artist Joel Gaitan, in W Magazine, March 16, 2022