A Discussion
By Briana Benkin
Duke alumni and Nasher Teen Council alumni met on Zoom recently to talk about how they are progressing after their time at Nasher and what steps they are taking in moving forward in their lives.
The alumni started to reflect back on how the Nasher Museum had influenced their career paths.
Janie also talked about how students might figure out which career path they want to take.
"There's not one way to do it, but what's nice about looking for those opportunities—that are a little bit more niche or not maybe on the beaten path of how a lot of Duke students go—is you're going to learn how to problem solve in just a different way," Janie said. "You're going to learn how to think for yourself… I'm just encouraging you to try bridging those interests."
She continued to give advice and tips on how to find potential companies to work for and how to find art advisory firms. She explained that pulling some of her college writing samples for her job had helped her move through her interview process more quickly. She encouraged students to use the academic services available to them, which can give them an advantage to advance towards more work opportunities.
It's a hard market right now, but something that really helped me was things I did at the Nasher. While you are in school right now, make sure those samples are in top shape. Look at your resume, and go to the career center—honestly, have other people read through it or have someone, like a mentor, read through it.

Janie Booth, Duke Class of 2019 and a former Nasher MUSE member
Networking is also very helpful, Janie said. It's important for students to know their references really well and to continue to keep in touch with them. Although she is out of school, Janie said, she still talks with her professional contact references at the Nasher, and has for years.
Janie, now living in Boston, explained how working for a private arts firm has helped her build new skills and opened her eyes to new perspectives and opportunities.
"I'm problem solving in a really creative and unique way," Janie said. "It's opened my eyes to how business can be related to what I studied at Duke; which was something I loved in art history. I got to work on a show at the Nasher, got to take all these amazing classes, and also used my brain in an analytical way that has fulfilled me right now."
A Career Follows the Heart
Ally Perez, a Duke graduate who had interned throughout the Nasher, now lives in Miami where she has been teaching 5th grade. She talked about her plans to start law school at the University of Miami to study the arts and repatriation. She explained that it was a tough decision for her to make when she left her senior year at Duke, to not pursue curatorial work. Ally mentioned that she and Ashleigh Smith, another Duke graduate who was in the meeting, had just finished curating their exhibition at the Nasher during senior year. But her experiences at the time had helped her figure out that she wanted to continue curatorial work to get her doctorate degree in art.
I did some...self-reflecting … about my interests, about the moments that I really felt the most connected with Nasher, with the art, with the work I was doing… and kind of what I did like. I really settled on how important it is for me to consider repatriation.

Ally Perez, a Duke graduate
Certain classes Ally had taken at Duke sparked her interest in issues in the art world, Ally said. In her Museum Theory and Practice class, which she and Janie took together, taught her about the UNESCO 1970 law.
"The law dictates what museum collections can and cannot have depending on provenance and what year they came into the country," Ally said. "And the ambiguity around whether museums reach out to native groups, the kind of items that they hold on to, why claims by tribes or communities are often ignored…those issues started to draw my attention.. I felt that's where my heart, my career focus was taking me. I love the art world."
Ally, Ashleigh, and Janie agreed that the job market is "insane." But Ally commented on how everything had worked out for her in the end. She found luck being in contact with a professor that works at the University of Miami, who has a history of repatriation and cultural heritage. Ally mentioned how the school has a great art law track. Ally applied to the University of Miami during the pandemic and hopes to get in.
Off the Mainstream Path
Claire Hutchinson, a rising Duke senior who is also a student gallery guide, said she may end up going to graduate school for arts administration. Claire expressed that she has been trying to get more involved with business and the arts, but is not sure if she wants to go into museum work. She also said she noticed a slight stereotype for the types of careers that most Duke students decide to pursue.
"I feel like at Duke there's definitely that stigma that a lot of people go into like finance and consulting and even like med school," Claire said.
Claire asked for advice about how one might be able to branch out away from those mainstream paths and how to make a job transition easier because it can be more difficult for a student to make their own contacts.
As the discussion between former Nasher Teen Council alumni and Duke alumni came to a close, the meeting ended on a positive note. They all said their goodbyes and virtually went their separate ways to continue experiencing life.
Jesse encouraged all of the Nasher alumni in the meeting to stay present in the moment when it comes to focusing on personal goals, while also emphasizing the importance of creatively interacting and collaborating with others who also pursue artistic fields.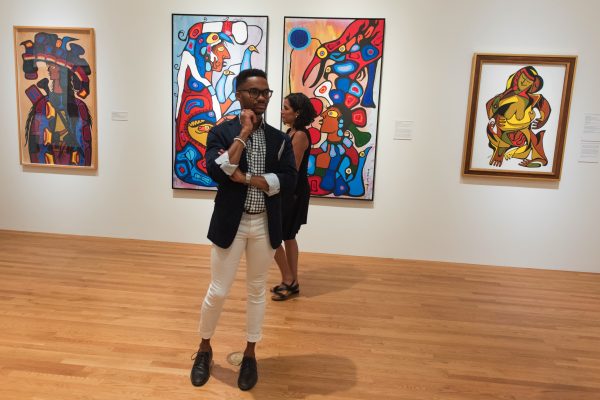 [When] you're showing up in your places of influence, especially as it relates to your interest in the arts; being able to figure out how to show up whole, how to maximize the resources that are available to you, how to activate other partners, other staff, people, and other peers – isn't just something you do by yourself as this lone wolf, but it's really this collective effort. And that's very much what this has been.

Jesse Huddleston, Program Educator for Nasher Teens and Nasher MUSE at the Nasher Museum