Art is a good cultural sieve for the times. That's why contemporary art is so important, because it helps us understand the times in which we live. Art is about politics, history, philosophy, pop culture. And I think art is not afraid to go places that people don't want to talk about.

Jacqueline Samy, art history major, (T'16)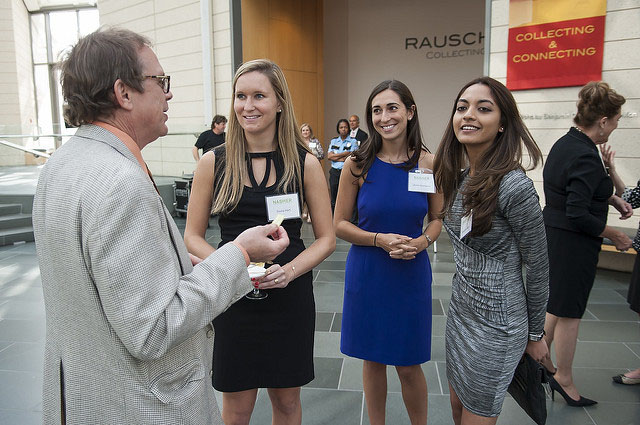 Jacqueline Samy, who grew up in London, wanted a college experience that would let her be immersed in American culture. She chose Duke University because of its location in the South. She arrived with an interest in fashion, already noticing that art abounds in the fashion world. Soon she discovered the scholarly side of art in the class Global Art Since 1945 taught by Kristine Stiles, France Family Professor of Art, Art History & Visual Studies at Duke.
"The more I started working in this art world," Jacqueline says, "the more I saw how wide it is."
Jacqueline's interest in commercial art led her to internships at Gagosian Gallery in New York (summer 2013) and Michael Werner Gallery in London (fall 2015). In between, she co- organized an exhibition at the Nasher, Rauschenberg: Collecting & Connecting, with Professor Stiles and four other Duke students, as part of the class taught by Stiles over two semesters. The students traveled with Stiles to the Robert Rauschenberg Foundation in New York to choose works of art for the show. They wrote wall labels and essays for an online catalogue and recorded an audio guide for Nasher Museum visitors.
During the summer of 2016, Jacqueline traveled to Venice, Italy, on a Duke-sponsored internship with the Peggy Guggenheim Collection. She plans to find a job in the contemporary art world after graduating with distinction (for the Rauschenberg project) in December 2016.