Chance & Collaborative Comp
Tuesdays, Thursdays and Fridays, 10:45 AM to 12:30 PM, June 14 – July 21
Throughout the Chance & Collaborative Comp course, dancers will create choreographic structures to experiment within. "We will continuously examine the elements of composition and decide what we want to use and what we might let go of," Justin Tornow says. "We'll bring greater awareness to the possibilities, and how one makes compositional choices. What moves you? How does it emerge in your body/mind? I'll ask you to follow your interests." This course will be focused on methods and processes, with less emphasis on observing outcomes. Students will be prolific, constantly creating.
Students will make and develop work utilizing chance procedures, prompts, indeterminacy, workshopping and inter- and cross-disciplinary collaborative methods. "These tools can release us from some of the expectations and conventions that might take precedence over our interests—when we let go of control, we can realize the wealth of options available to us," say ADF faculty member Justin Tornow. "We'll encounter a variety of source materials that help us create structures to launch us into making."
Justin Tornow is a North Carolina native who lives in Durham. She is the artistic director of COMPANY, a producer of the local artist series PROMPTS, and a co-founder and -organizer with Durham Independent Dance Artists (DIDA.) Justin's work is mostly collaborative and inter-disciplinary, partnering with area composers, musicians, film and video artists, lighting designer and visual artist Heather Gordon. Her projects have been presented by CAM-Raleigh, Tanzart Atelier in Germany, 21c Hotel and Museum, UGA Dancz Center for New Music, The UNC Process Series, the Sax Open Festival in Strasbourg, France, UGA-Cortona in Cortona, Italy, Durham Independent Dance Artists (DIDA,) Triangle Dance Project, GSO Fringe Festival, DUMBO Dance Festival, CoolNY Festival, Philly Fringe and the NC Dance Festival. In 2010, Justin received an MFA in Choreography from UNC-Greensboro; she lived and worked in NYC from 2010-2013 and relocated to Durham in June 2013. Justin served as artist-in-residence at Tanzart Atelier in Kirschau, Germany in Fall 2017, and as part-time dance faculty at UNC-Greensboro, teaching studio courses in technique, composition and repertory.
Variations Repertory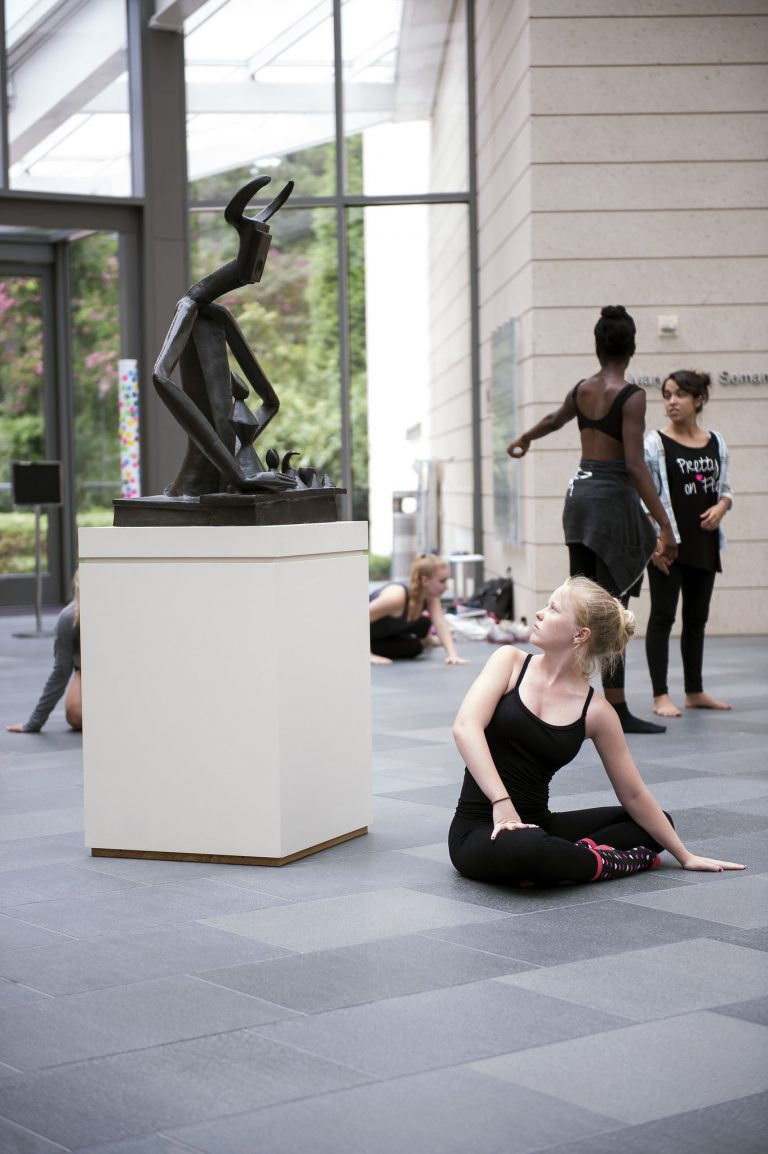 Tuesdays, Thursdays and Fridays, 2 to 3:45 PM, June 14 – July 21
Variations Repertory is a repertory study and interdisciplinary compositional exploration of modern dance themes and contemporary practices. Dancers will be required to learn phrase work from three modern dances and subsequently compose/create original responses to these based on their own interdisciplinary practices and styles. A variety of artistic practices are welcome. Working in concert with forms and ideas presented throughout this year's ADF, dancers will be asked to implement contemporaneous studies with interdisciplinary compositional work addressing humanistic themes and philosophies as inspiration. One example: deconstructing cultural narratives and/or the impact of lineal inheritance on personal preference and choice.
ADF faculty member Blakeley White-McGuire is a New York-based dance performer, maker and teacher who holds an MFA in Interdisciplinary Arts from Goddard College. She received her formal dance training at the Martha Graham Center in New York City while studying under Pearl Lang, Linda Hodes, Yuriko and Susan Kikuchi, Diane Gray, Terese Capucilli, Christine Dakin, Maher Benham, Jacqueline Buglisi, Donlin Foreman, Armgard Von Bardeleben, Marianne Bachman, Yung Yung Tsuai, Miki Orihara, Kenneth Topping and Kazuko Hirabayashi. Critically acclaimed as a Principal dancer with the Martha Graham Dance Company (2002 – 2016, 2017) she has embodied the most iconic roles of 20th-century Modern dance to international critical acclaim. As a leading practitioner of the Graham technique, she has toured the globe, been the featured performer in Google's "doodle" honoring the dance pioneer and materially contributed to three historical re-imaginings Ardent Song, Imperial Gesture and Notes on a Voyage. Simultaneously and throughout her career, Blakeley has created and performed with contemporary choreographers, filmmakers and directors including Jacquelyn Buglisi, Jayoung Chung, Martha Clarke, Sean Curran, Sue deBeer, Nacho Duato, Daniel Ezralow, Larry Kegwin, Lar Lubovitch, Richard Move, Bulareyaung Pagarlava, Marta Renzi, Pascal Rioult, Robert Wilson and Anne Bogart SITI/ Company. Blakeley's original work has been presented by The Museum of Arts and Design, Jacob's Pillow's INSIDE/ OUT, Battery Dance Festival, New Ballet Ensemble, Baton Rouge Ballet Theater, Roxbury Arts Group, Women in Dance 2018, the Moving Beauty series, ALT 360+, Inside the Dancer's Art, Quando Eles Dancam, UFO (Unified Fashion Objectives), the Movers & Shapers' podcast series and the Martha Graham Dance Company's Graham II. Her writing has been published by The Dance Enthusiast, The Huffington Post, Dance Magazine, Performance Research Journal, U.K. and most recently in A Life in Dance: A Practical Guide. Blakeley has served on the faculties of the Graham Center, the Ailey School, the New School, The Actors' Studio and New York City's famed LaGuardia High School for the Performing Arts as a teacher of technique, repertory and improvisation. She is also a coach and official register staging Martha Graham's repertory internationally, most recently for Paul Taylor's American Modern Dance and Ballet Vlaanderen. A passionate teacher, she leads masterclasses and residencies for companies, universities, studios and festivals worldwide. Blakeley continues to create, collaborate, research, lecture and perform and is currently a dancer/choreographer/ administrator for the inter-generational dance collective Movement Migration.