A Bright Star
American artist Barkley L. Hendricks passed away in New Haven, Connecticut, on April 18, 2017, at the age of 72.
This shocking news zapped one phone after another at the Nasher Museum that morning. Across campus at Smith Warehouse, a grieving Professor Richard J. Powell played an old soul ballad for his Art of the United States class: Ashford and Simpson's "Take All the Time You Need." This is also the title of a luscious Barkley L. Hendricks painting in the Nasher Museum's collection. After class, some of Rick's students carried the sad news to the Nasher, where they work as interns: "Did you hear about Barkley Hendricks?"
The Nasher Museum is a bright star in the Barkley L. Hendricks constellation (and he probably would have chuckled at that metaphor) because the landmark exhibition Barkley L. Hendricks: Birth of the Cool was organized here by Chief Curator Trevor Schoonmaker in 2008.
A memorial tribute was held at the Nasher Museum on Saturday, May 20, 2017.
Featured

Featured

Nasher in the News
Barkley L. Hendricks, a painter who gave new representation to ordinary black men and women, memorializing them in portraits that echoed the grand manner of the old masters, died on Tuesday in New London, Conn. He was 72.
view article on The New York Times | Published April 21, 2017
Often Elegant, Sometimes Confrontational, but Always Stunning
Barkley changed everything for the Nasher Museum, just three years after it opened.
"Barkley Hendricks was a great painter and an amazing human being," said Sarah Schroth, Mary D.B.T. and James H. Semans Director of the Nasher Museum of Art at Duke University. "He and his wife Susan visited the Nasher Museum of Art so often, they became part of the Nasher family. We will miss Barkley tremendously; there is a hole in our hearts right now."
If Barkley had flown slightly under the radar before Barkley L. Hendricks: Birth of the Cool, the unprecedented exhibition helped tell the whole world about his masterful life-size portraits of people of color. Barkley L. Hendricks: Birth of the Cool, the first career retrospective of his paintings, opened at the Nasher in 2008 and traveled to the Studio Museum in Harlem (2008), the Santa Monica Museum of Art (2009), the Pennsylvania Academy of the Fine Arts (2009), and the Contemporary Arts Museum Houston (2010). With each venue, the galleries came alive with Barkley's larger than life figures on bright-colored rectangular backgrounds, figures that seemed to create a party with the most sought-after invitation. "The work of Barkley Hendricks is a wonderful discovery," then-director Kimerly Rorschach said at the time, "often elegant and sometimes confrontational, but always stunning."
Coolness Personified
The accolades poured in. Vogue magazine highlighted Birth of the Cool in its "The Vogue 25" cultural highlights of 2008. The New York Times called his portraits "coolness personified."
The cool mirrored sunglasses of Steve, one of Barkley's portraits, glinted from the April 2009 cover of Artforum.
Art in America gushed about Birth of the Cool for six full pages.
For the next nine years, news of Barkley L. Hendricks has made one good story after another: the Rappaport Prize from the deCordova Sculpture Park and Museum (2016), the College Art Association's Award for Distinguished Body of Work (2010), the President's Award from the Amistad Center for Art and Culture (2010), Visiting Artist in Residence, Duke University (2009), United States Ford Fellow (2008), and Joan Mitchell Foundation Award (2008).
Barkley had nearly stopped painting portraits since the early 1980s, instead painting landscapes during vacations to Jamaica. He also produced mixed-media installations and never stopped taking photographs. He took up portraiture again in earnest after Birth of the Cool; he signed with Jack Shainman Gallery in New York, and exciting new bodies of portrait works followed with two major gallery shows in 2013 and 2016. "Why Barkley L. Hendricks Is the Mack Daddy of Living Portraitists" — that was the headline on critic Christian Viveros-Fauné's review in artnet news.
Always Together
Lucky for us, Barkley (always with a camera around his neck) and his wife of 34 years, Susan Hendricks, have come back to Durham for the next nine years, celebrating many milestones in person, and trying new Durham eateries. Through gifts and purchases, the Nasher Museum is proud to own six works by the artist—three paintings and three photographs. Several Nasher exhibitions have included Barkley's work, most recently Southern Accent: Seeking the American South in Contemporary Art.
A Love for Teaching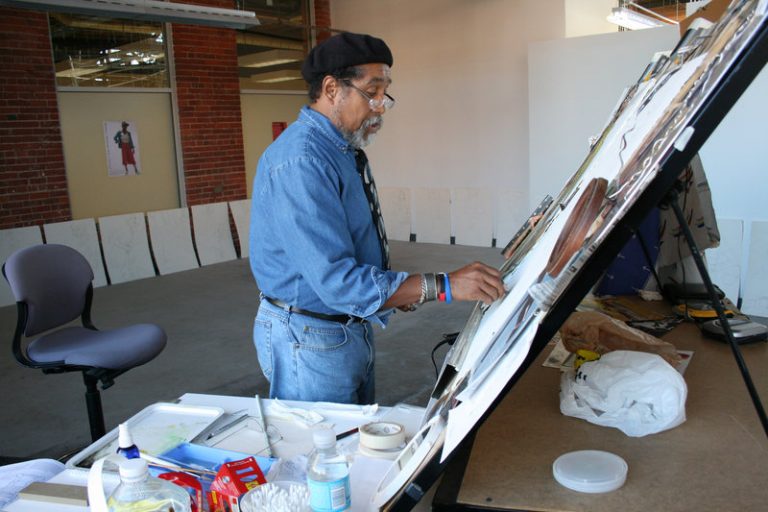 One reason for Barkley's perfect fit at Duke was his love for teaching. He was professor emeritus of studio art at Connecticut College, where he had taught since 1972. In the fall of 2009, Barkley was an artist-in-residence at Duke. He set up a studio at Golden Belt, where he installed part of his extensive women's shoe collection (reference material) and created works on paper to the delight of visitors and Duke students. During his residency he presented three public discussions, led visual art classes, critiqued student work, took part in seminars and interacted with the public at Golden Belt.
Not a New Durham Fan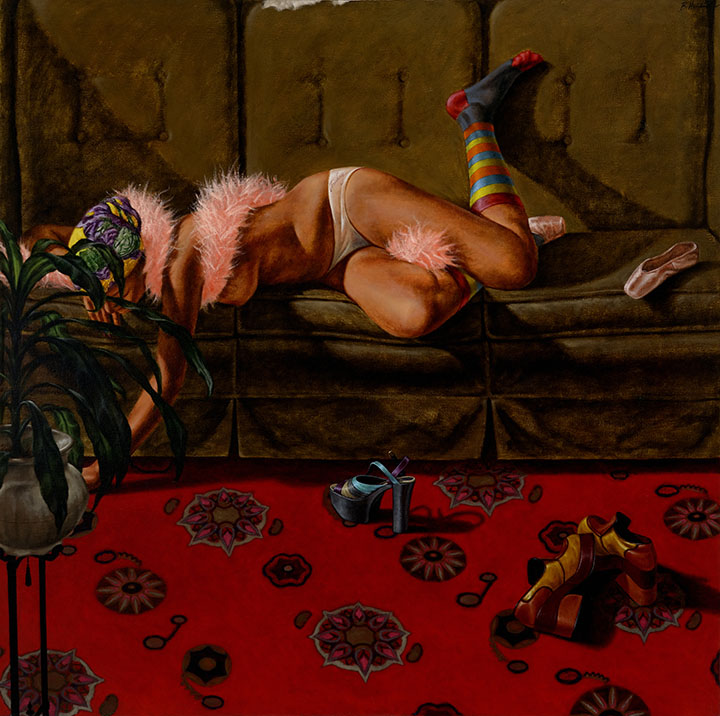 Barkley's connection with Durham began more than 40 years ago, during the summer of 1978, when he followed his then dancer girlfriend Adrienne Hawkins from Connecticut down to Durham for two weeks during the American Dance Festival. He remembers walking around Durham, "the decaying city," with a camera, gathering terrific material. Durham was "still a part of the nuttiness of America in terms of the Southern thing," Barkley said, in a 2014 interview with the Nasher. Two photographs from Barkley's trips to Durham in the '70s are a part of the Nasher Museum's collection.
Fast-forward a few decades.
Duke graduate David Lamond, (Trinity '97, Law '06), bought the portrait of Adrienne, Take All the Time You Need, after he saw it in Birth of the Cool. In 2014, he gave it to the Nasher Museum.
"I liked the intensity of the painting and it seemed like a quintessential Barkley Hendricks," David said, at the time. "Given the Nasher's focus on developing one of the best collections of African American artists in the country and the university's current fundraising effort, I thought now would be a good time to give a meaningful piece to the museum."
Featured

Featured

Podcast
Duration 21m 09s | Published
REMEMBERING BARKLEY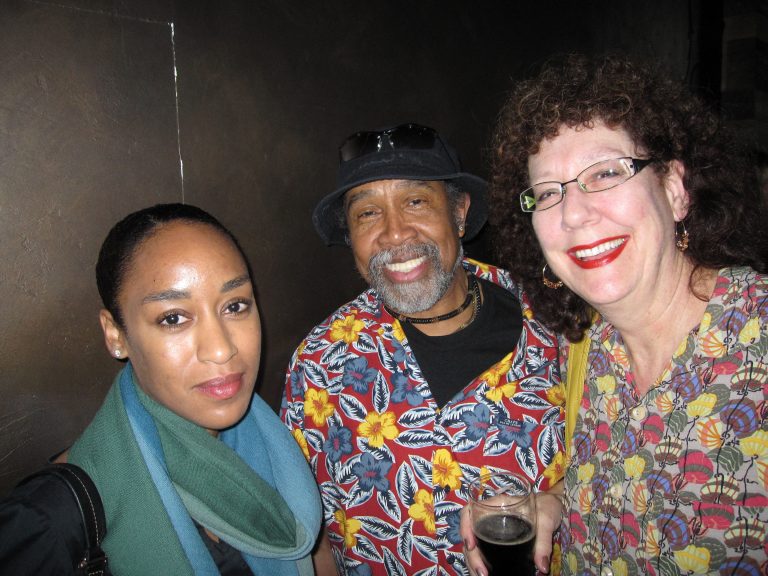 "Barkley painted us. I'd never seen that before. He changed everything for me. Great artist, greater man." — Artist Rashid Johnson
"By shifting the public's gaze to stylistically creative black Americans and picturing them under the fused tenets of painterly illusionism and post-Pop portraiture, Barkley L. Hendricks radically transformed modern art. His legacy—brash, elegant and intricate portraits in the age of 'Black is Beautiful'—will live forever." — Richard J. Powell, Duke's John Spencer Bassett Professor of Art and Art History.
"Such a loss. We have been so lucky to have his friendship at Duke." —Richard H. Brodhead, Duke University President
"A Great Master passes. Barkley Hendricks is gone. Who made a better painting than this? I will miss this unique and kind man. I will show his work to all my students. NOT FORGOTTEN NEVER.  Barkley RIP." – Artist Jeff Whetstone
"Barkley was one of my favorite people.  I will miss my debate partner, who helped me to sharpen my tools of logic against his skillful parries and passion for plain truths.  Barkley did not abide bull in his art or in his life, and I loved him for being so truly himself and giving me the courage to do the same.  His legacy as an artist is deeper and wider than we can know now – beyond the groundbreaking portraits of friends, family and neighbors that first made him celebrated, there are countless assemblages, innumerable landscapes, and oh so many wonderful photographs. When I think of all those he touched through his work, his remarkable teaching career, and his friendship, it makes my heart swell.
I was recently reminded by writer Allison Davis of this Langston Hughes poem, which brings Barkley immediately to mind:
Motto
I play it cool
I dig all jive
That's the reason
I stay alive
My motto
As I live and learn
Is dig and be dug in return
Travel well, Barkley and send transmissions from the next dimension; we miss you." — Teka Selman (art consultant and partner of Trevor Schoonmaker)
REMEMBERING BARKLEY
"Very sad news indeed. Barkley's humor and positive attitude was infectious. He started off as an amazing artist we collected and turned into a friend of our entire family. He will be sorely missed and our thoughts and prayers go out to Susan who is just as wonderful." — Derek Wilson (T'86, B'90, P'15)
"He sparked so many possibilities … his work set him apart from everything before and since because it was purely conceptual and strategic … most people only dug the allusion to the Western Canon of painting but he used it as an adorned amulet or an Nkisi, a spiritual presence that is unending and timeless." — Artist William Cordova
"Though it was the work of Alice Neel that first inspired me to paint, it was the work of Barkley Hendricks that showed me how! I first learned of his work when I visited the Nasher Museum in 2008 and saw the exhibition Birth of the Cool. I was instantly consumed by the work's grandeur and scale, but became drawn in more and more by his keen attention to details and the subtleties of fabrics, skin, surfaces in his paintings. Studying his work was like going back to school. I learned so much about painting and its potential through his work. Mr. Hendricks was an uncontested champion in a battle for figurative painters and (perhaps more importantly) Black artists long before many of my generation ever knew such battles existed. It was his boldness, his candor, and his uncanny ability to render figures in a manner that made them not only feel familiar but come to life in seemingly intimate encounters. I am grateful to have been able to share museum walls with him but most cherished was a kind and warm embrace. In that exchange he told me, "I love the work you're doing young brother." Now more than ever I want him to know that I do what I do because of him!" — Artist Fahamu Pecou
REMEMBERING BARKLEY
"Barkley's six-week residency at Duke in the Fall of 2009 inaugurated our Visiting Artist in Residence program in the best way possible. He was a generous participant in dozens of painting and drawing classes at Duke and other local schools. I am grateful to have experienced his good humor, modesty, exactitude and the ineffable quality of 'cool' that he brought to his interactions with students and faculty on campus. Rest in peace, Barkley." — Scott Lindroth, professor of Music and Vice Provost for the Arts at Duke.
"As one of the artist's close friends and the collector of one of his most celebrated works (the 1975 painting Blood) I feel a deep sense of loss over Barkley's untimely passing. After acquiring the work over a decade ago, I watched with great fascination and joy as Barkley finally achieved his well-deserved place at the forefront of the contemporary art world—due largely to Nasher Museum Chief Curator Trevor Schoonmaker's remarkable touring exhibition Birth of the Cool. My wonderful friendships with Trevor, his partner Teka Selman and, of course, Susan Hendricks all evolved organically from Barkley's Blood—a painting that I will always cherish, from an artist who I will forever adore." —Dr. Kenneth Montague, The Wedge Collection, Toronto
REMEMBERING BARKLEY
"I got to know Barkley, at least initially, through his Jamaican landscape paintings, a lesser known aspect of his practice. I showed one of these beautiful tondos in an exhibition while working as a curator at the National Academy Museum in New York. It seemed appropriate to include this work within the walls of an institution founded by Hudson River School artists. I learned early on that while most people know Barkley for his figurative paintings, he considered his practice much wider-ranging in nature, including landscapes and photography. I was fortunate to have a public conversation with him on early American landscapes as part of the reopening of the Nasher's collection galleries in the fall of 2015. Always illuminating, Barkley spoke eloquently about what the viewer saw in the paintings, but more importantly to him was what the viewer could not see depicted in the works. His words have helped me to see that which is depicted and to better understand that which is not. Thanks, Barkley." – Marshall N. Price, Nancy Hanks Curator of Modern and Contemporary Art, Nasher Museum
"Barkley, and his wife Susan, made such a mark on our trajectory as a nascent museum with Trevor Schoonmaker's 2008 show Barkley L. Hendricks: Birth of the Cool. We all soared with Barkley as his work drew rave reviews around the country. Barkley celebrated our success as we celebrated his." —Mindy Solie, gallery guide, longtime museum member and donor, Duke graduate, former Friends Board President.
Thoughts on Barkley by Trevor Schoonmaker
A Magic Meeting
In late winter or early spring of 2000 I cold-called Barkley L. Hendricks at his home in New London, Connecticut. I had been given the opportunity to curate an exhibition that summer at the Chelsea, NYC, gallery where I worked, Brent Sikkema (now Sikkema Jenkins & Co.) Barkley's paintings had been on my mind since graduate school in the mid '90s, when I first came across them in books by Rick Powell and Thelma Golden. I was in love with his work and wanted to show it at the gallery that summer, so I reached out to a curator friend at the Studio Museum in Harlem and asked if she would give me Barkley's contact. She did, with the caveat that I promise not to tell him where I got his number; Barkley had a reputation for being kind of prickly. I assured her that her secret was safe, and gave Barkley a call. I was unsure what to expect, calling him out of the blue. Maybe he wouldn't even take my call or maybe I'd get a couple of minutes to make my case. What I found on the other end of the line was a warm, generous, funny and inquisitive person with whom I shared more common interests and experiences than could have I realized. We spoke for over two hours—about his work, about music, about our experiences in Nigeria, about Afrobeat pioneer Fela Kuti. At the end of the conversation Barkley invited me to visit him and his wife Susan at their home. I took the train out the next weekend and spent the day with them, getting to know them and discussing Barkley's work. It was a magical experience for a young, aspiring curator. Barkley contributed two large portrait paintings to my exhibition The Magic City: Noir (1978) and Latin from Manhattan…the Bronx Actually (1980). It was our first collaboration, and unbeknownst to us, thankfully only the beginning.
Fela
In 1983 Barkley painted a beautiful portrait of his wife Susan titled Ma Petite Kumquat. It would turn out to be his last large-scale portrait until 2002. Barkley was always his own man, even defiantly so. So when everyone wanted to see more of his remarkable portrait paintings he just stopped altogether. He kept working constantly, painting, drawing, making mixed-media assemblages, shooting photographs, but big portraits were no longer on the menu. That is, until he painted Fela: Amen, Amen, Amen, Amen… in 2002. Barkley loved Fela Kuti, the cultural revolutionary and inventor of Afrobeat music, so much that he offered to paint Fela's portrait for the next show I was working on, Black President: The Art and Legacy of Fela Anikulapo-Kuti. He was so inspired that he started painting well before I had the New Museum of Contemporary Art secured as a venue. I was blown away by that, but looking back, I honestly didn't even realize the magnitude of Barkley's gesture. He wasn't just creating a new portrait painting for a show that might happen, which he hadn't done in 19 years. But also for the first time ever, he was taking on an "outside" assignment, so to speak. He was painting an iconic, popular figure who he met on multiple occasions, but unlike his other figures, Fela was an already known icon. So, he took it to a different place, using elaborate variegated leaf on the background and adding painted elements that only appear under black light in a special shrine-like atmosphere. He also figured out a way to marry his love of painting and assemblage, incorporating his passion for found materials and objects, and specifically women's high heel shoes. He painted 27 pairs of heels in honor of each of Fela's 27 wives, his "queens" as Fela called them, and placed them in an installation in front of the painting. The resulting work, Fela: Amen, Amen, Amen, Amen… (2002), ended up being one of the most talked-about works in the exhibition, and likewise represented another breakthrough for Barkley, which ultimately got him painting large-scale portraits again. For that, I am immensely grateful.
Birth of the Cool
Today's world-at-your-fingertips society may find it difficult to fully understand what went into making Barkley's exhibition and catalogue a reality. The research and fact checking that Barkley, Susan and I did was as old-school as it gets—95 percent analog, not digital. There was little to nothing that could be checked or cross referenced online, in part because of the time period the work was produced. But more to the point, Barkley was only being written into art history by a very select few, most notably Rick Powell, so any information was very hard to come by. He also never had a gallery that compiled basic resume information or created an archive of images or writings on his work. Our primary database was Barkley's slide archive and his physical card catalogue where he wrote down notes about each work. Thankfully he photographed nearly every painting that he produced and kept all of his slides. Determining the correct titles of exhibitions and venues, as well as dates, materials and dimensions, and even the correct spelling of some paintings was at times another matter. That required cross-referencing to verify accuracy…and there was little to cross reference with. It was labor intensive, investigative work and Susan went above and beyond, jumping in as if she was a paid employee of the museum.
While I tracked down everything written on the artist available in libraries, Barkley and Susan dug through countless dusty old boxes and piles of papers looking for clues. We found every obscure catalogue, pamphlet, invitation and scrap piece of paper from solo and group shows that we could get our hands on. We did this mostly to cross-check information, but also to learn more about the works themselves—to verify their existence and possible location. A few had been on view in major museums collections—the Studio Museum in Harlem, the Philadelphia Museum of Art, and the Pennsylvania Academy of Fine Arts (PAFA)—but the vast majority were not. And most were sold to private collectors 30-40 years prior. Thankfully, in several cases Barkley had written down who originally acquired the work. We called up numerous collectors , trying to locate works, hoping that they might still own them and be willing to loan. Paintings turned up in the most unexpected ways and places, but there were many we couldn't locate at that time. Once the exhibition opened, toured and received national attention, more works began to surface. At the Pennyslvania Academy of the Fine Arts, in Barkley's hometown of Philadelphia, their staff was able to include a selection of works from private collections in the area, which was a gift to Barkley as well as the public. We all owe great thanks to Barkley and Susan for their hard work in making Barkley's art and biography available, laying the foundation for new scholarship today.
–Trevor Schoonmaker