Incubator Gallery
Off the Map: The Provenance of a Painting
September 23, 2021 – February 06, 2022
About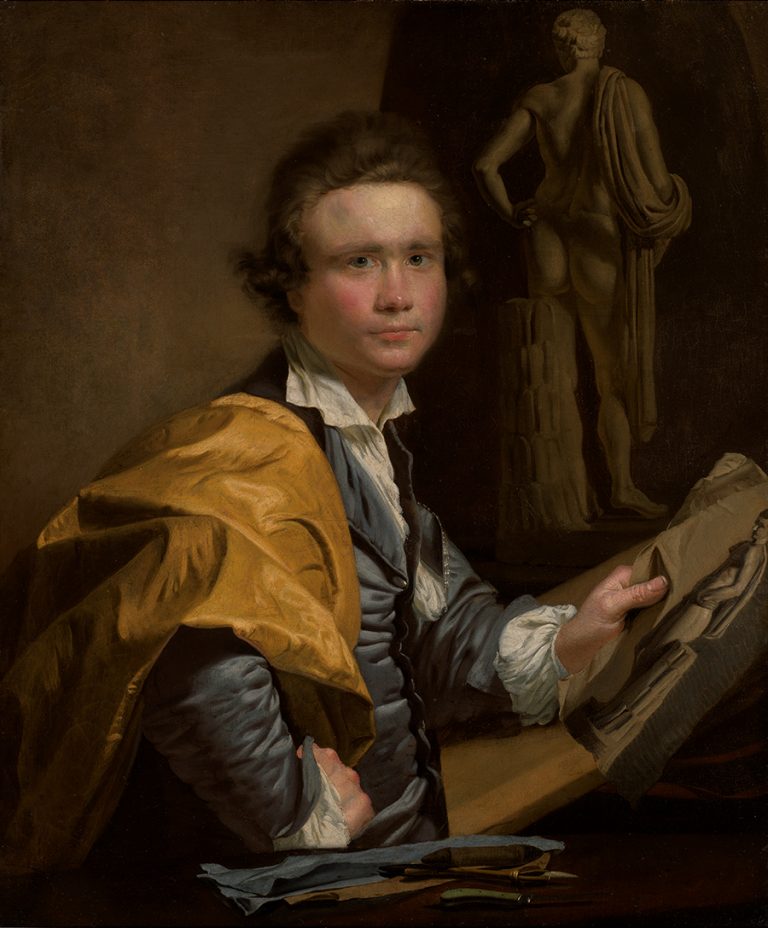 The objects that fill museums have often traveled long distances and passed through many hands to arrive at their current location. The physical movement of artworks through time and space becomes a part of their story, adding layers of meaning to the objects' existence. To study a work's history of ownership is to research its provenance. From the French word provenir, or "to come from," provenance relates to an object's origins and the path it has taken over tens, hundreds, and even thousands of years. Establishing provenance—past owners, locations, and types of transactions—addresses issues of attribution, histories of taste, cultural and monetary value, and notions of ownership itself.
Off the Map: The Provenance of a Painting provides a case study in provenance research of a single work in the Nasher Museum's collection: Portrait of an Artist, attributed to Joseph Wright of Derby (1734–1797) and bequeathed to the Nasher in 2013 by Mary Duke Biddle Trent Semans. From England to Berlin, New York to Durham, the eighteenth-century painting has journeyed far and seen numerous owners, auctions houses, and exhibitions since its creation 250 years ago. Sections of the installation address the painting's change in attribution, archival documents related to its history, physical evidence from the frame and stretcher, and its recent conservation—all aspects of establishing the work's provenance that create a fuller, though still incomplete, or "off the map," record of its life up to the present moment.
Featured

Featured

Video
Off the Map: The Provenance of a Painting is a 14-minute mini documentary about the meticulous conservation and repair of an 18th-century painting attributed to Joseph Wright of Derby. In this video, viewers visit...
by Nasher Museum of Art at Duke University | Duration 13 minute, 54 seconds | Published
Organization & Support
This exhibition is organized by Molly Boarati, Associate Curator at the Nasher Museum.
Special thanks to David Beaudin, Ruth Cox, Merritt Hampton, Chris Harris, Annika Hossain, Beth Semans Hubbard, Sabrina Hurtado, Mary Trent Jones, Nancy Karrels, Ian Kennedy, Joe Lucas, Mimi O'Brien, James Duke Biddle Trent Semans, Abby Schlesinger, and the David M. Rubenstein Rare Book and Manuscript Library at Duke University.
Off the Map: The Provenance of a Painting is supported by The Mary Duke Biddle Foundation and The Samuel H. Kress Foundation.