RESIST COVID / TAKE 6!
CARRIE MAE WEEMS SOCIAL STUDIES 101 PROJECT
About
The Nasher Museum is collaborating with Duke Arts and Duke Health to present an unprecedented outdoor exhibition and public awareness campaign by nationally renowned artist Carrie Mae Weems. The project, called RESIST COVID / TAKE 6!, emphasizes the disproportionate impact of the deadly virus on the lives of communities of color, through large-scale banners and window clings, posters, street signs and more.
RESIST COVID / TAKE 6! will be a catalyst for discussions within and beyond the Duke community. The project helps to combat misperceptions about the COVID-19 virus, celebrates front line workers, raises issues of public health and racial inequities, and underscores how art can function as a public awareness campaign.

Marshall N. Price, Nancy A. Nasher and David J. Haemisegger Curator of Modern and Contemporary Art at the Nasher Museum
Your Stories Matter
We invite you to speak your own truth. How have your life, your family, your hopes and fears transformed since the start of this global pandemic?
Speak Up
RESIST COVID / TAKE 6! allows Duke to present an impactful outdoor art experience safely during the COVID-19 pandemic. Campus partners are planning programs around this project. Duke faculty including Mark Anthony Neal, Tommy DeFrantz and Tom Rankin plan to engage their students in RESIST COVID / TAKE 6! projects.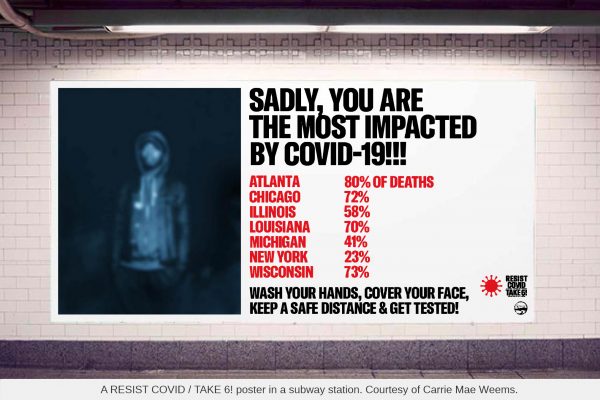 In the guise of a marketing campaign, this artwork fights two viruses, COVID-19 and systemic racism.

John Brown, Vice Provost for the Arts at Duke
At Duke Health, we've been privileged to care for our community through unprecedented times, and we have seen firsthand the disproportionate effect that COVID-19 has had on frontline workers throughout our state. We are proud to partner with the Nasher and Duke Arts to present this powerful work by Carrie Mae Weems, which shines a light on these essential and valued members of our community.

A. Eugene Washington, M.D., Chancellor for Health Affairs, Duke University, President and CEO, DUHS
The Artist
The Nasher Museum has a long history and strong relationship with artist Carrie Mae Weems, whose work is part of the museum's collection.
Widely renowned as one of the most influential living American artists, Weems examines how our society structures power through deeply embedded stories, images and ideas. A gifted storyteller who works porously between text and image, Weems has developed a revolutionary approach to the expression of narratives about women, people of color and working-class communities, "conjuring lush art from the arid polemics of identity" (The New York Times). With a complex body of work encompassing photography, text, fabric, audio, digital image, installation, performance, and video, Weems's work asks us to look deeply at the two-dimensional image, to explore complex realities and revisit unexamined perspectives.
Weems has participated in numerous solo and group exhibitions at major national and international museums including the Metropolitan Museum of Art, New York; Frist Center for Visual Art, Nashville; Solomon R. Guggenheim Museum, New York; J. Paul Getty Museum, Los Angeles; and Centro Andaluz de Arte Contemporáneo, Seville, Spain. Weems has received numerous awards and honors, including the MacArthur "Genius" Fellowship, the Rome Prize, the U.S. Department of State Inaugural Medal of Arts, BET Honors Visual Artist Award, and W.E.B. Du Bois Medal from Harvard University. She is represented in public and private collections around the world, including the Metropolitan Museum of Art, New York; Museum of Fine Arts, Houston; Museum of Modern Art, New York; San Francisco Museum of Modern Art; Museum of Contemporary Art, Los Angeles; Whitney Museum of American Art, New York; Los Angeles County Museum of Art; and Tate Modern, London. Weems resides in Syracuse and Brooklyn, New York. She is represented by Jack Shainman Gallery.
Make the Most of Your Outdoor Visit
Visitors are welcome to view RESIST COVID / TAKE 6! in person from the safety of public sidewalks and pathways around the outside of the Nasher Museum and Rubenstein Arts Center, located at Campus Drive and Anderson Street. The project can also be viewed safely by car on Anderson Street, a public city street.
Wear a mask at all times
Keep a safe distance of six feet from others
The Nasher Museum is open by appointment to Duke faculty, classes and students during Fall 2020.
The Nasher Museum, in keeping with Duke University's campus-wide health and safety measures to curb the spread of the COVID-19 virus, will remain closed through the fall semester. All public in-person events and tours have been cancelled.
COVID-19 Inequity
As of December 4, 2020, 43% of the confirmed COVID-19 cases in Durham are Hispanic or Latinx, according to Durham County Public Health. However, only 14% of the population of Durham is Hispanic/Latinx people.
Credits
RESIST COVID / TAKE 6! is led by MacArthur winning artist Carrie Mae Weems' Social Studies 101 in association with Pierre Loving and THE OFFICE performing arts + film. Carrie Mae Weems is currently the artist-in-residence at Syracuse University.
At Duke, RESIST COVID / TAKE 6! is co-presented by the Nasher Museum, Duke Arts and Duke Health.
At the Nasher Museum, the exhibition is made possible by The Mary Duke Biddle Foundation; Thomas S. Kenan, III; Center for Truth, Racial Healing & Transformation; the Lyna J. Rogers Fund; and Ann and Rhodes Craver.
Art Distribution Partners: The Beautiful Project, Chet Miller, Durham Children's Initiative, Durham Co-op Market, Durham County Library, Durham Chapter of the Links, Durham Office on Youth, Kids Voting Durham, iNSIDEoUT, North Carolina Central University, Pauli Murray Center, Student U, Walltown Recreation Center Mature Adults Program.
Location Partners: Sarah P. Duke Gardens and Duke's MFA / EDA program (Carpentry Shop) and ADF Studio.
Community Programming Partners: American Dance Festival, Asian American & Diaspora Studies Program at Duke, Duke Chapel, Duke's Forum for Scholars & Publics, Duke's Global Health Institute, Office of the Vice Provost for Undergraduate Education at Duke, North Carolina Arts in Action.
Media sponsor: The Chronicle